How to do Credit Card Processing in Sage 50 US

Are you using Sage 50 for your business payroll or expenses and now you want to process the Credit card in it? But don't know how to process it. Do not worry we are always here to get you the solution of the issues that you are facing. Now it is getting much easier to set up the credit card processing in the Sage 50. In this blog, we are going to tell you about the procedure of using the credit cards in Sage 50.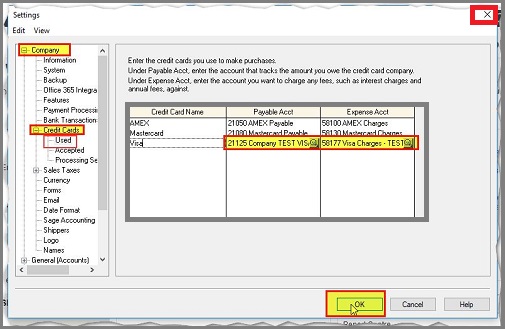 Read More : How do I Setup Credit Cards for Sales or Purchases as Payment Type on Sage
Steps for Processing Credit Card in Sage 50
Total Time: 35 minutes
Step 1: Create a Payable Account if you are an Employer
🔹 For making this account go to the Company option in menu
🔹 Click on the drop-down arrow of "chart of Accounts"
🔹 Then select the Add Account option
Step 2: Create an Expense Account if you are an Employee
🔹 Create an expense Account
Step 3: Now link your Payable/Expense Account
🔹 Go to the Setup option
🔹 Then click on the menu of Settings
🔹 Now in the Company Section click on the Credit Cards option
🔹 After that, go to the Used section to add the credit cards that you use to pay the amounts.
Step 4: Now do a Payment
🔹 Create a payment
🔹 Use a drop-down button in the By option for what type payment method you want to use.
Now for processing the credit card payments, you need to enter the Merchant Key (MKEY) and Merchant ID (MID). The MID is 12 digit number and the MKEY is 12 digit alpha-numeric characters.
Also Read : Credit Card Reconciliation in Sage 50
Conclusion
Above is the procedure that helps you out from the issue of setting up the credit card. You need not worry about anything and do follow the above steps to get rid of this issue of processing credit card in Sage 50. If any glitches are there you can contact our Sage 50 tech support team at their toll-free number. We are happy to serve you the best way.
Accounting Professionals & Specialized Experts
Want quick help from accounting software experts? Get in touch with our team members who can install, configure and configure your software for you. Proficient in fixing technical issues, they can help you quickly get back to work whenever you encounter an error in Sage software. Our team is available 24/7 365 days to assist you. To get in touch.
Frequently Asked Questions(FAQs)
How to Set up a Credit Card in Sage 50?
To do so, you need to follow the below steps:
🔹 Within the Home window, go to the Setup menu, and click select Settings. 
🔹 Now type the Credit Card Name on a blank line.
🔹 Next, Click to select a Payable account in order to track the money you owe the credit card company.
🔹 Now, Click to select an Expense account to track other charges like interest and annual fees.
🔹 Finally, Click OK
How to Record Credit card Charges when you Reconcile?
To record credit card transactions, it is recommended that you:
🔹 Create a bank account to manage the business credit card. Ensure you also enter the opening balance. This is the balance of your credit card once you start entering transactions into Sage Accounting
🔹 Optional -You need to create a new ledger account for credit card charges and interest, to keep them separate from other bank accounts. In case you are happy to record charges and interest for all bank accounts within a single ledger account, you can skip this step and record the interest and charges once you reconcile the account
🔹 Now, you need to Reconcile the credit card transactions within the bank account when you receive a statement.
How to enter Credit Card Charges in Sage 50?
For this, you need to:
🔹 Enter or select the actual date of the purchase when paid by credit card. 
Select the credit card used by the customer for the purchase in the Payment Method field. 
🔹 In case you do not locate the credit card listed, click the Payment Method link to add it. 
🔹 Now Enter or select the credit card liability account from the Cash Account list.
Related Posts