Is Sage Payroll Like QuickBooks

To start with, both are accounting software and have been designed to allow the common man the ease to their financial requirements. But Is sage payroll like QuickBooks? Yes and no. While both have various similarities, likewise there are also various differences. So, in order to better understand which financial software of the two is worth your attention, we need to get into the various advantages and disadvantages of the two. However, one needs to bear in mind that both are among the top contenders when it comes to the most poplar accounting software out there. Now, let's get going with the details about both.
Sage Payroll and QuickBooks are both software applications used for managing payroll, but they differ in their features, functionality, and target markets.
Sage Payroll is a comprehensive payroll management system designed for small and medium-sized businesses. It offers features such as tax calculations, direct deposit, automatic updates, and employee self-service. Sage Payroll also integrates with other Sage products such as Sage 50cloud, Sage 100cloud, and Sage Intacct.
QuickBooks, on the other hand, is a popular accounting software that includes a payroll feature as one of its many functions. QuickBooks Payroll allows users to manage payroll taxes, automate payroll processes, and create paychecks. QuickBooks is suitable for small businesses, freelancers, and self-employed individuals.
All About QuickBooks
This is a business accounting software that has been a much sought-after name for about 20 years now. QuickBooks has been a popular choice as it is used for the purpose of efficient bookkeeping, better business organization, and keeping track of related data. But, what does QuickBooks mainly function as? Well, to start with, QuickBooks makes it all the easier for people from non-accounting backgrounds to also be able to deal with the proper maintenance of the records, business data, and reports, and to organize them in a manner that makes it easier for the user to access them as and when required.
This makes it easy to maintain the Payroll and other financial aspects of the business that includes sales, expenses and purchases. Thus, this makes QuickBooks one of the most popular software for small to mid-sized businesses to be able to deal with their accounting requirements in an efficient manner. One of the most important aspects of QuickBooks is that there is an advantage associated with every version of it. However, various aspects like financial reporting, money management, invoice capabilities and billing are a breeze to accomplish.
Read More-: Sage Payroll Services
The Advantages of QuickBooks Pro
Is efficient
Ease of use
Features intuitive interface
Is one of the most flexible software with third-party applications.
The dashboard of the software offers swift insights into data and the sate at which the business is currently.
Features good accounting options that are beneficial to the businesses
Is one of the most affordable software out there
Comprises various money management and financial reporting features.
Is easy to be linked to banks and credit cards
Includes various features all under the same roof: purchase managing tools, receipt and sales.
Also offers Sage Cloud support feature
The Disadvantages of QuickBooks
There are times when the system crashes and can result in data loss.
Is not recommended to produce reports besides the accounting function
Limited customization is offered along with the personalization options. This is especially evident in the case of the dashboard.
No industry-specific features are included.
Not recommended for businesses that need require brocade scanning, eCommerce and lot tracking.
This software offers access to only a limited number of users at a time
Other cons include limited scalability, this implies the case when your business has flourished and the software cannot handle the growth.
The Final Take on QuickBooks
There is no denying the fact that QuickBooks is one of the leading accounting software for the small-sized businesses. However, its limits include limited customization, and it does not offer a robust inventory. It also lacks project management capabilities and limits the file sizes which can lead to slow growth.
All About Sage
This is one of the most popular business and accounting management solutions. In fact, one can go ahead and declare that Sage is in fact an Enterprise Resource planning software. Also known as the ERP system, this is in fact a backend system that helps manage the entire business in a jiffy. This is done by offering effective communications and streamline operations. Sage also comprises accounting software and functionality.


Essentially Sage is perfect for the creation of financial reports, maintaining records, and business management. Sage includes various software within and each is just as effective and relevant as the other. This includes the all-popular Sage 50 which is perfect for small businesses, to Sage X3 which is an enterprise management solution that is good for large companies.
Each Sage product is relevant for its own functionality, thus, accordingly, you can use any Sage product for your requirements accordingly. Some of the most important features of Sage and related products include tracking the manufacturing supply chain to being able to manage some of the most complex financial data and systems.
The Advantages of Sage
Some of the main advantages of Sage include:
There are various features that the software offers beyond simple accounting,, these include inventory and stock management.
The software offers real-time visibility of Data and allows access to all the users throughout the company
Is easy for multiple users to be able to work on the same project
Can create personalised invoices and quotes for each employee accordingly
Offers products that are customised to suit the specific industries like manufacturers, non-profits and distributors.
It is an excellent choice in being able to create financial reports that include reports that combine data from all over the businesses.
Is excellent at being able to create key financial reports, which also include those reports that allow data from all aspects of the business.
This is one such financial software that can allow payment functionality through Paypal, and other organisations with built-in online payment processing networks.
The Sage products comprise various multiple-user permit levels, hence making it easier to restrict what you do not want the other users to view or access.
Sage is considered scalable as it grows along with you.
The Disadvantages of Sage
Now, let us take a look at some of the cons of sage:
This is a costly software and is also time-consuming
It is tough to integrate Sage with the other software types and vendors. Also the same implies to the other forms of accounting software.
The Final Take on Sage
Sage is an advanced accounting software it comprises some of the most advanced functions and features. In fact, some of these are so advanced that they cannot match with the other software types. Some of the main striking features of Sage include easy collaboration between various users and better handling of project management. There is no denying the fact that this software has high scaling, learning and implementation, however, the companies will be able to reap the long-term benefits of some of the best software solutions for all the financial requirements for an organization to grow well.
The Industry Type: Sage Vs QuickBooks
Both Sage and QuickBooks are relevant and important to various businesses according to their own specifications. Nevertheless, let us take a look at what industries are most relevant to either Sage or QuickBooks.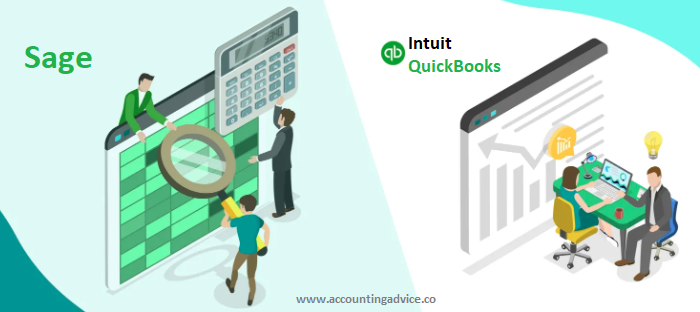 QuickBooks
As mentioned earlier in the article, QuickBooks are perfect for small to upcoming businesses. This is mainly due to the basic inventory management and introductory accounting solutions, hence making it a top preference. While it is acceptable to acknowledge the fact that QuickBooks is not a perfect choice for businesses that have advanced inventory management requirements or for growing and upcoming businesses. So, which are the organizations that are well suited for the application of QuickBooks?
Let us take a look:
Medical organisations
Legal organisations
Retail
Accounting
Small and mid-sized companies
Freelancers and self-employed organisations
The Sage
As mentioned previously, Sage is best applicable for large businesses and requirements. These are also best suited for those organisations that plan to grow and have robust inventory and management requirements. The best part about Sage is that it tends to grow with the growth of your organisation.
Hence these are the sectors that are best suited for the following businesses:
Non-profit organisations
The wholesale distribution
Manufacturing
Mid and large-sized companies
B2B or B2C online retailers
Sage Vs QuickBooks: How to Choose?
Now, that you know the main differences between Sage and QuickBooks, how do you make the right selection?
Well here goes:
Emerging and Small-Scale Companies

: If you are a small-scale organization or an emerging one, it is recommended that you opt for QuickBooks. This is because your requirement does not involve connecting with multiple systems.
Large-Scale Organisation

: If you are a part of a large and growing company, then Sage is your guy. This is also because the software can better cope with the growing transition of your organization in the future. Also, this is a perfect application for those organizations that comprise multiple software components for the management of their operations. Lastly, it is recommended to opt for Sage if you need to manage your e-Commerce closely.
Sage Vs QuickBooks: The Differences
Now let us take a look at some of the main differences between the two software based on various accounting-related features:
| | | |
| --- | --- | --- |
| FEATURES | SAGE | QUICKBOOKS |
| Accounts Recievable | Yes | Yes |
| Accounts Payable | Yes | Yes |
| Accounting Module | Yes | No |
| Business intelligence Module | Yes | No |
| Budgeting & Forecasting | Yes | No |
| Biling & Invoicing | Yes | Yes |
| Balance Sheet | Yes | Yes |
| CRM Module | Yes | No |
| Credit Card Processing | Yes | Yes |
| CRM Module | Yes | No |
| Check Printing | Yes | Yes |
| Fixed Assets | Yes | No |
| General Ledger | Yes | Yes |
| Human Recource Module | Yes | No |
| Invoice Templates | Yes | Yes |
| Invoice Scheduling | Yes | Yes |
| Inventory Management | Yes | No |
| Manufacturing Module | Yes | No |
| P&L statement | Yes | Yes |
| Purchase Orders | Yes | Yes |
| Project Management Module | Yes | No |
| Procurement Module | Yes | No |
| Sales Reporting | YEs | Yes |
| Sales & Customer Management | Yes | No |
| Supply Chain Management Module | Yes | No |
| Tax Compliance | Yes | No |
| Time and Expense Tracking | Yes | Yes |
Sage Vs QuickBooks: The Similarities
Now, that we have taken a look the various difference between the two software, let us find out the similarities.
Both the software offer entry-level accounting solutions for basic and small-scale businesses
QuickBooks and Sage 50cloud, which was also previously known as Peachtree are quite similar in terms of both price and functions
Both the QuickBooks and Sage products are not inherently Cloud-based
Both Sage and QuickBooks can be run from the Cloud in Hosted environment
Both can access the huge ecosystem of third-party software providers, as long as they are provided with Expense Management, Payments and Ap Automation.
Both companies include offers for Mobile apps for Android and iPhone
Offer access to multiple credit card accounts and banking
Access to be able to manage accounts online in a secure manner
Offer support through Cloud servers and information storage in Cloud
What to Choose: For Growth and Scalability
When it comes to Scalability and growth let us compare the two software:
QuickBooks: As mentioned earlier the QuickBooks is best suited for small-scale and emerging businesses. When it comes to inventory storage or being able to handle operations, QuickBooks is not up to the mark. While this is perfect for small businesses that do not have much room for growth in the near future and have compact accounting needs, QuickBooks is more than sufficient. As the most advanced version of the software can allow 25 users, this is quite sufficient for the accounting department of such a sized firm. The other features that make QuickBooks perfect for small-scale businesses are smart Reporting, Custom fields, which also make this quite a perfect choice for such businesses.
Sage: Sage is more of an action-based software that caters to the needs of growing and mid-to-large businesses. This is one such accounting software that includes various products each of which is action-specific. The best part of Sage is that it can easily upgrade according to small or large-sized firms. Hence, scaling and accessibility with Sage are easy. Hence, if you forecast growth and expansion in your organization, it is only obvious that you consider signing up with Sage.
What to Choose: Based on Support
Let us take a closer look at the Support System of the two software:
QuickBooks: The support is good enough and standard for an efficient solution searching. This includes Emails and calls where you can place your query and wait for a response.
Sage: This has a more elaborate network of support that includes easy navigation and to be the ability to support oneself. This involves searching for solutions and being able to access various tips, tricks and more. Sage software comprises forums, communities, and also certified partners that are dedicated to offering solutions around the clock. Hence, Sage is perfect for those organizations that cannot afford to 'stay on hold' and require instant assistance.
What to Choose: Based On Plug-Ins and Extensions
The extensions and plug-ins are yet another very important focal point when it comes to selecting the right financial software. Ideally, one would expect to have an extension that covers all the basic requirements and also goes beyond general needs.
So, what is it going to be? Let us take a look at Sage and QuickBooks individually:
Sage: With its impressive connectivity, Sage is a one-stop shop for all your needs. But on the flip side, it also requires a good amount of know-how and knowledge to be able to use and access the Sage software. In such a case it is best recommended to opt for a Sage-certified partner in order to set up the Sage network.
QuickBooks: QuickBooks on the other hand is more on the 'Compatibility aspect' as compared to the connectivity. The software has built a Suite in comparison to Sage that has allowed the developers and users to be able to create tools or software solutions that can connect to Sage.
What to Choose: Based on Unlimited Usage
While QuickBooks is quick to 'cap the number of users', Sage does not do this immediately. In a way, one can pay for more users when associated with QuickBooks. However, both software allows unlimited creation of invoices irrespective of the number of users on the system accessing the software.
Based on Pricing and Free Trials
As we know, nothing comes without a price tag and this accounts for a major commitment for a lot of firms, especially if they are emerging and small-scale types. However, for those who are not well-versed, Sage operates on an Annual Charge and this can be quite a commitment for many. Hence, you can consider selecting Sage if you plan on watching your business grow in the near future. However, there are a few Sage products and software that have a recurring fee for administrative support.
As for QuickBooks, this is a no-nonsense monthly subscription plan; something that works out just fine for any business, big or small. However, you will observe a change in the payment and pricing of this software based on the features offered. Not, just that, but one can also make the most out of the ongoing sign-up promotion that allows a 50% discount for a certain duration of time.
As for the similarities, one can enjoy free trials in both software. But, QuickBooks is quick to charge you the very next day that the trial ends. On the other hand, Sage allows the users complete freedom to explore all and many features of the Software, thus, sensing whether these are befitting to your needs or not.
Also Read-: How to Convert QuickBooks Online to Sage 50
Conclusion
So, there you have it my dear tech-geeks, these are some of the main differences, similarities, facts, features and beyond with respect to Sage Vs QuickBooks. Both are relevant and just as popular in their own spaces. Still in dilemma? Well, why don't you get in touch Sage live chat or call tollfree 1800 964 3096 with us and allow us to resolve your doubts in a jiffy?
Accounting Professionals & Specialized Experts
Want quick help from accounting software experts? Get in touch with our team members who can install, configure and configure your software for you. Proficient in fixing technical issues, they can help you quickly get back to work whenever you encounter an error in Sage software. Our team is available 24/7 365 days to assist you. To get in touch.
💠

Frequently Asked Questions

💠
I have a Requirement Where more than one Employee Regularly Collaborates on the Project, Which Software do I opt for?
In this case, it is best recommended to go for Sage, as it is perfect for growing and emerging firms.
What do I opt for in Case the Business Comprises of Large Inventory and Requires Tracking Multiple Products at a Time?
Sage, once again because it can deal with a robust inventory.
What Software is Best Suited for my Business Requirement Where it is Required to Include your Business Logo on the Invoice and Estimates?
As Sage offers more customization options, it is best recommended to opt for it.
What Software is best Suited if the Growth Trajectory of my Business is Limited or Small?
In this case, it is best to opt for QuickBooks, as it allows all the perfect solutions for a small-scale or an emerging business.
What Should I opt for? Sage or QuickBooks?
Well, that depends on a lot of aspects. If your requirements include ERP, typical finance and accounting software functions, along with project management, inventory management and more, then Sage is the perfect choice for you. 
If in case your business is basic and small-scale, and its requirements include basic Bookkeeping programs that also sync with your bank account, then QuickBooks is the perfect software for you.
Related Posts