What's New in Sage 50 CA Version 2022.3?
If you are searching for accounting software to manage the day-to-day accounting and bookkeeping functions of your business, you should look no further than Sage 50. Sage 50 has also launched a new version named Sage 50 Canada for the residents in Canada. It comes with a highly user-friendly interface & improved features, to save you a lot of time & effort.
All the software in the Sage family always keeps itself updated with regular patches and new versions. The Sage 50 Canadian Version 2022.3 is another important addition to the Sage family. It has been embedded with new and improved features and also with effective remedies to errors experienced in earlier versions.
Are you yet to use this new software? You are missing quite a few things indeed! In this blog, we will discuss the new features incorporated in the Sage 50 CA version 2022.3. We will also discuss how to install the updates for this version.
Here we go!
What is New in Sage 50 CA Version 2022.3?
The Sage 50 CA version 2022.3 has incorporated a few more modifications than the last update. These are stated briefly below-
🔹 New Payroll Tax Updates Effective from 1st July 2022
If you have got a Sage support plan that contains the payroll tax updates, you should install the update for the new Sage 50 CA version 2022.3. The Product Update includes the new changes in the payroll tax that will come into effect from July 1, 2022. For full details, you may visit the CRA website or contact your local tax services office.
🔹 New Changes to Territorial or Provincial Taxes
In March 2022, the basic personal amount in New Brunswick was increased to $11,720. This change will be effective from 1st January 2022. Please note that as on the 1st payroll run in July, a prorated basic personal amount of $12,623 will be applicable for the remainder of the year. This new modification has been aptly incorporated in the Sage 50 CA version 2022.3. no changes have been prescribed in other territories and provinces.
How to Install the Updates for the Sage 50 CA Version 2022.3?
If you are already using the Sage 50 CA 2022 version, you will get a notification about the available update of the Sage 50 CA version 2022.3. But, before updating, make sure to take a proper backup of your company. Then follow the steps below-
Go to the Help section
Click on the tab named check for Product Updates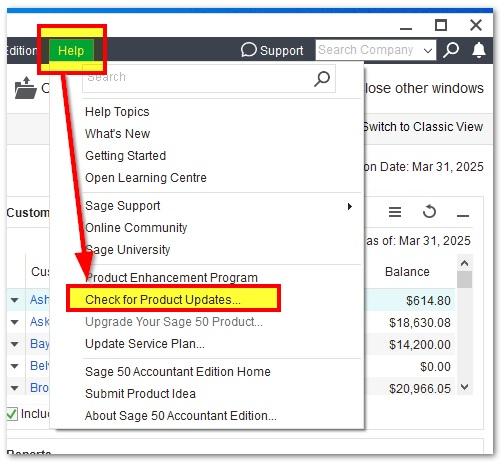 You will receive a prompt such as "An update to your Sage 50 solution has been downloaded and is ready to be installed…Do you want to install the update now?"
Click on the Install Now tab (If you want more time to think about it, click on the tab named "Remind Me Later")
The installation of the update will start.
Once the installation is complete, it will display the "Installation Successful" message
Leave the default check in the box to Open Sage 50 after installation
Click on the Finish button
The Sage 50 open splash screen will come up
Now you need to upgrade your company to the new 2022.3 version. When you open an older company, the Upgrade Company Wizard will come up on your screen.
Follow the instructions to upgrade your company
From the discussion above, you have got to know that Sage 50 CA is now better equipped than ever before, to satisfy your payroll and other needs. If you have any more queries regarding the Sage 50 CA version 2022.3, you may speak to some of the authorized Sage professionals 1800 964 3096.
Accounting Professionals & Specialized Experts
Want quick help from accounting software experts? Get in touch with our team members who can install, configure and configure your software for you. Proficient in fixing technical issues, they can help you quickly get back to work whenever you encounter an error in Sage software. Our team is available 24/7 365 days to assist you. To get in touch.
FAQs
What Are the System Requirements for Installing the Sage 50 CA Version 2022?
Before upgrading from older versions of Sage to Sage 50 CA 2022.3, you need to make sure that your system meets the minimum requirements mentioned below-
🔹 2.0 GHz processor, both for single and multiple users
🔹 4 GB RAM 
🔹 5 GB storage is needed for the Sage Drive company files
🔹 Windows 8.1 or Windows 10, with all the latest Microsoft updates 
🔹 1 GB free disk space 
🔹 Internet Explorer 11.0 (higher versions are preferred for Sage Payments Solutions, 🔹 Sage Payroll Solutions and integration with other connected services). 
🔹 Microsoft.NET framework 4.7.2 
🔹 DirectX Dependency for .NET . 
🔹 Small fonts/DPI settings are preferable. 
🔹 Preferable download speed of 25 Mbps 
🔹 Upload speed of 10 
🔹 Mbps 
🔹 16-bit SVGA Video with a preferred resolution of 1280 x 800.
How long does it take to Upgrade from an Older Version to Sage 50 CA 2022.3?
🔹 The installation speed depends on factors such as the processor speed of your computer and available free space on memory or the hard drive. 
🔹 The server installation usually takes longer as compared to installing on workstations.
🔹 After the installation is complete, you will need to convert each company to the new version. The conversion time would depend on the database size and the number of database versions to convert. 
🔹 If you want to install the program on a network, it will be first installed on the server. Then it will be installed on individual workstations similarly.
Here are the steps to follow-
🔹 Click on Reports And Forms
🔹 Click Forms
🔹 Select Tax Forms
🔹 Open Payroll Tax Forms
🔹 Open the relevant tax form 
🔹 A prompt will appear, asking you to install the payroll tax updates
🔹 Click the tab named Download Updates
🔹 Once the download is complete, click Run Update
🔹 The installation of the latest payroll tax forms will commence
🔹 A prompt will ask if you want to overwrite the existing files. Click Yes to All 
🔹 Follow the instructions to complete the installation process
Related Posts