Sage Upgrade Error: Sage 500 Upgrade Utility Fails?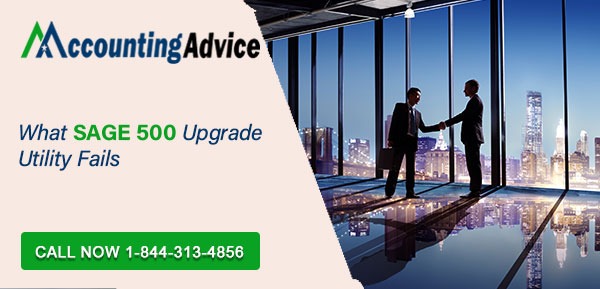 The Sage 500 Upgrade Utility is a tool used to upgrade Sage 500 ERP software to a newer version. If the utility fails during the upgrade process, it can cause significant disruptions to your business operations.The Sage 500 Upgrade Utility guides users through the upgrade process step-by-step, and provides detailed instructions and error messages to help users troubleshoot any issues that may arise during the upgrade process.
Sage 500 ERP developed specially for large enterprises is an online service that emphasizes specifically on manufacturing and distribution industries. It offers unmatched ERP solutions that flexible for on-premise deployment. The software comprises features and tools that will meet the business requirements of large sized businesses with multiple locations with scalable features. It offers a plethora of automation and customization competencies, seamless integration, active technical support, and powerful reporting tools. The software provides the enterprises great feasibility in their operational expenses. Sage 500 ERP software only supports Windows users.
Error Message: "An error occurred reading Sage ERP MAS 500 license information from the Registration Message".
Earlier the Sage 500 ERP program was known as Sage ERP MAS 500. It is considered as a complete enterprise management solution on a whole. Employing this software helps the companies to channelize the business tasks and handle to enhance growth prospectus. This enterprise management solution easily merges with the business accounting software and accords excellent solutions that raise the business productivity minimizing the overhead costs. It comprise of innovative solutions for supply chain management, e-commerce sector and latest .NET-based applications.
Read More-: Sage 500 ERP
Modules of Sage 500 ERP Solutions
Flawless Customer Relationship Management (CRM)
Management of Warehouse and Inventory
Seamless Management of Accounting and Finance
Sage 500 Integrated Credit Card Processing: Integrated Payment Processing
Exclusive features for Business Intelligence and Reporting
Managing Purchasing & Sales
Handling Payroll and Human Resources
Manage Time and Projects
Managing the Documents
Easy Integration of AP Automation and Workflow
Seamless E Commerce Integration
With the release of the software update, Sage 500 users need to upgrade the software to avail the new and improvised features. For upgrading the software you need to go to the official Sage website and go to the download link. The upgrade process involves certain steps. If not followed properly the upgrade process might fail. Many users complain of failing of Sage 500 upgrade utility. When the the upgrade fails you can reach to the Sage 500 customer support team. The error displays an error message.
Caues of Sage 500 Upgrade Utility Fails
Insufficient disk space or memory on the server where the upgrade is being performed.
Conflicts with other software or system components on the server.
Incorrect installation or configuration of the Sage 500 ERP software.
Data corruption or other issues with the database being upgraded.
How to Fix Sage 500 Upgrade Utility Fails?
There are several steps you can take to try to fix the issue:
Sage 500 Upgrade Utility will often provide detailed error messages to help you identify the cause of the error. Review the error message carefully and take note of any specific instructions or error codes that are provided.
Make sure your system meets the minimum hardware and software requirements for the new version of the Sage 500 ERP software. If your system does not meet the requirements, you may need to upgrade your hardware or software before proceeding with the upgrade
Verify that your data is not corrupted or damaged before attempting the upgrade. This can be done by running integrity checks on your database and fixing any errors that are found.
Make sure that you have sufficient disk space and memory available on the server where the upgrade is being performed. If necessary, free up disk space or memory before attempting the upgrade.
Disable any antivirus or firewall software on the server where the upgrade is being performed, as these programs may interfere with the upgrade process.
Also you need to perform a clean installation of the Sage 500 ERP software. This involves uninstalling the existing version of the software and then installing the new version from scratch. Be sure to backup your data before performing a clean installation.
Also Read-: Does Sage 500 ERP Use the File Named Msxml4.dll
Final Words!
For any sort of installation error you face with Sage 500 software you can connect with the Sage online customer support services. The Sage technicians can be approached by toll free phone support number 1800 964 3096, email us at [email protected] or Sage live chat option. The Sage experts have in depth knowledge and have extensive experience in handling Sage 500 installation issues in a minimum wait time.
Accounting Professionals & Specialized Experts
Want quick help from accounting software experts? Get in touch with our team members who can install, configure and configure your software for you. Proficient in fixing technical issues, they can help you quickly get back to work whenever you encounter an error in Sage software. Our team is available 24/7 365 days to assist you. To get in touch.
💠Frequently Asked Questions💠
What is Sage 500?
Sage 500 is an ERP (Enterprise Resource Planning) software designed for small to mid-sized businesses. It offers financial management, distribution, and manufacturing capabilities, among others.
Why do I need to Upgrade Sage 500?
Upgrading Sage 500 ensures that you have access to the latest features, bug fixes, and security updates. It also helps ensure compatibility with other software and operating systems.
Why is the Sage 500 Upgrade Utility failing?
The Sage 500 Upgrade Utility may fail for various reasons, such as incompatible third-party software, insufficient system requirements, or incorrect permissions.
How can I ensure that my system meets the minimum requirements for the upgrade?
Review the documentation provided by Sage and make sure that your system has the necessary hardware and software requirements. You can also contact Sage Support for assistance.
Related Posts: