What is New in Sage 50 2018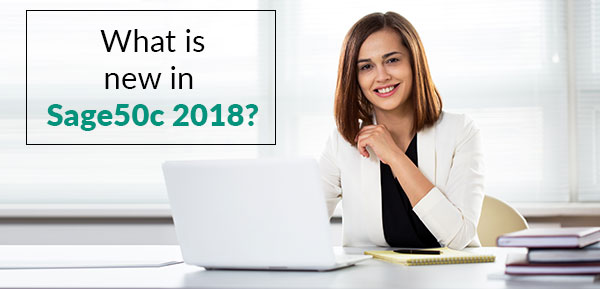 Sage 50c has gained popularity as an easy-to-use desktop accounting software for new small or medium size organizations. It can be scaled up to do bigger projects too. The popular features of this software include account payable and receivables, cash flow, timely payment of bills etc. It has been formulated keeping the accounting and finance industry requirements in mind. Simultaneously around 40 people can use it. Also, there are advanced features like inventory management and module-level security too.
Version 2018 of Sage 50 U.S. Edition was released on 12th July. The updated new version has significant improvements which will be useful for any Sage user. Sage 50 c is the the new subscription for Sage users with new features. They are as following:
Modernization of User Interface
This is one of the most striking changes in version Sage 50 c 2018. Updates are very essential or a software might be termed as out-of-date which can eventually lead to further issues. In the new user interface, the color scheme is mostly monochrome with a relatively modern look. There is ample white space and all icons & menus appear flat.
It has been developed keeping in mind the adaptability factor with high resolution monitors and various window sizes. One of the examples is that if the window is too small to display all tabs of the toolbar, then an arrow symbol will give access to the rest.
Enhanced icons, doughnut charts replaced the pie charts, a gear icon replaced the customize link in the shortcuts area, and on the bottom right corner is the Sage 50 version -Pro, Premium, or Quantum. The main interface with the My Dashboard-Business status, management centers and navigation centers have gone through a noticeable change.
The best part is that there is no need to re-learn anything. Except the look and feel of menus and navigation centers, everything else is unvaried. It was well-organized and easy to navigate previously too so the familiar interface remains in place. When a task or maintenance window is opened, it is visibly untouched.
Last Activity Date Checks for Inactivate Inventory Items
Choose inventory items according to the last activity date. After that the whole group can be marked as inactive, similarly for customers and vendors. It saves time as all outdated items need not be marked as inactive individually.
Cleared Column on Check Register
To show cleared date on the Check Register and Cash Disbursements Journal reports, just add a column in the updated version. Go to the Column button in the report window and check Cleared Date which will display the transaction date was cleared in account reconciliation.
Enhanced Options for Click To Pay
In the 2017.2 version, there was a payment link in invoices that were emailed so that customers can pay online by credit/debit card or e-check. However, the option to display the 'Pay Now' was universally kept on in all invoices. It had to be turned off manually. In 2018 version, there is an option to turn it off universally for all customers.
Sage Capture
Take a snap of the the receipt and enter the transaction details on the iPhone or iPad. Import these transactions into Sage 50. The photo will be added to the transaction as an attachment and will be stored in your OneDrive account. MS-Office 365 Business Premium is a necessity for this.
Sage Intelligence Reporting Cloud
Office 365 integration is highly useful for this as it makes Sage Intelligence Reporting financial reports available from your dashboard of Microsoft Office 365 Business Premium. All the income statement formats and balance sheet can be customized. Moreover, all reports can be re-made from the start. These reports are in HTML format or they can be exported to the desktop versions & online version of Excel.
Office 365 User Roles & Permissions
Office 365 has new additions in the form of five new security groups. It gives elaborated control of how Office 365 users can get access to the Sage 50 integration like Sage Capture, Sage Contact and Sage Intelligence.
AP Automation
Now there will be integration with Bean works of Sage 50. Bean works is a service that renders accounts payable automation. The whole process of entering or coding invoices, making electronic payments, approving invoices can be automated.
If you have further doubts and want to know more about what is new on Sage 50c 2018, discuss with the experts at Accounting Advice.
What is Accounting Advice?
A team of experts for any sort of discussion regarding Sage versions are available 24*7. They can tell you about all the new updates, versions and help you in a proper way. Understanding the software will be easier with them. They can provide tips too. To talk to them, give a call on this number. It's toll free 1800 964 3096.
Related Posts: