Sage 50 Accounting Software is the most sought after Sage 50 software of the lot. It has garnered attention of all the businesses amongst its peers as the software comes equipped with top class technology and easy to use interface combined with impeccably powerful features. This ultra unique combination of technology and ease hits all segments of professionals from tech savvy to novice.
Sage 50 Premium Accounting is a part of Sage 50 Accounting Suite incepted with Sage 50 Pro Accounting and Sage 50 Complete Accounting. This software is completely suitable for small to medium sized business including start ups also. Sage 50 Premium Accounting comes fully supported with unlimited access to support, automatic updates, and the freedom to add the right services for your business—payroll, credit card payments, or both!
Key Points of Sage 50 Premium Accounting Software
The software is designed keeping the needs and novicesness of new accountants in mind due to which it is quite handy and easy to use. It also saves time while being a saving grace for Start-ups.
Strategic and consistent growth is guaranteed with systematic accounting, reporting and stock management streamlined perfectly.
Effectiveness and efficiency is increased with features and tools capable of managing inventories, revenue & expenses, payroll etc. while being totally secured.
Total upgrades, updates and support guaranteed for a year.
Easily Accessible Information without any Hassle: 
Start-up or an established business that is looking to expand even further, both require to streamline their finances and accounting tasks in order to garner even a small edge in the market. Thus it is imperative to pay special attention to inflow and outflow of cash. This is where Sage 50 Premium Accounting Software works the best. It not only keeps tracks of all accounting activities but also maintains a lookout for pending payments due, stock management and much more. Its accords users with intuitive dashboard that showcases analysis tools and plus budget to make concrete and correct decisions.
System Requirement:
For the software to work properly it is imperative that your computer system and the software are compatible and following system requirement are met for the same:
Operating System: Windows 10, Windows 8.1, Windows, 7 and Windows Vista.
RAM: 512 MB minimum (1 GB is recommended)
Processor: 1.0 GHz minimum (2.0 GHz will be preferable)
Hard Disk: 2 GB of Free Space with 1 GB extra for installation
Internet Explorer: 11.0 or above
Display: Minimum Resolution – 1024*768, SVGA monitor with 256 color or higher
Microsoft Program Integration: Microsoft Word and Excel – 2013, 2010 and 2007. Microsoft Outlook – 2013, 2010 and 2007.
Features of Sage 50 Premium Accounting Software
Full Support:

Proper guidance through phone, mail and live chat.
Automated delivery of any new upgrades, updates and improvisations.
Customized analysis and reporting feature.
Swift integration with payroll and other imperative add-ons.

Maintaining Cash Flow:

Track inflow and outflow of Cash.
Set reminders and alerts for imperative and needed tasks.
Power to make decision to curb excess and unneeded outflow of cash.
Keep mistakes and errors to minimum.

Manage Tasks under One Place:

Intuitive Dashboard featuring understandable tabs for your suppliers, customers and employees separately.
Detailed drop down menus.
Complete standing of the business through updated financial reports.
Infographics of Sage 50 Premium Accounting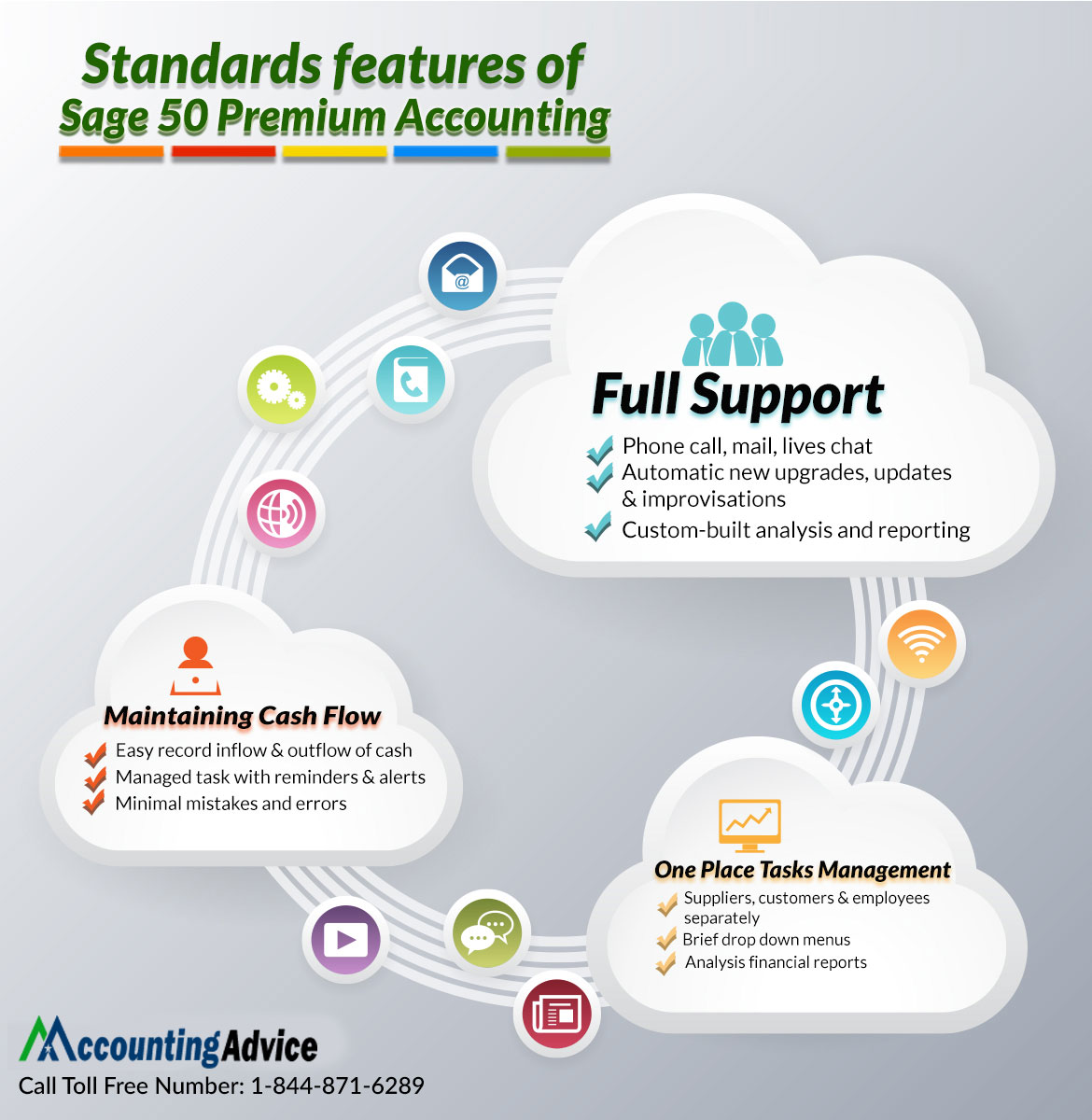 Embeded this Image on Your Site:

Note: copy above code press "Ctrl + C"

Support for Sage 50 Premium Accounting
With Sage 50 Premium Accounting Software you can do much more than just above few features. You can compile all the required financial information in order to make sound and precise decisions regarding the business, comparison between budgets, change orders, order inventory in time before stocks get over etc. These small but time taking tasks are quite influential on the further growth of the business. In case you get stuck somewhere while working on the software, you can call on the imperial customer support of Sage. If you still unable to get help, you can connect with www.accountingadvice.co for instant resolution through Toll Free Number .