Sage 50 Canadian Edition 2022 Download
Sage 50 Accounting software for business includes four products: Sage 50 Pro Accounting, Sage 50 Premium Accounting, Sage 50 Quantum Accounting, and Sage 50c (a subscription service with cloud access). Recently, Sage 50 launched its latest version update – Sage 50 2022.0. The Sage 50 Canadian Edition 2022 is a report that forecasts the Canadian economy for the next two decades. The report provides an overview of the industry, economic trends, demographics, and much more.
In this post, we are going to discuss the new version of Sage 50 i.e. Sage 50 2022 CA edition in details as well as the various types of the software and who would benefit from them.
System Requirements to Install Sage 50 2022 Canadian Edition?
In this section, we are going to discuss about the system requirements that you need in order to install Sage 50 2022. Make sure that you read them carefully and ensure that your system meets the requirement mentioned below.
Note: Sage will continue to allow Sage 50 Accounting – CA Edition to be installed on computers with Windows 7 for the foreseeable future, but some features may not work as designed in future updates. Beginning in March 2020, subsequent versions of Sage 50 Accounting – CA edition will include a warning message when you attempt to install the product on a computer that is running an edition of Windows 7. However, the installation will be allowed to continue.
Video Tutorial for Download Sage 50 2022
Minimum System Requirements for Sage 50 Canada 2022 Version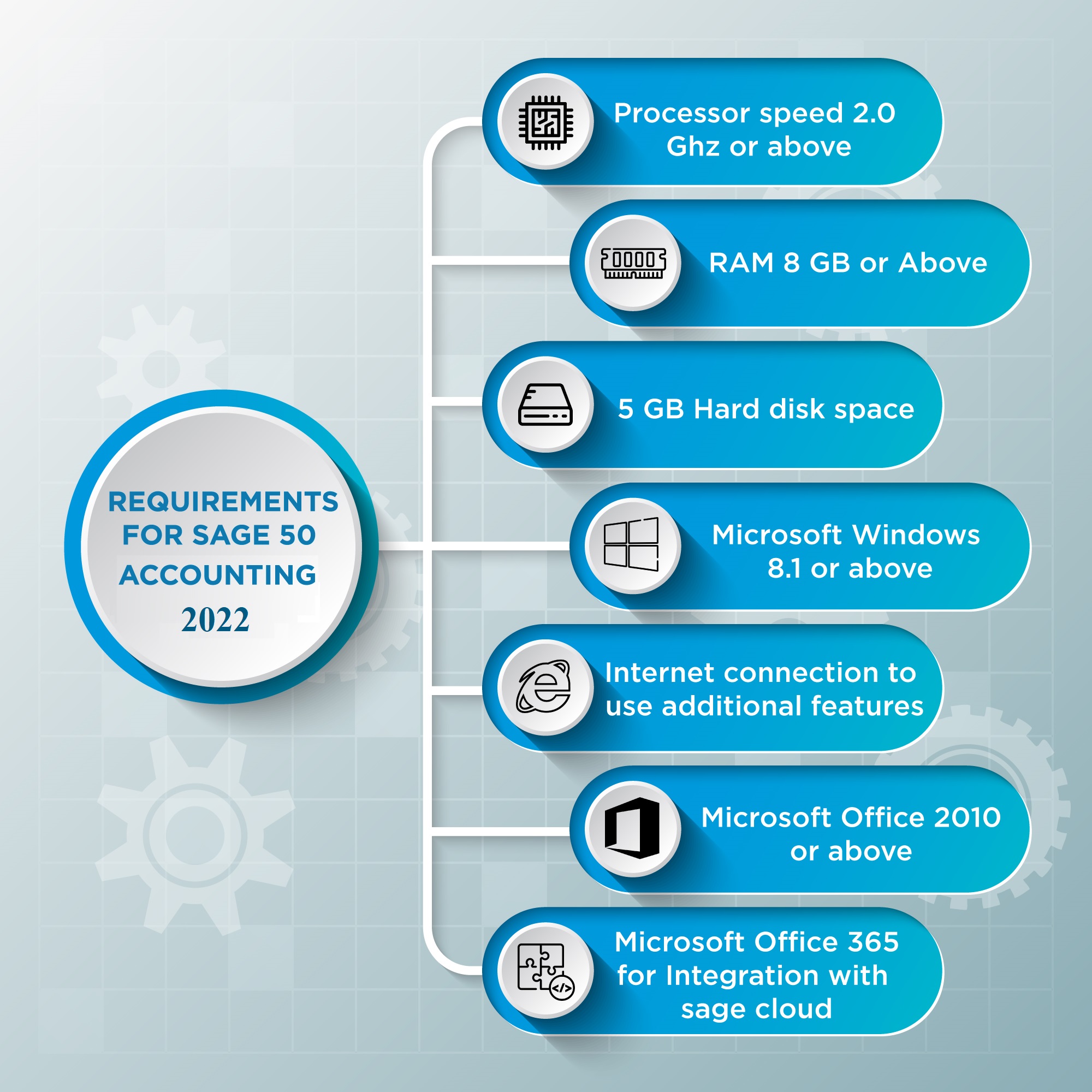 2.0 GHz processor for single user and multiple users
4 GB of RAM for single user and multiple users
Windows 8.1 or Windows 10 (version 1809 and higher) with the latest updates from Microsoft installed
1 GB of disk space for installation
Installation of Internet Explorer 11.0 is required (version 11.0 and higher with Sage Payroll Solutions, Sage Payments Solutions, and other Connected Services integration); Google Chrome and Microsoft Edge (version 2020 and higher) web browsers are supported when accessing available Connected Services outside of the product
Microsoft®.NET Framework 4.7.2, including DirectX Dependency for .NET; requires an additional 280 MB to 850 MB
At least high-color (16-bit) SVGA video; Minimum Resolution: 1280×800, Preferred Resolution: 1440×900 or higher; small fonts/DPI settings required
All online features/services require Internet access (For best performance download speeds of at least 25mbps and upload speeds of at least 10mbps)
Maximum of 5GB file size for Sage Drive companies
Computer name of 15 characters or less required
Integration/Compatibility Requirements to Install Sage 50 2022 CA
Excel®, Outlook®, and Word integration requires Microsoft Excel, Outlook, and Word (32-bit versions) 2007, 2010, 2013, 2016, and 2019
Microsoft 365 Integration – Requires Microsoft 365 Business Premium or Enterprise Editions
Printers supported by Windows 8.1 or Windows 10
Adobe® Reader Acrobat
Multiuser
Multiuser environments are supported in Sage 50 Premium Accounting and higher
Multiuser mode is optimized for Windows Server 2008 R2, Windows Server 2012 R2 (requires installation of KB3118401), Windows Server 2016 client-server networks, Windows 8.1, or Windows 10 peer-to-peer networks
A maximum of five licensed named users is allowed for Sage 50 Premium Accounting and up to 40 named users for Sage 50 Quantum Accounting; a named user account is granted a license when selected in the user maintenance screen
2 GB of disk space for installation of components on server
Read More-: Sage 50 Canada Edition Installation
Terminal Services
Windows Server 2008 R2, Windows Server 2012 R2 (requires installation of KB3118401), Windows Server 2016 or Windows Server 2019 along with Remote Desktop Connection or Remote Desktop Web Connection client is required to run in a Windows Terminal Services environment; no more than 5 named users for Sage 50 Premium Accounting or up to 40 named users for Sage 50 Quantum Accounting
Terminal Server requires additional memory when more than one user is running under Windows Terminal Services.
Other
Customer registration and acceptance of License Agreement for Sage 50 Accounting software products
Recommended Configuration to Install Sage 50 2022 CA Edition
2.4 GHz processor (Intel Core i3 and higher) for single user and multiple users
4 GB of RAM for single user and 8 GB and higher for multiple users
What's New in Sage 50 Accounting – CA Edition Release 2022.0?
This product update covers all product solutions of Sage 50 Accounting and Sage 50cloud Accounting (Release 2022.0) and includes the updates from previous releases.
Bank Feeds
Improvements in banking services to give you a faster and more seamless experience when connecting to your bank and downloading transactions.
Error Handling for Sage Services
If you are encountering connectivity issues or Sage is having technical difficulties or a service problem, you can still open your shared Sage 50 company in read-only mode.
Paid Family Leave Withholding Options
Payroll Settings have been expanded to include additional withholding fields for states that have paid family leave and require employers to collect contributions from employees.
Please Note: To access above mentioned features you must have a service plan that includes bank feeds and payroll.
Sage 50 Canadian Edition 2022 Download Link
Although you need to pay to buy a Sage 50 license, you could down load and set up the software application for free. However, you have to run the software program software as a trial, which expires after 30 days. If you're the usage of Sage 50 to improve a employer file, then you could make do with the trial version, but if you need to apply this accounting software program to hold all of your monetary data, you then definitely truly have to purchase a license.
Final Words :
Downloading Sage 50 – CA Edition 2022 is not a complicated process at all, especially if you ensure that your computer meets the system requirements and that you can follow the installation process step-by-step as mentioned in the post. However, if you are unsure of the installation because you are doing it for the first time or you come across any errors while trying to install.
It is highly recommended that you connect with our expert team of Sage 50 technical team who work round the clock to do their best in ensuring that you have a great experience using the software. Don't hesitate to call us 1800 964 3096 or write to us if you require our assistance.
Accounting Professionals & Specialized Experts
Want quick help from accounting software experts? Get in touch with our team members who can install, configure and configure your software for you. Proficient in fixing technical issues, they can help you quickly get back to work whenever you encounter an error in Sage software. Our team is available 24/7 365 days to assist you. To get in touch.
What Should you keep in Mind as you Prepare to Install Sage 50 2022?
As you get ready to install Sage 50 2022 on your computer, keep in mind these few things:
🔹 Verify all computers meet the minimum system requirements
🔹 Close all other Microsoft and non-essential programs on the computer before installation
🔹 Turn off your anti-virus for the duration of the installation process
🔹 Leave your firewall on and enable notifications.
🔹 Make sure the User Account Control (UAC) is set to a minimum, not maximum. This may require Admin access.
If you are upgrading your current version of Sage 50:
🔹 Back up all companies.
🔹 Have all users exit Sage 50 before starting the install on the server.
Which Version of Sage 50 2022 Should I Purchase if I am Just Starting to Set up My Business?
If you are new to accounting programs and just starting to set up and organize your business, it is most recommended that you use Sage 50 Pro 2022 version. Sage 50 Pro Accounting 2022 gives you the tools you need to organize and manage your business, leaving you free to focus on success. Furthermore, you also get the following benefits:
🔹 It is easy to set up and use so you can pay bills, invoice customers, and track how much money you have.
🔹 You can also protect your financial information from unwanted eyes with module-level security and locally installed software.
🔹 As a business owner, you get to spend more time on your core business because you can quickly breeze through administrative tasks.
🔹 Last but not the least, you also get several in-product tips, videos, and screen- level help give you just the info you need to become more efficient and productive.
🔹 The Sage 50 2022.0 version download is approximately 430 MB which means on normal Internet connections, the process will take around 30 minutes, but this primarily depends on the download speed of your Internet.
🔹 Also, the installation speed depends on a few factors related to your computer such as the memory, available free space on the hard drive, processor speed, etc.
🔹 The server installation usually takes longer than when you install the software on workstations.
🔹 If you are installing the program on a network, it will be installed on the server first and then it can be installed on the workstations at the same time.
🔹 Once the installation is completed, each company needs to be converted and the time for conversion depends mainly on the size of the database and how many versions of the database are required to be converted. For instance, a conversion from 2016 version to 2022 will take much longer as compared to the process of conversion from 2019 or 2020 to 2022.
Related Posts