SAGE is a manufacturing company that has offered businesses all over the world a way to overcome their financial problems by incepting accounting software that could easily handle it all with least possible mistakes. One area that it covered was the payroll that is an imperative part of any business dealing with salary and other incentives of employees but definitely a tedious one. To combat this Sage Payroll Essentials was introduced.
Sage Payroll Essentials is basically developed for small and start-ups businesses having employees around 10. It is quite easy to use even for novice computer user and thus is made with user friendly interfaces, that offers tax solutions, help in direct deposits and other processes. It swiftly helps to maintain your payroll system without any fuss and hassle.
Solution for FLSA
While adding employees there are many rules and regulations that you need to be aware of and comply with. One such regulation is Fair Labour Standards Act (FLSA), set up by the Federal, which can now be easily handled with Sage Payroll Essentials.
Simplification of your Payroll System
All you have to do is enrol with online version, create your own account and garner limitless payroll benefits at low nominal cost.
Swift Management of Taxes
The software is equipped with local, state and Federal tax filing capabilities that ensures you are saved from payment of penalties and late fine.
Key Features of Sage Payroll Essentials
Easy to Use

Just fill in your payroll data, rest will be completed by software itself.
You can avail Direct Deposit method for your employees pay check or print them also.
Easily connects with QuickBooks Interface.

Tax Filing and Payment

The software is outfitted to not file taxes (local, state and federal) but also pay them for you in time.
All the notices and legalities sent by the Government are handled by the software swiftly without any hassle.
The software issues can be swiftly dealt by connecting with the experienced customer care member, who is selected by American Payroll Association (FPC), through online chat option.
Infographics – Review of Sage Payroll Essentials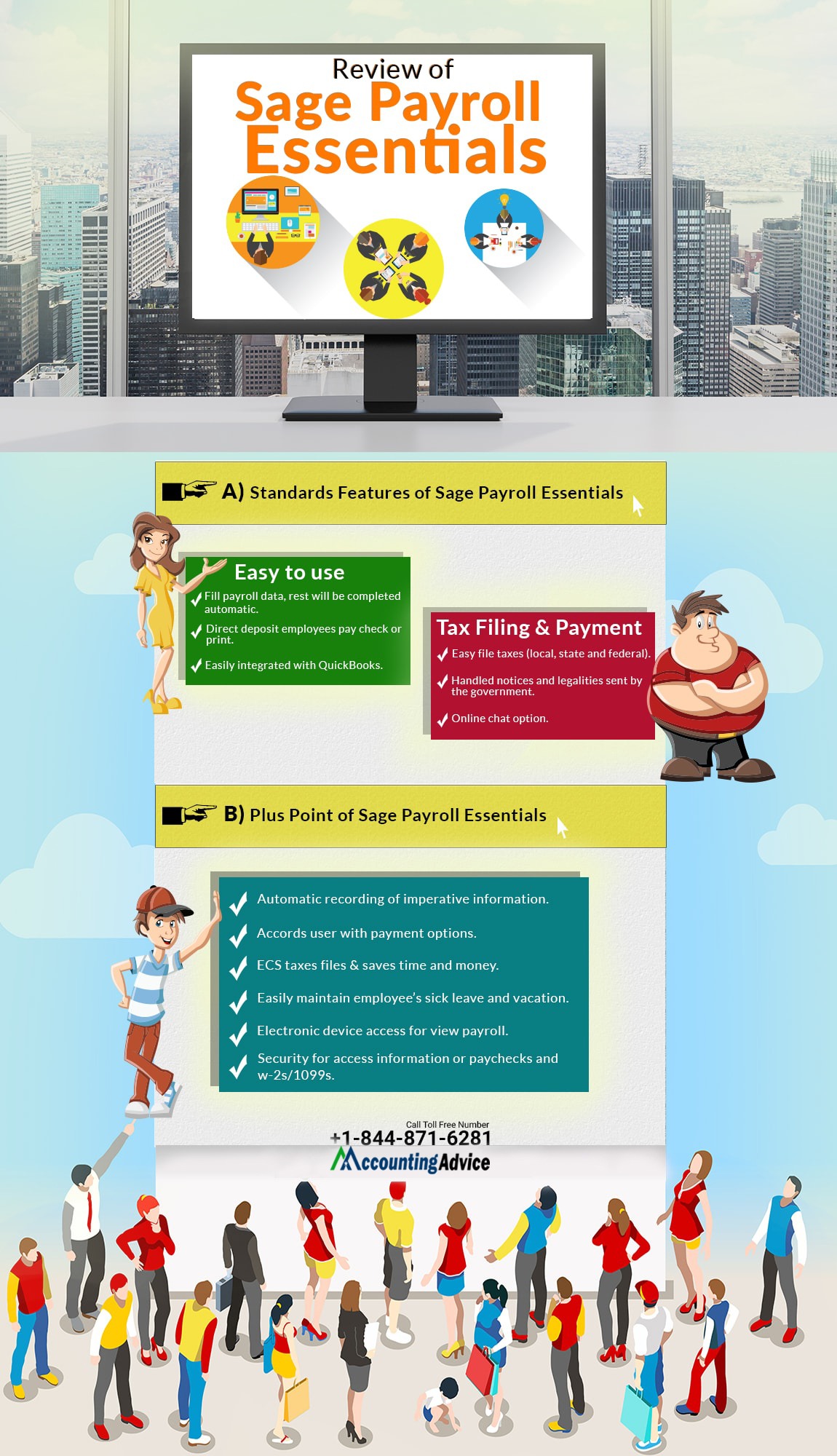 Embeded this Image on Your Site:
Note: copy above code press "Ctrl + C"
Benefits of Sage Payroll Essentials
Automatic recording of imperative information, this exempt the reconciliation of paychecks.
Accords user with payment options. Paycards can also be availed in order to pay employees.
The software not only performs deposit function but also files for taxes electronically that in return saves time and money.
Sage Payroll Essentials easily keeps an eye on all the sick leave and vacation balances that helps to stay on track of leaves availed by employees.
User can also access their payroll software via any electronic device which induces more flexibility.
Users can accord their employees with restricted access to online so they can view the information regarding their paychecks and W-2s/1099s.
Sleek Interface and Navigation
Sage Payroll Essentials accords users with easy to understand navigation system and a user friendly dashboard that consists of self explanatory tabs that are preceded by sub menus clearly labelled. Once you enter into the software and reaches dashboard you can view four main tabs on the toolbar menu. These tabs open to sub tabs that are clearly labelled with what function they perform. The four tabs are named as follows:
Payroll – It helps to start payroll, employees' information, employees' payment options and imperative company details.
Employee Services – It consist of interface for employees consisting details of their payroll, W-2 data and other similar information.
Front Row Reports – Basically some of the needed reports of all the employees.
Settings – Revolving around user settings, accessibility, permissions etc.
Impeccable Combination – Sage Accounting, Sage Payroll Essentials & Sage Payments
One of the best ways to get maximum results out of your Sage software is to work on all three software together, namely, Sage Accounting, Sage Payroll and Sage Payments. Although all three software are remarkable in their own and work admirably even when you use one single of them, but when integrated together they can offer much more than ever before. They not only simplify complex accounting tasks, manage business with least interruptions but also save time and money.
Sage Payroll Essentials is just one part of Sage Payroll Services suite but can handle almost all your essential payroll requirements without any hassle. Considering the software is created on coding which can go wrong at any time for myriad of reasons, you can contact the expert services of experienced customer care team of SAGE for any issue. If you are unable to get in touch with them, you can alternatively, go to www.accountingadvice.co through responsive Toll Free Number .