Sage 50 2019 Download
Sage always releases their latest updates/upgrades which gives the users an advance and latest way for seamless operations. Sage 50 2019 download provides you a single place to track your sales, manage multiple projects, and perform many more functions. Here, you get to know about steps to download, installation, registration, and even activation steps for Sage.
Before downloading the software it is very much important to know the system requirement so that you can run the Sage 50 without getting any obstacles, else you might not able to install the software successfully.
Downloading Sage 50 2019 by Downloading Below File
Minimum System Requirements for Sage 50 2019:
RAM: 4 GB (Minimum) but 6 GB (Recommended).
Disk Space: 1 GB to install the software and 2 GB empty space in Hard Disk.
Processor Frequency: For Premium and Pro edition: 1.0 GHz (Minimum) and Recommended: 2.0 GHz.

For Accountant and Quantum: Minimum 2.0 GHz

Microsoft Operating System: Windows 7, Windows 8 and Windows 8.1.
Internet Connection at High Speed.
MS Word and Excel: Version: 32-bit (Years 2010, 2013 and 2016).
Read More-: Sage 50 2019
Methods for Registration, Download, Installation and Even for Activation of your Sage 50 2019
Let's have a look at the available option to run your Sage Software in your computer:
Use New CD to Register Sage
You need to go online to visit customer portal of Sage.
If you are first time user, you need to register. If you already have an account, you need to log-in with correct credentials.
Log-in to your account.
Verify the available information and then submit the same.
Go Online or Download without CD
If you are using for the first time: Download the installer file. From this, you will get the latest version available in the market.
If you have trial version installed in your system: Purchase product key online and then activate your Sage version using that product key.
If you have any problem or you need assistance on Sage 50 2019 Download, click here…!!!
To upgrade Sage to Latest Version: Check if there is an upgrade of Sage available or not. If available, check if it matches your system requirement or not and then proceed to download the version.
Upgrade-: To Upgrade form Sage 50 to Sage 50 2022
To check system requirement and upgrade your Sage software, click here…!!!
What Covers the Installation?
Key Code or Activation Key: It contains total 23 alphanumeric characters
Serial Number: It contains 14 alphanumeric characters
Payroll ID: It contains total 10 alphanumeric characters.
Account ID: It starts with 400XXXXXXX numbers and bears total 10 digits
What Options Available for Sage 50 2019 Installation?
Single user mode
Troubleshoot Installation
Multi user mode
Server Setup
Workstation Setup.
Also Read-: How to Install Sage 50 2019 On Windows 7 64-Bit
Activate Sage 50 2019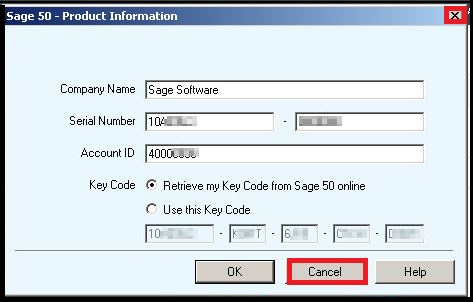 If you are working on the Trial Version: You can go online activate it to convert your trial version into full version.
Use Internet Connection for Installation:

Open Registration Window and then click on Activate Now.
Here, you need to enter valid credentials: Serial Number, Company Name and Account ID
Now, to retrieve key code, go online.

Installation via CD/without Internet:

Open Registration Window and then click on Activate Now.
Here, you need to enter valid credentials: Serial Number, Company Name and Account ID (Mind no white space is left)
Here, enter Key Code.
Sage Payroll: It comprises cloud-based feature for small, medium and for big companies that help you manage your payroll tasks.
You can use Sage Payroll feature to pay company-generated checks, direct deposits and pay cards. This software can easily be deployed on-premises.
Here are the Certain Tools that it Covers:
GL export Capability
Dedicated payroll support
Delivery checks
Report-writer tool
We can help you in downloading and installing Sage Payroll Software. Click here to take our help.
Human Resource Management System (Sage HRMS)
Use HRMS and be the part of various smart decisions for your organizations.
Sage HRMS Comprises Different Features:
Maximizing in investment by investing more in employees
You can fulfill HR challenges
Set priorities and stay focused on it
You can easily manage time and attendance
Invest in Skill and Talent to manage your business effectively and efficiently
Sage HRMS (Human Resource Management System) is one of the best accounting software in the world to manage your employees' expenses and calendar.
We can help you in downloading your Sage HRMS without any error/issue. Click here…!!!
Final Words
While performing steps for " Sage 50 2019 Download" if you stuck anywhere, simply call at Sage 50 helpdesk number and get in touch with top-notch Sage 50 experts. You can email at [email protected] or can do a Sage live chat with the professionals as they are available for you 365 days.
If you don't want to call, you can also visit www.accountingadvice.co and fill the contact form, and soon one of the technician contact you with the relevant information.
Accounting Professionals & Specialized Experts
Want quick help from accounting software experts? Get in touch with our team members who can install, configure and configure your software for you. Proficient in fixing technical issues, they can help you quickly get back to work whenever you encounter an error in Sage software. Our team is available 24/7 365 days to assist you. To get in touch.
Frequently Asked Questions(FAQs)
I am Having an Older Edition. Is it Mandatory to Upgrade to Latest Version?
Although you are already using Sage 50 older version, we always recommend upgrading to the latest release version to get smooth and seamless functioning with advanced tools which also helps you to be more productive.
Can I get it for Multiuser Mode?
Yes, you can surely go for multi-user mode. Multi user mode helps you to use the software for multiple users.
My trial Version of Sage 50 2019 is Going to Complete, How can I Get Licensed Version?
There are two ways of getting licensed version, either you can get the CD and after installing the software you can enter the product key which is available on the CD. Instead of, you can also purchase the product key online, and then you can activate it using the same key.
Currently I don't have Internet Connection, Can I Install Sage through CD?
Yes, why not. However, an internet connection is required to activate the key and to work with Sage 50 2019.
Related Posts