Sage 50 Complete Accounting Software has made the world of accounting much simpler for accountants / bookkeepers and the business owners. Its new age technology combined with award winning powerful features while being user friendly and easy to navigate has taken this product right to the top within just few years of its incorporation. A remarkable product launched by the company with same name, SAGE, has been seen as an added bonus for small to mid-sized companies along with start-ups who lack the expertise of experienced accountant. this is reliable desktop software with anytime, anywhere cloud access. Perfect for working with your accountant or while traveling – anywhere you have Internet access and Sage 50 installed.
Sage 50 Complete Accounting has revolutionized the way of handling accounts and finances of a business with its in-built incredible features and optional easy to integrate applications.
Infographic – Sage 50 Complete Accounting Software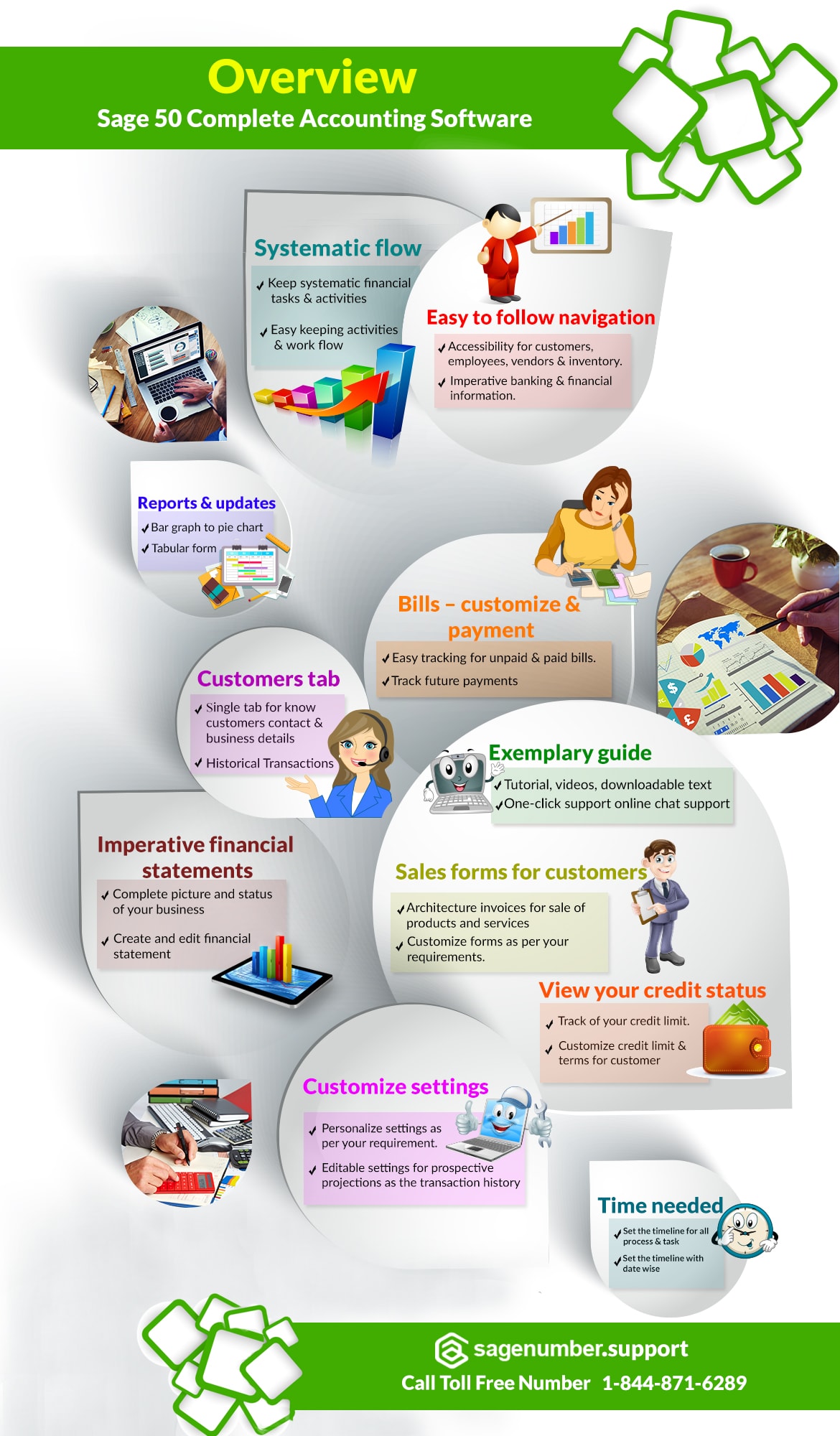 Embeded this Image on Your Site:

Note: copy above code press "Ctrl + C"
Features of Sage 50 Complete Accounting Software
Easy to Follow Navigation
The navigation across the software and your personal dashboard is quite easy to follow and process through. All the options are tabulated for you on the home screen with many more detailed options listed under the particular tabs. Shortcuts to your most recent and frequent tasks is automatically provided on the main screen to ease your work and save time. Imperative banking and financial information is also accorded along with swift accessibility for your customers, employees, vendors and inventory.
Systematic Flow
The main aim is to keep all financial tasks and activities in a systematic manner so as to avoid any undue confusion that ultimately causes loss. Repetitive, imperative and needed in future tasks are set as per the work flow that as and when needs them. Keeping activities numbered as per their needs leads to proper and swift completion of the work with least possible mistakes.
Customers Tab
This tab consists of the much needed information regarding all customers such as contact details, business details etc. To jot down any information regarding any particular customer this tab is used.
Reports and Updates
Recent and updated reports can be viewed easily to make required decisions quicker and swiftly without much delay. You can view the report in any form you wish from bar graph to pie chart and tabular form.
Exemplary Guide
The most compact guide in form of tutorial, videos, downloadable text and on screen advice etc ensures that there is a way out for you at every step of the way while working with Sage 50 Complete Accounting. You can also go for One-click support online chat option in case of deeper problems.
Sales Forms for Customers
You can structure invoices for sale of products and services as per your needs and requirements with fields that you need. You can play around with this form as you edit or customize it. Furthermore you can save the invoice for future requirements or repayments and also print them without any fuss.
View Your Credit Status
It is imperative that the customer is given enough credit but should not be over exceeded. Now you can keep track of your credit limit and also customize the terms as per your customer.
Bills – Customize & Payment
You can keep an eye on all the bills that you have paid or need to pay in future. You can pay via checks and store it for future payments of same. Apart from this with Sage 50 Complete Accounting you can either pay all or pay a part of it.
Time Needed
Set the time frame for each and every process in order to have a set timeline in mind for the tasks. You can set the time from any number of days to months. Furthermore, you can also go through 'What If' situations without messing with the original data provided with the software.
Customize Settings
You can change and set settings as per your need and requirement. You can also play with settings to have clear idea about prospective projections as the transaction history.
Imperative Financial Statements
These statements are imperative for the business as they show the complete picture and status of the business. You can create and edit financial statement by click on the tab on the Menu Bar which further can be printed, transferred to PDF format or emailed to others interested parties. They are best tools to know where your business stands and what areas do it requires aid in. Some of the statements are:
Cash Flow Statements
Profit & Loss Statements
Balance Sheet
These features take Sage 50 Complete Accounting software to altogether new level of account management. The software works as a bridge that connects business owners and accountants alike with superior way of maintaining financial activities and tasks. We, www.accountingadvice.co, offer whole range of technical support, that considering the high level of technology of the software, is managed by experts having wide range of experience in employing and resolving Sage 50 errors and issues. Connect with us and come join the satisfied brigade of our clients.