How to Fix Sage 50 Balance Sheet Out of Balance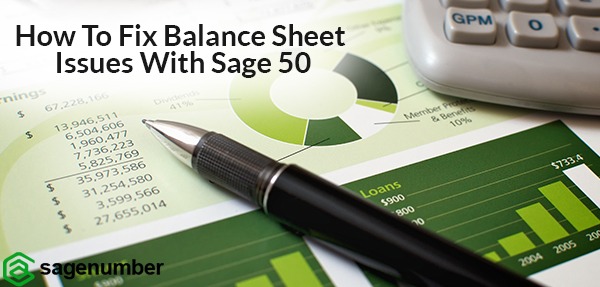 Balance sheet is the main financial statement of the company that summarizes the assets, liabilities, income and expenditure at a particular date. Balance sheet provides valuable insight about the financial strength of your organization. It is divided into five main sections: fixed assets, current assets, creditors due within one year, creditors due after one year, and capital and reserves.
For accurate analysis and prediction of your company's profit and loss, it is of utmost importance for your balance sheets to be error-free. However, since large amount of data is involved while creating a balance sheet, accounting errors do occur which, if not corrected timely, can lead to an incorrect prediction of your company's financial health.
Different Sage 50 Balance Sheet Out of Balance
Here are some of the issues that might occur while preparing a balance sheet on Sage 50 Accounting software:
Retained Earnings account balance is incorrect
Accounts have different balance on the last day of last fiscal year and first day of current fiscal year, with no transaction
Accounts did not close to the retained earnings account
Retained Earnings account amount have been fragmented to another account

Step to fix Sage 50 Balance Sheet Out of Balance
Follow the below mentioned steps to quickly and easily fix balance sheet issues with your Sage 50 Accounting software:
Check for damaged transaction errors
Click Reports & Forms and go to General Ledger.
Select the General Ledger report.
Now click Options and change Time Frame to All.
Click OK.
If an error message appears, close the error message and the General Ledger report.
Select a Report or Form.
Click File and then click Data Verification.
Select Both tests and click Start.
Save the backup.
The tests will start automatically when this completes.
Once the Data Verification process has finished, check the account balance.
Your general ledger should now be in balance.
Integrity Checks
If the general ledger balance is still incorrect, or is out of balance, then you need to run the integrity check. For this,
Let all other users close Sage 50.
Now go to Tasks, then go to System and select Change Accounting Period.
Select period 01 and click OK.
Next, select Help and go to Customer Support and Service and select Integrity Check.
Run Chart of Accounts/Journal Synchronization test.
Check the account balances. The General Ledger should now be in balance.
If the account balance is still incorrect, then
Go to Integrity Check and click
Select Journal Balances box and click OK.
Now access Integrity Check and click Continue.
Select G/L Balances box and then click OK.
Check the account balances. The General Ledger should now be in balance.

Should you still be facing the problem, expert help is just a call away. Call our toll free number +1844-871-6289 to get in touch with our expert technicians. They can quickly identify your balance sheet issue and give you accurate and timely resolution to your problem. Our Sage technicians can also give you expert tips and advice so that you can efficiently prepare your balance sheet reports and keep them error-free. So, for expert help and advice related to Sage 50 Accounting software, call us today!
Why Accounting Advice?
We are one of the leading remote tech support providers for Sage accounting software. Our expert technicians have years of experience and complete technical know-how for resolving Sage software related issues. No problem is too big or too small for them. They listen to your issues diligently and try to resolve them with utmost care and compassion, in minimum wait time possible. Our technicians boast of providing first call resolution for all Sage related issues. So, whether you want to fix your balance sheet related issues or need help to update or upgrade your Sage 50 software, call us. We can resolve all your issues so that you can always keep your business finances under your control.
Report Your Issue
(Didn't find what you were looking for! Report your issue and get customized help from our Sage experts.)