How to Fix Sage 50 Error 1918

Once you encounter the Sage 50 error 1918, you will get the following error message as "Error 1918-Error installing ODBC driver MYSQL ODBC". You will face this certain error when you are unable to install the ODBC driver along with the executable file. To be able to order and install it, you will require the proper process of doing so. In this article, we would discuss the many reasons that lead to this particular error as well as the troubleshooting solutions that can fix it. These solutions are completely updated and verified as it is offered by the team of experts who are adept at resolving such issues. However, before we speak about the various troubleshooting steps, it is important we discuss the many reasons that lead to this problem.
Cause for Sage 50 Error 1918
The Sage 50 Error 1918 can occur because of various reasons. There are Multiple issues that could trigger this particular error. Now, let us get to know the main reasons that are responsible for causing the error.
Foremost there could be some fault when setting up ODBC.
Next, occurrence of the issues while installation of ODBC on your system.
Thirdly, the ODBC has not been updated.
Other causes for this certain error could be that the file has not been found on your system.
A lost connection could also be another reason.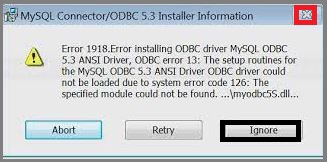 Read More : Sage 50 Error 1919 Configuring ODBC Data
Solution to Fix the Sage 50 Error 1918
There are steps to get this error fix by reinstalling the ODBC driver. You just need to follow the steps accordingly to get it done easily. The steps are as follows:-
For Sage 50 Accounts v22 and below Versions
Firstly, check the directory of the program

Go to the Help menu
Then click on the About option
After that go to the Program Details section and then note down the Program Directory

ODBC driver needs to be reinstall

You need to close all the software then restart your system now
Do log in as an Administrator
Press the Windows+E keys together from the keyboard
Now search for the program directory
In this directory, search the folder ODBC32 and then open it
If you won't find the folder then again install the Sage Accounts software
On the setup.exe file, do open it to start the installation
Select the Yes button
In the end, click on the Finish button and reboot your system.
For Sage 50 Accounts v23 and above Versions
First of all, close all the running programs in your system and then restart your system
Do log in as the Administrator to your system
Now you need to download the file according to the version that you want to download and also according to your operating system (32bit or 64bit)
If you don't know the type of operating system
Then go to the Control Panel and then click on the System icon
Now after downloading the file
Double-click on the file to start the installation
Then click on the Yes button and then Finish button
In the end, restart your system.
Error 1919: Error Configuring ODBC data source' when Installing v25
This error usually occurs in case the software has not been configured ODBC correctly. To be able to solve this, it is required to make sure that the user is logged into Windows as a user with full administrative privileges. Once done, you need to install the software once again directly from the installation files.
Follow the steps below after it has been assumed that you have previously tried to install Sage Accounts from a download on your system. If you have not, it is required to download and install your software first:
To Download and Install Sage 50 Accounts v26
Go to the menu bar
Now click Tools
Next click Sage Drive
Now download Sage 50 Accounts v26
Next enter your My Sage login details
Now click Sign In
Then click Download.
When prompted to save the file, note the file name
Next click Save.
According to your web browser, the file may automatically save to your Downloads folder. 
In order to view your Downloads folder, press Ctrl + J on your keyboard.
Log on to Windows with administrator Privileges
In order to check if you are logged into Windows as a user with full administrator privileges:
Start by Pressing and holding the Windows key and press R.
withIn the Open box, type Control Panel
Next click OK.
Go to the View by drop-down list select Large icons.
Now, Click User Accounts, then Manage User Accounts
In case the Administrators is displayed in the Group column for your user name, it means that you have administrative privileges.
In case you do not have administrator access, ask your network administrator to offer you administrator privileges, or to log in to your system as an administrator if you need to install Sage software
Install the Software Again
If the same message appears, continue to the next step to install the software directly from the installation files:
Press the Windows key + R.
Type %temp% then click OK.
Double-click Sage Accounts.
Double-click Sage 50 Accounts v25 or Sage 50 Accounts v25.msi
Also Read : Sage 50 Error 40960
Final Words
You can easily contact the team for all your queries and issues that you are facing to get it resolved. The team is here to help you 24/7 hours so you can contact them anytime from anywhere. They resolve all the technical or no technical issues and never let you go without any solution. You just need to dial the toll-free Sage 50 customer helpline number, send the email at [email protected].
Accounting Professionals & Specialized Experts
Want quick help from accounting software experts? Get in touch with our team members who can install, configure and configure your software for you. Proficient in fixing technical issues, they can help you quickly get back to work whenever you encounter an error in Sage software. Our team is available 24/7 365 days to assist you. To get in touch.
Frequently Asked Questions(FAQs)
How to Fix Errors In Sage?
In order to fix errors in Sage, you need to follow the below steps:
🔹 To begin the automatic repair of the data, click Run repair.
🔹 NOTE: If you are using Remote Data Access in Sage 50 Accounts v27, the repair needs to be run within the main site
🔹 In order to back up the data
🔹 Click OK then click OK. 
🔹 In case the errors are repaired, the Success window appears.
Why Does the Sage 50 keep crashing?
The main reason for Sage 50 keep crashing error to be occurring, the main issue could simply be the access level within your Windows user. In order to test this, log on as an administrator and try to open Sage 50 Accounts. In case you can not log on as an administrator, try to run Sage 50 Accounts as an administrator: 
🔹 Start by Right-clicking the Sage 50 Accounts shortcut,
🔹 Finally click Properties
Can you Repair the Sage Data File?
In order to repair the Sage Data File, you need to follow the below steps:
🔹 Start by Entering your My Sage Login Email and Password 
🔹 Next click Log in. 
🔹 When prompted, click Select for the required company. 
🔹 Next Click the Software tab, 
🔹 After this click the Data repair center. 
🔹 Go within the Data Repair
🔹 Finally click Upload/download your data
Related Posts