Sage 50 Quantum Cloud Hosting : Low Cost Dedicated
Sage 50 Quantum Cloud is an improved version of Sage 50, with a plethora of exciting tools and features. With its user-friendly interface, Sage 50 Quantum Cloud has helped both entrepreneurs and small businesses accomplish their accounting activities more efficiently. The best part about this software is that there is no geographical barrier while working on it as one can work from any nook and corner of the world.
In this blog, we will take you on a tour of the useful functionalities added in this quality addition to the Sage family. After going through this blog, you will have a fair idea of what it brings to the table and what you are missing out on, by not using the Sage 50 Quantum Cloud Hosting.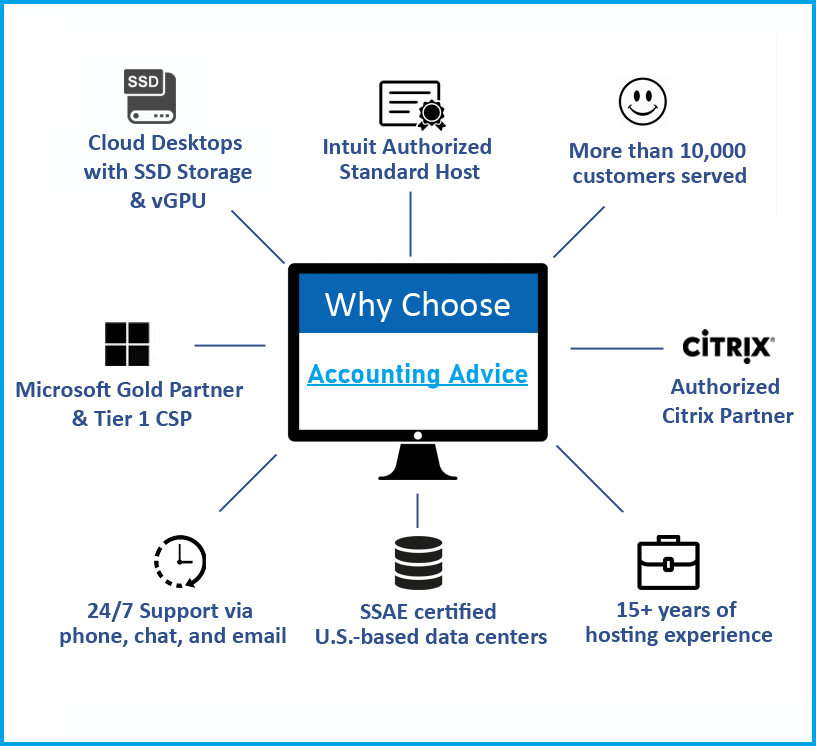 What are the Different Types of Sage 50 Quantum Cloud Hosting Services?
Sage 50 Quantum Cloud Hosting services have been extremely popular of late. But, you can avail full benefits from it only if you can have the service that fits your unique needs properly. There are three major types of Sage 50 Quantum cloud hosting services:
Platform as a Service (PaaS)
It helps users in web hosting and application development. PaaS is primarily used by developers and programmers. Here, an external cloud service provider provides and manages the hardware and application-software platform. The user, on the other hand, is in control of the apps that run on top of the platform as well as the data on which the apps rely. it provides its users with a shared cloud platform for application development and management without the need to build and maintain the infrastructure that is typically associated with the process.
Software as a Service (SaaS)
SaaS is a service that provides its users with a software application that is managed by the cloud service provider. SaaS apps are typically web applications or mobile apps that users can access through a web browser. The user is responsible for software updates, bug fixes, and other general software maintenance. they can connect to the cloud applications via a dashboard or API. SaaS also eliminates the need for each individual computer of a user to have an app installed locally. thus, it facilitates more methods of group or team having access to the software.
Infrastructure as a Service (IaaS)
IaaS refers to a cloud service provider managing your infrastructure (including the network, actual servers, virtualization, and data storage) over the internet. The user gains access to it via an API or dashboard and, in essence, rents the infrastructure. The user manages matters relating to the operating system, apps, and middleware. The provider manages the hard drives, hardware, networking, data storage, and servers. the provider also handles matters related to repairs, outages, and hardware issues.
Also Read: How to Install Sage CA on Cloud Server
With cloud hosting services, a user can develop their own applications with enhanced manageability. Correct selection of cloud hosting services can make a huge difference to any company's IT infrastructure deployment. Especially, Sage 50 Quantum is a great choice as it comes with inexhaustible access to automatic updates, freedom to add befitting services for your business, credit card payments, support, payroll etc.
Advantages of Sage 50 Quantum Accounting
You can develop your own applications with improved manageability.
More number of employees (up to 40 users) can access the data securely, from anywhere
With user friendly dashboards and real-time reports, it can help you dig deeper into your financial data and make informed decisions.
Provides the much-needed freedom to add befitting services for your business
It is a user-friendly software which saves a lot of time for the users
you can connect Sage to multiple business systems to enhance the effectiveness of your operations
Provides inexhaustible access to automatic updates
With its automated workflow systems, the Sage 50 Quantum Cloud helps to manage and track purchasing and sales more efficiently.
Large database capacity which makes accessing reports faster.
It is well suited for distributors, construction, manufacturers and non-profits.
We hope the above discussion would provide you with enough information about the exciting features offered by Sage 50 Quantum Cloud. If you want to know anything more about this version or you want assistance in installing it, you may speak to some seasoned Sage professionals.
What is Accounting Advice?
The Accounting Advice is a great team of trained Sage executives who will make working on Sage very easy for you. They are available 24*7 and can assist you regarding any Sage related issue.
Even for knowing more about Sage 50 quantum cloud hosting, contact the Sage tech support team of Accounting Advice. They can guide you with all the details and help you make a better choice. The toll free number 1800 964 3096 of the Sage technical customer support team.
---
Frequently Asked Questions (FAQs)
What is the Expense Capture Feature IN Sage 50 Cloud?
Sage 50 Cloud includes an important feature called Expense Capture. We frequently misplace or lose expense receipts, and once lost, they cannot be claimed later. With the Expense Capture feature in Sage 50 Cloud, we can simply take a photo of a receipt with our smartphone, add a brief note about the expense, and migrate it into the Sage 50 Cloud via MS Office 365, which is already integrated with the program.
What is Sage Business Cloud Accounting?
Sage Business Cloud Accounting, formerly known as Sage One, was created with the needs of small business owners and freelancers in mind. This means it is inexpensive while also offering a robust set of features such as invoicing, reporting, and expense tracking. There are two plans available for the software: one for individual users and one for teams.
Sage Business Cloud Accounting, like many other software solutions in 2021, is priced on a monthly subscription basis. This eliminates the need for you to purchase licenses, renew annual plans, download updates,  and distribute limited licenses all across your organization. The subscription-based model keeps the price of Sage Business Cloud Accounting competitive with other accounting software platforms, and you do not need to fret about manually updating to the latest version.
What is the Sage Business Cloud Migration Tool?
The Sage 50cloud Accounts Client Manager v27.2, Sage has included the Sage Business Cloud Migration Tool. Its purpose is to assist you in converting the Sage 50cloud Accounts data to Sage Accounting data. A validation schedule is also included to ensure that the data converts smoothly. This migration tool validates Sage 50 Accounts datasets to ensure they are imported into Sage Accounting. Once validated, you can export the data to Sage Accounting.
Will all my existing data be converted during the conversion to Sage Business Cloud Accounting?
No, only the following sets of your existing data will get converted –
💠 Supplier Details
💠 Customer Details
💠 Customer balances
💠 Individual transactions as desired
💠 Chart of accounts
💠 Account balances
💠 Stock/Inventory Items (Untracked)
💠 Supplier balances
Related Posts