How to Upgrade to Sage BusinessVision 2018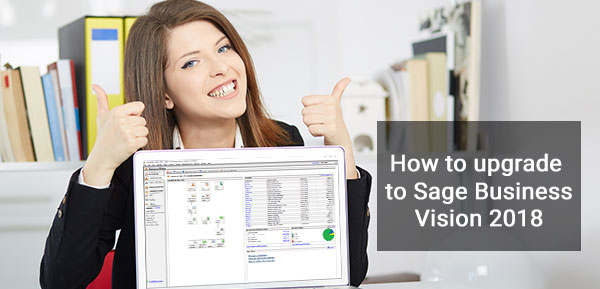 A number of organizations are using Sage 50 software for their daily accounting and finance tasks. Its popularity is increasing day by day due to its varied helpful features which makes tasks easier. A person from a non-finance background can also learn it while using it.
It is good to upgrade a software at the right time to get full benefits. In case of any doubtfulness and problems, contact the trained team of Sage tech support experts at Accounting Advice. You can call on the toll free number .
Upgrading the Previous Version of Sage BusinessVision to Sage BusinessVision 2018
The Upgrade to Sage BusinessVision 2018 process is a simple and direct one. Please check the following things before you start:
For the new version, acquire a new serial number and activation codes as you will need them during installation. Apart from the serial number and activation
Code, make a note of the name of your company as it is registered with Sage and the Account ID. It ) will be required during installation.
After that, start downloading Sage BusinessVision 2018.
Log on to the Sage Knowledge Base: https://support.na.sage.com and sign in with your credentials.
Go to 'My Downloads'. It is at the top right and select Sage BusinessVision. It will be listed in 'Latest products'. Select the Sage BusinessVision 2018 link according to the edition you have.
Click on 'Download now'.
Take a backup of your company data before going further.
Now the downloading of Sage BusinessVision 2018 is done and you have the serial number, activation code and backup of data. Next step is installation. Remove the previous version before upgrading to have a smooth experience. Uninstallation can be done by going to the Windows Control Panel, select Programs and Features, choose Sage BusinessVision. Click on 'Uninstall'. Make sure that Sage BusinessVision is not running while installing. Re-start the computer before installing the upgraded version. Because if any files are open, it will be a mixed and error-prone upgradation.
Also ensure that you are logged into Windows as a local administrator or a user with local administrative rights because you will need to add or update registry info during installation.
Sage BusinessVision 2018 file that you downloaded from the Sage Knowledge Base has to be double-clicked. Extract the setup files to the default folder and choose Next.
Once the setup will run after the files are extracted and you will be presented with several options. Click on Install Sage BusinessVision. In case of upgrading, it is not essential to install the Pervasive Database Engine. Other add-ons will also remain same like existent LAN Packs, Custom Pack or Multiple Currency.
Select Next on the Welcome Screen.
Choose the licensing model. Go to Next.
Read the license agreement and choose Next.
Choose the location for the license files. This will contain the serial number and activation code. Accept the default and choose Next.
Enter the serial and activation information or continue the installation/upgrade using a 30-days trial.
Type in your Name, Company Name, Serial No., Activation Code and Client ID (your Account ID with Sage). Keep the Business Partner field blank. Go to Next.
Go to Update program and choose Next. If the previous version is Sage BusinessVision 2013 or earlier and you have uninstalled that version before upgrading, then choose Typical. Click Next.
Destination folder will be the default one I.e. the location of your previous installation of Sage BusinessVision. Go to Next.
Start the updation process and go to Next.
Once updation is done, select Next at the Select Folder.
Go to Finish and re-start PC. Now after re-starting, you will be working on Sage BusinessVision 2018.
It is advisable to upgrade Sage BusinessVision on all computers before logging into your company with the latest version. For more details, contact Accounting Advice. You will be happy by the quick assistance.
What is Accounting Advice?
The Accounting Advice is a Sage Tech Support team of experts who are trained in Sage software. They can guide you during the upgradation process and also offer you tips for a better working experience. The team is there round-the-clock. Get in touch via the toll free number .
Related Posts:
Report Your Issue
(Didn't find what you were looking for! Report your issue and get customized help from our Sage experts.)