How to Install Sage 50 2019 on Windows 7 64-Bit?
Sage 50 2019 is a powerful accounting software that can help you manage your business finances effectively. With Windows 7 64-bit, you can take advantage of the program's features and functions to streamline your financial tasks and improve your business operations.
Are you searching for the how to install Sage 50 2019 on Windows 7 of 64-bit?
Then here you are at the right place!
All the steps to install Sage 50 2019 on Windows 7 64-bit are mentioned in detail with all other information. Such as how to download Sage 50 in 64-bit, what are the system requirements, and features of Sage 50. So, just go through this article and you get your query resolved. The software is known by other names such as Sage 50c or Sage 50 cloud.
What are the Features and Enhancements of Sage 50 2019?
The new version has several new enhancements and features for improved functionality and facilitating better business:
Drop-down Menu containing Expandable Sales Order that opens right up to the SO Number
Auto reflection total at the bottom of the list in Quotes/Purchase/Receive Inventory windows
Cloud-based CRM software integration with Sage Software
All new stability and security patches to help minimize the UAC prompts
Utilizes the .NET 4.7.1 Framework with latest TSL security features to deter user for unauthorized access
Uses the advanced Azure security system in Sage Payroll for better security and threat protection
Upgrade to Cloud platform with PayPal inclusion
Read More-: Process to Install Sage 50 in Windows 7 64-Bit
Sage 50 2019 System Requirement for Complete Installation?
The software is supported on Microsoft's latest Windows 10 platform, including Windows 8.1, Windows 8, Windows 7, and Windows Server 2016 – 2008.
Hardware Requirements for Sage 50 2019 (U.S. Edition) Setup:
1 GHz minimum, Preferably 2.0 GHz for multiple users
RAM – 4 GB for the 64-bit operating system
4 GB of free HD space
1 GBPS network speed, Email Service and Latest available version of Internet Explorer
MS Word and Excel (32-bit versions) for emailing, exporting reports.
Part I- Things to do Prior to Installation
Take back up of all the company files
Don't let any user use Sage Accounting Software.
Turn off the anti-virus
Set UAC control to minimum
Now, turn on the firewall & enable the notification.
Part II- Downloading the Latest Sage 50 2019 Version
You can also download the latest Version of Sage 50 2019.
Download from directly from Sage Knowledge Base or from within the Program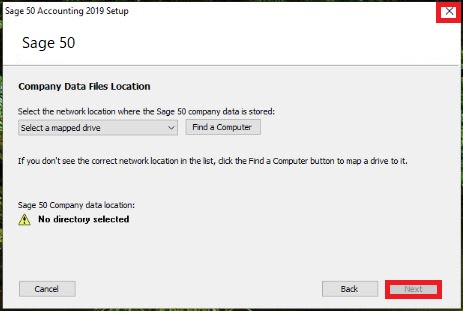 You can also download from Sage knowledge base or from within the program
Method 1- Downloading Sage 50 2019 from within the program
To Downloading Sage 50 2019 from within the Program-
From the server → Click on the programs → Select Services and check for the new update
Select the latest Sage50_2019.0.0.version and click on Download
Close the program after the download is finished and proceeds to the installation.
Method 2- You can also download the Latest Version of Sage 50 2019 using Sage Knowledge Base
Method 3- Installing Sage 50 2019
Installing Sage 50 2019 on every system individually:
Turn off the anti-virus
Windows Firewall Configuration that allows installation and running of Sage 50
Follow the installation guide till the end and complete.
Method 4- Installing Sage 50 2019 on a Network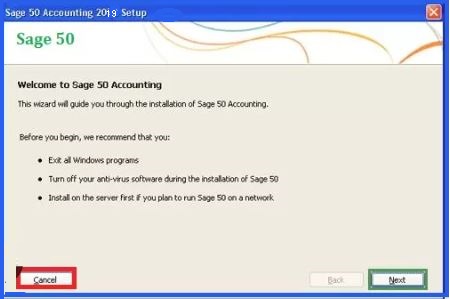 Follow the steps as it has been mentioned above during the installation on a standalone computer
Except until this prompt message appears – "Will, this be the only system on which Sage 50 is running?">Select No>Click Next
On the Data Files Storage screen – Now, in the server, select the system → Click Next
Here, you will see the Sharing Company Data screen → Click on the Folder to share & Click on Next
(Make sure you share all the right folder with the correct permissions)
Once the Installation gets completed > Open the Program > Activate by opening all the companies which allow the data conversion to the latest available version.
Continue with the installation of program and data on each workstation (simultaneously)
If you think that the above steps are complex and you need help, we are just a call away!
At AccountingAdvice, we are committed to resolving any error in your Sage software. Our advisor can take the remote access of your computer and complete the installation of the Sage 50 2019.
Also Read-: Fix Sage 50 Error 0x80040707 When Installing
Conclusion
You get the solution for the query "How to install Sage 50 2019 on Windows 7 64-bit". Now, if you have any further query, communicate with the team of Sage 50 helpdesk. They are available 24/7 hours to provide you the best assistance whenever required. You just have to dial the toll-free number, do a live chat, or send an email to the team. The team connects with you and gets you all the answers to your queries and solutions to your problems. You get all the glitches resolved.
Accounting Professionals & Specialized Experts
Want quick help from accounting software experts? Get in touch with our team members who can install, configure and configure your software for you. Proficient in fixing technical issues, they can help you quickly get back to work whenever you encounter an error in Sage software. Our team is available 24/7 365 days to assist you. To get in touch.
Frequently Asked Questions(FAQs)
How to Install if I have Sage accounts v24 Version Package or above than that?
🔹 Go to the Windows icon
🔹 Then open the Run window
🔹 In run window type %temp% and press Enter button
🔹 You see the folder of Sage accounts
🔹 Then open the Package folders
🔹 After that, double click on the Sage50Accounts_DataAccsess.msi
🔹 The wizard of installation opens up
🔹 Follow all the instructions
🔹 Now, you are done.
What if I am using the Lower Package of Sage Accounts v23?
In this case, all the steps remain the same but the package that you are opening would be of the same version you are installing. So just go with the same steps as Sage accounts v24 but the package is Sage accounts v23 or lower.
What if I don't have the Sage 50 64-bit Installation for my Windows 7 64-bit?
Don't worry you can also install sage 50 32-bit software. But if you want only Sage 50 64-bit software version then you have to first download that version and then install it properly into your computer.
Related Posts