How to Access My Companies in Sage 300
Sage 300 is a comprehensive business and finance software package that can help you manage your accounts, invoices and resources. It's the perfect solution for businesses of all sizes, but how do you access it? That's what we're here to answer! In this blog post, we'll provide step-by-step instructions for accessing your company's Sage 300. We'll also provide some tips to make sure you get the most out of your experience with the software. So, read on to find out more about Sage 300 and how to access it!
Sage 300 is one of the most trusted Accounting software, that is used to offer straightforward solutions for swift financial solutions. Some of the most striking features are
Easy bookkeeping
Invoicing
Cash Flow management
Integration of third-party
VAT returns
The best part about Sage is that it allows small-scale owners to be able to easily track their income and expenses in various currencies. Also, tracking of inventory and swift management of invoices is possible. One of the finer aspects of Sage 300 is that microbusinesses and freelancers can easily use the platform to ensure that their accounts are well-managed.
Among the various attractive aspects of Sage, the user is also able to access and maintain their 'company' within the Sage 300. So, How to Access My Companies in Sage 300 is one of the main aspects of being able to make the most out of the software.
Read More-: Sage 300 Mac
How do i Access Company in Sage 300
First, one needs to ensure that the basic requirements of the Sage 300 are in place. This works on Web screens and Desktops.
Ensuring that the System Database allows for enabling application security. To do this, one needs to use the database setup.
To edit the system database.
Allow application security.
This allows the companies under this system to be 'concealed' from the login screen.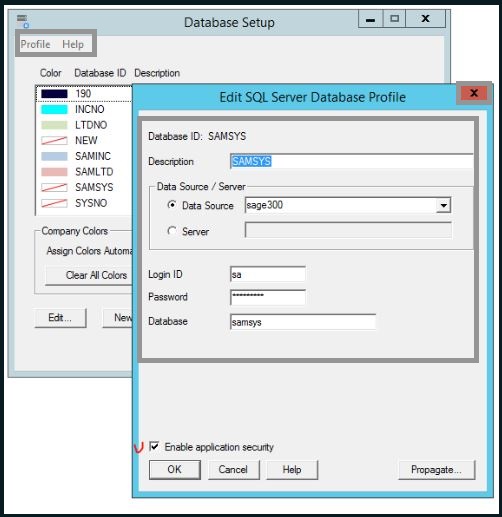 It is required that the user be assigned to the security group.
To do this, one needs to go to the administrative service
Opt for user authorization
Assign a user to a security group.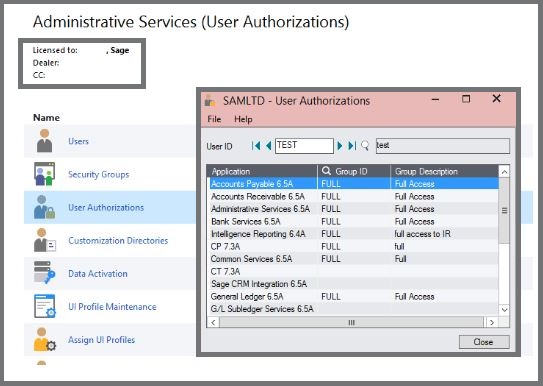 Next, check the Sage 300 company list
Here you will be able to view only those companies that the system database has not enabled for application security

Enter the User ID and Password
This will enable the company list to add those companies that have been authorized to a certain security group.

It has to be kept in mind that a test user can only view 5 companies and the Admin can view all 6 Companies
How to Create a New Company with in Sage
Now, that we know how to access the required company file, let us understand a bit about how to create a New Company within the software. This is an essential aspect of the Sage software, as it allows the proper organisation and maintenance of the data files. These are stored within a precise location within the system and can be accessed and visible from the box. To create a new company within Sage one needs to
Go to the selection company window
And click on add company
In case you have already logged into the company, click on File
Next click on new
Now click on company
Next Enter the password
Finally click on OK
To create a new company in Sage from the scratch you will need to
Click on set-up new company
Click on change in order to change where the file has been created by the new company.
Go to the required location
Click on OK.
You will notice that your default name is Manager
You are done.
How to Add an Existing Company located on another System the User is Connected via Network to
There are times when we need to add an already existing Company that is located on a different system which is connected through the network. However, before proceeding one must be able to ensure that the data folder is 'shared' inorder to access the required data. Finally, make sure that the other system you are trying to access also has the latest version of the Sage 50 Accounts installed in it. Now, let us proceed to add the existing company to the other system
Go to file
Clik on open
Click on open Company Data
Now, enter the password
Click on OK
Click on add company
Click on Use an existing company stored on your network
Click on browse
Browse to locate the data
You can also type the data path
Click on OK
Click on next
Click on connect
Enter the login name
Enter the password
Click on OK
How to Add an Existing Company by Restoring the Backup
In case you have an existing data saved as a Sage backup you will need to add an existing company by restoring a backup. To do so, you will need to:
Go to file
Next click on New
Now, and Click on Company
When prompted enter the Password
Click on OK.
Now, click on Restore data from a backup file
Click on Browse.
Browse and locate the backup.
You can get the same result by typing the backup file data pathway.
Click on Open.
Click on Next
Click Restore
Finally enter the Logon Name
Enter the Password
Click on OK
How to Connect to an Existing Company Using Sage Drive
There are times when you need to share a company using the Sage Drive from a different site. This can be done as a remote user.
Go to the file
Now click on open
Click on open company data
Click on add company
Now. Click on connect to data from Sage Drive
Click on Next
Next enter the Sage Account email address and password
Now click on sign in
You will receive a prompt
Here, you need to enter the captcha text
Now click on continue
Next click on the company data you wish to connect to
Click on Next
Here you need to enter the encryption password for the shared data
Now click on connect
Finally you can log in to the company.
Also Read-: Sage 300 Connecting to Database Slow Issue
Conclusion
So, there you have it, friends, these are some of the prime aspects, features and facts on How to Access My Companies in Sage 300. However, if you still encounter any issues, be sure to reach out 1800 964 3096 to our team of experts and we will be able to help you out accordingly.
Accounting Professionals & Specialized Experts
Want quick help from accounting software experts? Get in touch with our team members who can install, configure and configure your software for you. Proficient in fixing technical issues, they can help you quickly get back to work whenever you encounter an error in Sage software. Our team is available 24/7 365 days to assist you. To get in touch.
💠Frequently Asked Questions💠
To be able to access the Sage 300 you will need to:
🔹 Go to http://servername/sage300
🔹 Here the servername is the server name/IP address of the web server where the Sage is installed.
🔹 Enter the username
🔹 Enter the Password
🔹 Click select the Company 
🔹 Click to Sign in
What is the Database Type that Sage 300 Uses?
Where is the Sage 300 Data Stored?
The Sage 300 data is stored in \Sage Accpac\Runtime. Here the control file is named as database ID with the (.DCT) extension.
Related Posts