SOLVED – Sage 300 Error 49153 Cannot Access Database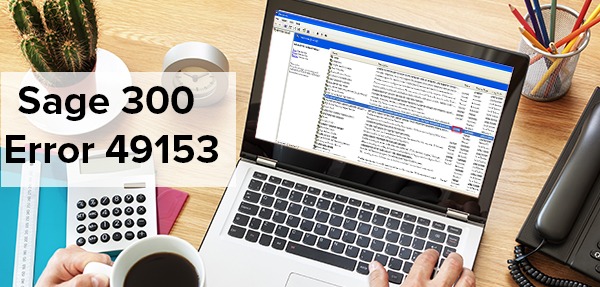 Sage 300 has introduced some ground-breaking features to the accounting world which has completely revolutionized the working environment in a much better way. These new features include things that can fasten up the process of inventory management and other important accounting tasks. Moreover, it helps in completing the tasks in a more accurate manner due to many types of automated functions like reports and invoices. The tools of Sage 50 are very useful for all users. The amazing thing about the software is that it can be understood even by a layman while working on it as it has a very user friendly interface that is tremendously smooth to comprehend.
Sage 300 is a well known name in the accounting domain. Many monotonous and deadly boring tasks become interesting due to this software. There are a plethora of benefits in the upgraded version each year. Each upgraded version also makes sure that the shortcomings of the previous version are removed to give a better working experience to the users.
Furthermore, the software is highly secure and all kinds of important data of the company as well as clients is completely safe in this software due to high level security configurations. Experts can be consulted in case of any doubts related to the software or any aspect of it. Just like any software, Sage 300 also may give errors occasionally. There is nothing to worry as there is expert help available at all times. Let us explore more about one such error which is 300 Error 49153: Cannot Access Database.
All About Sage Error 49153: Cannot Access Database
Reasons for the Error 49153
Whenever there is a connection failure of Sage 300 to the database, the Sage error 49153 pops up.  This also means that Sage 300 has been launched but due to some reason it is incapable of connecting to the database. In this case, the user has to check if he or she is able to access the SQL Database.
Solutions for the Error 49153 Cannot Access Database
Firstly the user has to type "Services.msc" in Run command. After that click on OK.
Then the user has to search for SQL Server or SQL Express. If it shows as 'Not Started' then the user has to right click on it.  Go to Start to initiate the process.
If the Service control Pop up is closed repeatedly, see the screen with status as Started.
Once the user now logs in to Sage, user will able to log into Sage 300 ERP.
For more advanced steps and to do it in a safe way without causing any harm to the system, it is best to consult the experts at Accounting Advice. They are the best people to contact to resolve all issues accurately as they are trained and dealing with errors related to the Sage software for numerous years. For detailed information, contact this Sage tech support team and enjoy a pleasant working experience with Sage 50.
What is Accounting Advice?
The Accounting Advice is an excellent Sage technical support team that can resolve all your Sage issues in the fastest way possible and in the easiest way too so that there is an excellent working experience with the Sage software. They can give you timely tips too so that the user can work in a better way. The team is available round the year at any time convenient to the user. The toll free number for reaching out to the team is 1844-871-6289.
Report Your Issue
(Didn't find what you were looking for! Report your issue and get customized help from our Sage experts.)