The User you Entered is Already Logged into Sage 50 Error
Hey there! Are you frustrated with the "Sage 50 user already logged in" error? Don't worry, many Sage users face this problem while using Sage. The actual reason for this error is that it occurs when there are some sort of broken or corrupted files in the data path or company's directory.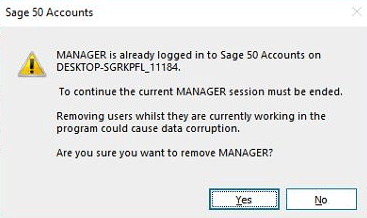 So without wasting your time, let us get into the causes and troubleshooting steps –
What are the Causes of User You Entered is Already Logged into Sage 50 Error
If you see a problem, "The user you entered is already logged" it might be because of following problems –
A subscribed user has signed from some another computer
The program has closed suddenly
An anti-virus program is obstructing database engine
There are non sage 50 files in data path
There are corrupted files in company's directory or data path
There is a mismatch of system time on machines and server
Errors in setting authorizations or safety on the common data folder
Read More-: Sage 50 Error Shared Company is already Open
Here is How you can Resolve this The User you Entered is Already Logged into Sage 50 Error
Total Time: 35 minutes
Method 1: Subscribed User is already Signed in from another PC
🔹 Every that whether the user name is already in use or not
🔹 Every user must have a different username to work in the program concurrently
Method 2: The Pervasive PSQL Workgroup Engine is to be Resumed
🔹 Take an exit from Sage 50 from all computers
🔹 Reboot pervasive on the server and each machine
Method 3: If the Username is Impaired
🔹 Erase the username
🔹 Add the username again
Method 4: A Latest Service Release is to be Installed
Make sure you have installed the newest service version on the server and all machines
While downloading you need to follow the suggested guidelines
Method 5: The Machines and Server Needs to be Resumed
🔹 Take an exit from Sage 50 on all computers
🔹 Restart your PC and server
Method 6: Cross-Check the Data Path on Machine and Server
🔹 Find the data path on each server and machine
🔹 Verify that the data path on the machines is identical to the one mentioned in the directory on the server
Method 7: Configuration of Firewall
Method 8: Files not Deleting out Appropriately
🔹 Move to control panel
🔹 Check the administrative tools
🔹 On computer management you need to click twice
🔹 On open files you need to click twice
🔹 Exit from any open data path
🔹 Now check whether you can access your account or not
🔹 Make sure that you are able to access your account
Method 9: Delete Lock Files from the Data Path and your Business Data Folders
🔹 Take exit from Sage 50 on all computers
🔹 Search for the data path and erase the following files
🔹 DAT
🔹 DAT.BAK
🔹 All.PTL and .LCK files
The following files should be deleted from the company directory
🔹 Dat
🔹 .DDF files
🔹 .MDK files
🔹 Start Sage 50
Method 10: If the .DDF Files is Wrong in the Data Path
🔹 Find your data path and remove all files with DDF extension
🔹 Patch up the Sage 50 installation
🔹 Download available program upgrades
🔹 Sign in again into Sage 50
Method 11: Broken or Wrong Files in the Data Path
🔹 Go to control Panel
🔹 Click twice on the time and date to change it, then select a time zone from the drop-down list
🔹 Check the time zone setting (GMT)
🔹 Click on OK
🔹 Reboot the PC
🔹 Remove Sage 50 app
🔹 Program upgrades to be installed
🔹 Install Sage 50 again
Method 12: Date, Time & Set Discrepancy on Server and Machines
The system date and time should match with the one as shown on your machines, as well as there.
If it is not, fix it immediately
Method 13: Can't escape from the Sage Software Application
🔹 Hold Ctrl+Shift+Esc, or you can click the 'Task Manager' icon on your desktop to open Windows Task Manager.
🔹 Press on the information that is at the bottom of the page and press on the tab that is in the top corner
🔹 Click on the "processes" option
🔹 Stop all processes running the Peachw.exe file
🔹 Confirm that you can log in to your company account
Method 14: When a User is Unable to Close the Sage Software
🔹 Ctrl+Shift+Escape 
🔹 Tap on more details and click on details at top
🔹 All Peachw.exe processes has to be ended
🔹 You need to verify that whether you can get into the company or not 
Also Read-: Sage Error Username is in Use The Program Cannot Connect you at this Time
Conclusion :
If you are experiencing an error when trying to sign in to Sage 50, it is likely that the user you entered is already logged into Sage 50. To fix this, try signing out of your Sage account and then signing back in. If that doesn't work, please reach out 1800 964 3096 to our experts team for assistance.
Accounting Professionals & Specialized Experts
Want quick help from accounting software experts? Get in touch with our team members who can install, configure and configure your software for you. Proficient in fixing technical issues, they can help you quickly get back to work whenever you encounter an error in Sage software. Our team is available 24/7 365 days to assist you. To get in touch.
💠Frequently Asked Questions💠
Can this Problem get occurred because of Power Cut?
Yes it might happen because of power failure or data corruption. If it is due to data corruption, talk to our experts for best assistance.
How can I Check other Instances of Sage 50 Running in the Background?
To check for other instances of Sage 50 running in the background, you can go to the task manager by right clicking on the taskbar and selecting the tool. Then you can go to the processes tab and find all instances of Sage 50 currently running. To close them, simply select each and click on End Task.
Related Posts: