How to Install Sage 300 Accpac ERP
Sage 300 Accpac ERP is highly scalable and can be used by businesses of all sizes, from small startups to large multinational corporations. It is also highly customizable, with a range of configuration options and third-party add-ons that can be used to extend its functionality and tailor it to specific business needs. Just go through this blog. Here, we will tell you how to install Sage 300 Accpac ERP application.
The Sage 300 Accounting software has been extremely popular amongst the businesses worldwide, thanks to its highly efficient tools and functions. Businesses have used this software extensively to manage their accounting activities better.
Are you yet to use the Sage 300 Accpac ERP ( now known as Sage 300 ERP ) application? You are definitely missing something!
Install Sage 300 Accpac ERP
Please follow the steps below to have a smooth installation of the Sage 300 ERP Workstation Setup:
Share the Sage 300 Program and Data folder in the network from the server computer.

Now, access this folder from the workstation system.

Browse to Sage 300 Program folder\Sage 300 ERP\WSSetup

Double‐click on the setup.exe file, which is the Workstation Setup file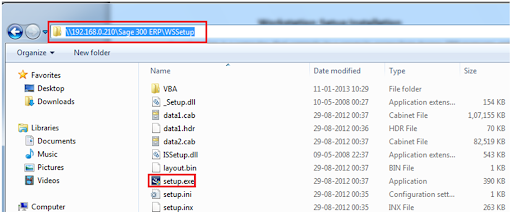 This will start the Sage 300 workstation setup installation process. You will also be through the remaining setup process.

Click Next

to proceed.
Read the license agreement carefully before proceeding further. Once done, click

Next

to continue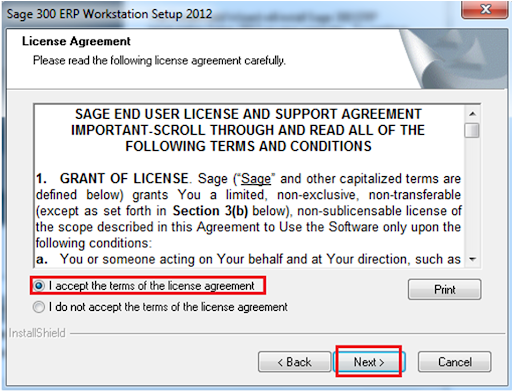 In the Programs and Data path, specify the path of the Sage 300 Program and Data folder from the server. Once done, click

Next

to install
Read More-: Sage 300 ERP User Authorization Export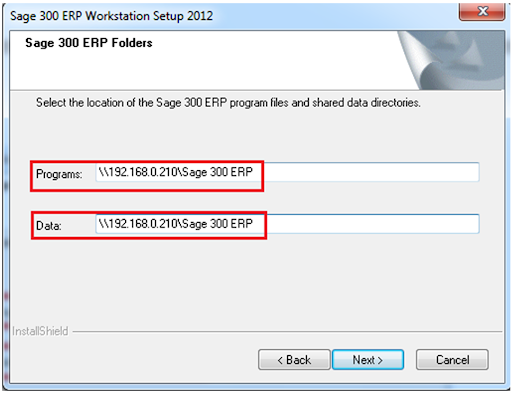 On the next window, click on

Install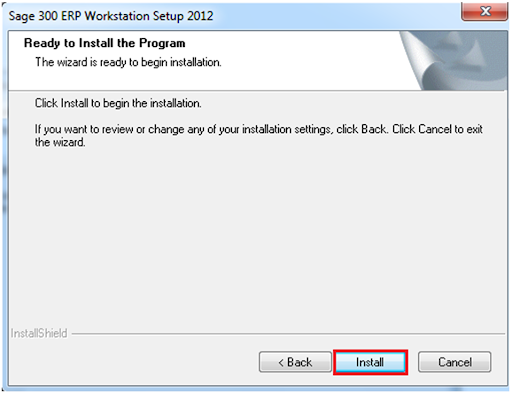 Wait till the installation process is completed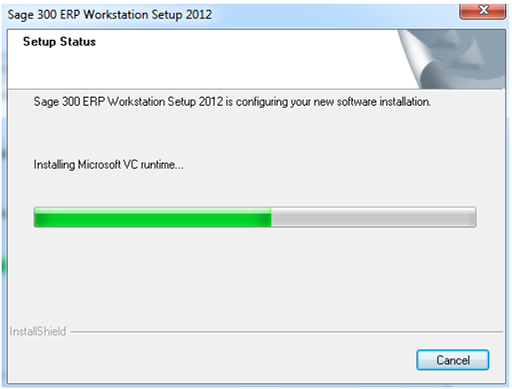 After the installation is complete, click on

Finish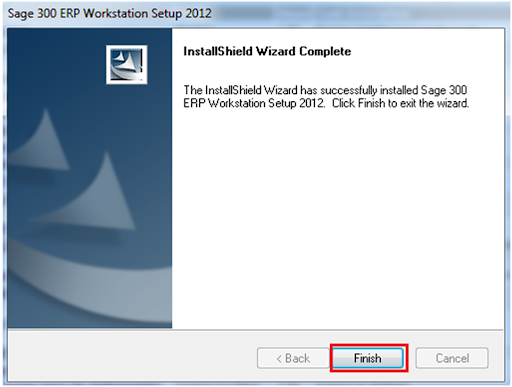 After the installation is completed successfully, you will need to configure the Sage 300 Database in Database setup.
Procedure to Setup a Database in Sage 300 Accpac ERP
Please follow the steps below to setup the database properly-
Open the Sage 300 ERP application

Go to

Database Setup

Type in the password for the Administrator user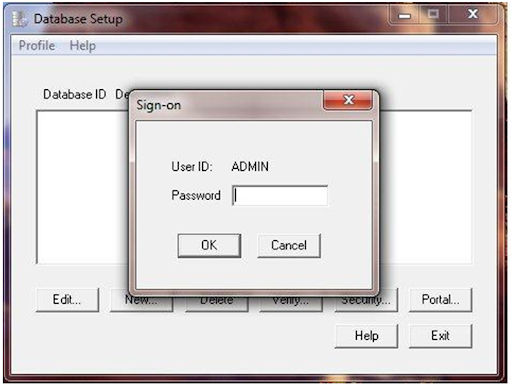 Check the Database for which you wish to run Sage 300

Connect this database to the Database Server.
Once the Database setup is complete, you can access the Sage 300 programs from the workstation.
A successful workstation setup will help you accomplish multi-user operations instead of installing the entire Sage 300 Setup at every user end.
Also Read-: Posting Error in Sage 300
Conclusion
Hopefully this above post is helpful, installing Sage 300 Accpac ERP involves checking system requirements, obtaining the installation files, running the installation wizard, configuring the software to suit your business needs, and testing the software to ensure it's working properly. You have got a fair idea of how to install the Sage 300 Accpac ERP application on your system. If you are finding any difficulty in installing it on your own, we recommend that you should consult with an experienced Sage professional at 1800-964-3096 today to get all your doubts solved.
Accounting Professionals & Specialized Experts
Want quick help from accounting software experts? Get in touch with our team members who can install, configure and configure your software for you. Proficient in fixing technical issues, they can help you quickly get back to work whenever you encounter an error in Sage software. Our team is available 24/7 365 days to assist you. To get in touch.
💠Frequently Asked Questions 💠
What is a Workstation with Respect to Sage 300 ERP?
A workstation is a computer that communicates with a server in order to access Sage 300 ERP programs and/or data. A workstation can connect to the Sage 300 ERP via a supported internet connection, or it can connect remotely to another workstation or server through the Remote Desktop Protocol. Thus, workstations are used for multi-user operations. Users can access the server computer that hosts the Sage 300 ERP Program and data that will run the Sage 300 Desktop from a workstation.
What Minimum System Requirements do I Need to Meet for the Successful Integration of Sage 300 ERP and Sage CRM?
Please note the minimum requirements below-
For Sage ERP Accpac

The following modules should be installed on the Server-side –
🔹 Sage ERP Accpac version 5.6 or above
🔹 Attuned to database software.
For the Sage CRM Application

Updated service pack of Windows 2008 or Windows Server 2003 R2. Furthermore, the Sage CRM is compatible as a customer OS only, with Windows 7 and Vista.
🔹 The latest software patches for Microsoft IIS 6.0 or 7.0.
🔹 The latest service pack of MS SQL Server 2008 or 2005. Furthermore, the SQL server on your system must support case-insensitive ordering. Please understand that case-sensitive/binary ordering is not compatible with Sage CRM.
🔹 Run your installation DVD.
🔹 Select the Sage software to install
🔹 The amalgamation module for Sage CRM 7.0 window will be displayed on your screen
🔹 Press next.
🔹 Click on the tab labelled Sage CRM install to combine with Sage ERP Accpac 
🔹 Click on next
🔹 Select the installation and upgrade options 
🔹 Click next
🔹 Select Sage ERP Accpac version or update trajectory
🔹 The SQL Database Server Sign in information screen will be displayed on the screen. 
🔹 Authenticate your User ID and server information 
🔹 Enter the password.
🔹 Installation of the Sage ERP Accpac Integration process will commence now
🔹 Press Next
🔹 When prompted to stop the IIS, click on yes.
🔹 Once complete, click Finish and restart the system
How can I Increase the GAS and VTP Activity Codes in Sage ERP X3?
Please follow the steps below-
🔹 Open Development
🔹 Click on Data and parameters
🔹 Choose Development setup
🔹 Now click on the Activity codes tab
🔹 Choose the GAS activity code.
🔹 Next, increase the screen dimension.
🔹 Click on Save.
🔹 Now, choose the VTP activity code.
🔹 Increase the screen dimension.
🔹 Click on Save
What are the Advantages of the Sage ERP X3 Package?
The Sage ERP X3 package can provide several advantages for businesses, especially in the supply and manufacturing industries. Some of them are mentioned below-
🔹 Provides proper monitoring of your warehousing and inventory functions
🔹 Helps you expedite the response time of your customers.
🔹 It ensures real-time visibility related to the supply chain
🔹 Provides real-time information related to what your customers think about your products.
How can I Reset the Admin Password in Sage 300 ERP?
This is the easiest method to reset the admin password. Before performing the steps below, make sure that the Sample Company Inc. or Sample Company Ltd. is set up and it does not have security turned on.
🔹 Log in to your Sage 300 ERP application as an Administrator.
🔹 Go to the Administrative Services section 
🔹 Click on the Users icon.
🔹 Next, choose the user and type in the new password.
🔹 Then, Re-confirm the new password 
🔹 Click on the Save button in order to apply the changes made by you. 
🔹 Your admin password has been reset now
Related Posts: