Sage 50 CA Windows 10 PDF Printer Problems
One of the great things about technology is that it can save us time and help us get our work done more efficiently. In general, the Sage 50 CA Windows 10 PDF printer is a reliable and affordable option for printing documents. However, there are a few issues that users may encounter. There are some tips you can follow to troubleshoot the issue.
A sizeable number of our regular readers and users of Sage 50 have intimated to us that they have been facing various Sage 50 CA Windows 10 PDF Printer Problems of late while printing records or invoices. They informed us that the print job used to get canceled with the message "Print Canceled". In this blog, we will look at such issues and will get to know the prominent causes that contribute to these issues. We will also discuss a few useful methods to resolve the Sage 50 CA Windows 10 PDF Printer Problems once and for all.
Let's proceed then.
What are the different Sage 50 CA Windows 10 PDF Printer Problems Faced by users?
Usually, most Sage 50 CA Windows 10 PDF Printer Problems are experienced when a user tries to print records/invoices in .PDF format or while exporting a file as a PDF. They may experience any of the following error messages –
Printer not activated error 40
Printer Installation Failed
Printer not activated error 20
Causes of Sage 50 CA Windows 10 PDF Printer Problems
Some prominent reasons behind these commonly reported issues are as follows-
Damaged Windows profile
The Sage PDF Driver may have been uninstalled incorrectly
The user may be trying to use Sage 50 E-mail Writer as a printer
The UAC has been enabled
Incompatible email program.
Adobe reader is not installed
The E-mail Writer may have been damaged
Incorrect set up of the Sage 50 E-mail Writer
The latest Windows updates are not yet installed
Also Read-: How to Fix Sage 50 Not Enough Memory for Printing
Fix the Sage 50 CA Windows 10 PDF Printer Problems
Here we are discussing multiple methods to fix this issue-
Method 1: Update the Sage PDF Converter Driver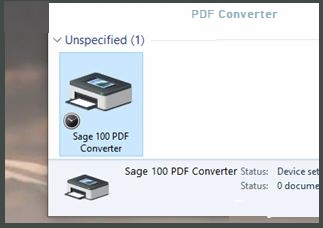 Go to the Devices and Printers section
Right click on the tab labeled Sage PDF Converter
Click on Printer Properties
Now open the Advanced tab
Choose Amyuni Document Converter 600
Method 2: Disable the User Access Control (UAC)
Here are the steps to disable the UAC in Windows 10-
Click on the Start menu
Click on the search bar and open Control panel
Now click on the User Accounts section
Click on the Change User Account Control settings link
A toggle bar will be displayed on your screen.
Here, drag the button and place it near 'Never notify' at the bottom
Now, click OK to continue
Click Yes for the changes to take effect
Log in to your system as an admin
Right-click on the Sage 100 icon on the desktop
Click on the Run as administrator option
Log into the Sage 100 application
Select File
Click on Run from Sage 100 Toolbar
Now, type PL_AdvancedOptions_Ui in the textbox
Click OK
On the window that will appear, click OK to specify the default date
Click on the Install Converter tab
Exit from the Paperless Office Advanced Options
Print to Paperless now and check whether any Sage 50 PDF printer error is occurring
The Footnote:
We hope the steps shown above would help you resolve the Sage 50 CA Windows 10 PDF Printer Problems on your system. In case you are experiencing any difficulties in carrying out the above steps, we would recommend you to take help from some experienced Sage professionals 1800 964 3096.
Accounting Professionals & Specialized Experts
Want quick help from accounting software experts? Get in touch with our team members who can install, configure and configure your software for you. Proficient in fixing technical issues, they can help you quickly get back to work whenever you encounter an error in Sage software. Our team is available 24/7 365 days to assist you. To get in touch.
💠Frequently Asked Questions💠
Many technical issues on your system may be leading to this issue. Some of these are-
🔹 Incompatibility issues with Windows
🔹 UAC ( User Account Control) related issues
🔹 Permission issues with respect to programs and users
🔹 Updates related  to MS Office and Sage are pending 
🔹 The email program is incompatible with Sage
🔹 The Sage 50 Email writer settings are not done properly 
🔹 Updates pending for the printer driver
What is the Procedure to Modify the Printer settings in Sage?
Here are the steps to follow-
🔹 Press Ctrl + S keys simultaneously. This will open the Search window
🔹On the search box, type printer and scanner 
🔹 The printer and scanner window will come up
🔹 Search for your printer 
🔹 Now you can modify the settings required
🔹 You can set the print option from Microsoft print to pdf.
🔹 Click to save the changes 
🔹 Print a test page and check if there is any issue related to printing
Here are the steps to follow-
🔹 Close down the Sage 50 application
🔹 On your keyboard, press the Start key 
🔹 Next, go to the Devices and Printer section
🔹 Search for an alternate printer
🔹 Do a right click on it 
🔹 Now click 'Set as default printer'
🔹 Now, select the printer that was the default printer before
🔹 Right click on it 
🔹 Choose 'Set as default printer'
🔹 Next, close down the Devices and Printer screen
🔹 Log in to Sage Fixed Assets
🔹 Go to the File section now
🔹 Click on the Print Setup tab
🔹 Next, click on the alternate printer
🔹 To proceed, click OK 
🔹 Run the report program again
How can I Clear the Print Pool?
Please follow the steps below-
🔹 Press Ctrl + R on your keyboard
🔹 The Run window will open up
🔹 In the text box, type services.MSC.
🔹 Press Enter 
🔹 A list of running services will be displayed on your screen. 
🔹 Locate the print spooler service
🔹 Right-click on it and select Stop
Here are some important reasons behind this error –
🔹 Use of outdated printer driver
🔹 Multiple print jobs are in the queue
🔹 Windows error
🔹 The selected printer is not available 
🔹 The system is not being able to connect to the PrintForm library. 
🔹 The printer is not properly connected
Related Posts: