How to Fix "Not Enough Memory for Printing or Invalid Printer set up" Error in Sage 50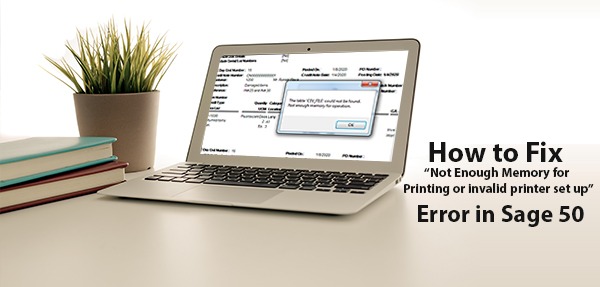 Are you facing issues while printing a sales report? Is your computer showing "Not enough memory for printing" error for the nth time and you have no clue how to fix it? Well, worry not.
Most common Sage 50 Errors and Appears due to:
Insufficient user rights
Printer not available
Windows error.
Steps to Fix Not Enough Memory for Printing or Invalid Printer Set up in Sage 50:
Total Time: 35 minutes
Insufficient user rights:
Have you logged in to your computer as an Administrator? If not, you might not have rights to access all the functions on this computer. To resolve the problem,
💠 Right click on the Sage 50 icon and click Run as administrator.
💠 Agree to the User Account Control prompt and allow the program to run.
💠 Now give the Print command to verify that the error has been resolved.
Printer not available:
💠 There could be chances that you have selected a wrong printer, which is not currently available for printing. Thus, you need to confirm that you are sending the printing request to the right printer. For this,
💠 Go to Setup and then click on Reports & Forms.
💠 Now select the section that you want to print from the list on the left.
💠 Check if the selection is set to a printer that's available.
💠 Give the Print command to verify that you can successfully print the document.
Need Expert Help: To Fix Sage Printer not Activated Error Code 30
Windows Errors:
Issues with your Windows operating system could also lead to "Not Enough Memory for Printing or invalid printer set up" error in your Sage 50 software. To check the problem,
💠 Find out if the sample company is also giving the same error.
💠 Try to change the printer to PDF and see if you get the same error message.
💠 Check the Event Viewer: For this, go to the Control Panel, click on Administrative Tools and then click Event Viewer.
💠 Select the Windows Logs.
💠 Select Application and then select Filter Current Log.
💠 Place a check for Errors and then select OK.
💠 In case, there are WMI or .Net Framework errors, you need the help of an expert technician.
💠 Try to resolve the error by following these steps. Should you need more help, remember expert tech support is just a call away. Our expert technicians can help resolve your Sage issue in minimal downtime so that you can run your business like a pro. Call us on our toll free number today!
Final Words!
Accountingadvice is the leading third-party remote tech support provider for Sage 50 accounting software. Our expert technicians have years of experience in resolving even the trickiest issues related to Sage 50. We can help you download the latest version of Sage accounting software, upload all your financial information, and fix errors that you might be facing while working with Sage 50.
Our experts are available 24X7, 365 days a year and can provide you fast resolution of your problems with lowest turnaround time. So, whether you are at home or office, remember expert support for Sage 50 software is just a call away.
Related Posts:
Report Your Issue
(Didn't find what you were looking for! Report your issue and get customized help from our Sage experts.)