How to Void or Reverse an Inventory Adjustment in Sage 50?
As per the periodic system of inventory accounting, the balance of the inventory account remains the same, throughout the period of accounting. Also, it must be updated after determining the value of inventory when the accounting period expires. This balance should be updated either as a part of the closing entry or by adjusting the entries.
Sage 50 has incorporated important features to ensure proper inventory management and it can be a much-needed help for businesses, particularly for small and medium businesses. With this, businesses can track the inventory coming into and out of the business during the entire year.
If you are yet to use the inventory management tools in Sage 50, you are definitely missing something! If you are quite new to Sage 50 and are yet to be fully aware of what Sage 50 can offer, you are at the right place! We have it covered for you! Simply go through this blog. Here, we will tell you how you can void or reverse an inventory adjustment in Sage 50.
Here we go!
Oh, wait! If you are quite new to Sage 50, let's first tell you how you can create an inventory item record. If you have already created one, you can move to the next section straightaway.
How to Create an Inventory Item Record in Sage 50?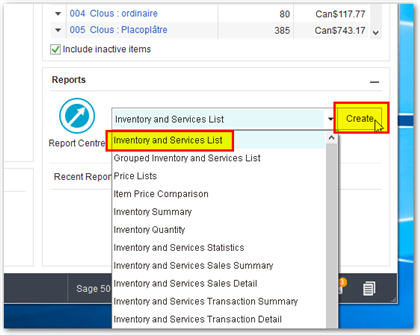 Here are the steps to follow-
Open Sage 50
Navigate to the Home window
Click Inventory & Services
Now, go to the Tasks section
Right-click the Inventory & Services icon
From the menu appearing on your screen, click Add Inventory & Services
Go to the Type section on the right-hand pane
Click Inventory
Navigate to the Item Number box
Type a reference number for your inventory item
Next, go to the Description box and type a small description about the said item.
in Sage 50 Premium Accounting, you can also select a category from the list prepared already
You can now navigate to the Inventory & Services Record window. Here, you will need to enter relevant details in the following sections –
Quantities
Vendors
Units
Serial Numbers (available in Sage 50 Quantum Accounting only)
Linked
Pricing
Statistics
Detailed Description
Build (available in Sage 50 Quantum Accounting only)
Taxes
Additional Info
If you do not wish to sell or purchase a particular item, you can check the Inactive Item box at the bottom of the window
Navigate to the File menu
Finally, select Save to finish.
How to Void or Reverse an Inventory Adjustment in Sage 50?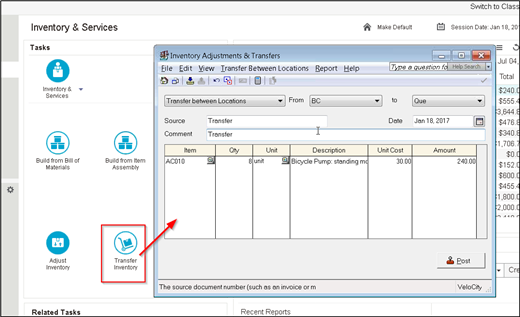 Please Follow the Steps Mentioned Below –
Total Time: 35 minutes
Method 1: If you Want to Look up the Transaction
🔷 You can look up the journal entry in the Journal Entry Report /Transaction Detail or if you want to see the change in General Ledger, go to Reports. Then  go to Transaction Detail /Journal Entries  and you can see the particular entry posted therein
🔷 You can also navigate to Reports, Transactions, and Inventory & services sections and then to Inventory Transaction Report. There, you will see the changes in the value and quantity of items adjusted with the entry. You can also specify the type and date of transactions shown in the case of the Adjustments or Transfers.
Method 2: If you Want to Void or Adjust the Entry
You will need to follow the steps below-
🔷 You will need to reverse the original entry by posting another inventory adjustment with opposite quantities and values. You will find these values in should see the reports mentioned in the previous section.
🔷 If needed, you can post another inventory adjustment, along with the changes desired.
We hope from the sequential.
Related Article: How to Fix Sage 50 Running Slow While Inventory Search
Final Words!
We hope from the sequential steps mentioned above, you have got a fair idea about how to void or reverse an inventory adjustment in Sage 50. If you are still facing any difficulties in carrying out the above-mentioned procedure, you may speak 1800 964 3096 to our experts, anytime you want.
---
🔷

Frequently Asked Questions

🔷
Q1. What is the Sage Inventory Advisor?
Ans: The Sage Inventory Advisor is a cloud-based and secure subscription service. It helps you reduce excess inventory, working capital and stock-outs. It is fast to implement and affordable. You can connect it directly to Sage X3, Sage 100 cloud, and Sage 300 cloud. 
Q2. Do Sage 50 have Inventory Management?
Ans: Yes. Sage 50 has a completely web-based Inventory Management system. You can manage and track your inventory with the Sage Inventory Management Module in real-time. It includes a host of modular features along with an easy facility to integrate with Sage 50. 
Q3. What is a Service Item on Sage?
Ans: Service items are those non-physical items you buy and sell. To give you an example, a computer hardware repair company may enter both the stock and non-stock items in Sage to track the hardware items. They may also enter service items for other purposes such as virus removal or software upgrades.
Related Posts