How to Fix Sage Pastel Error Code 20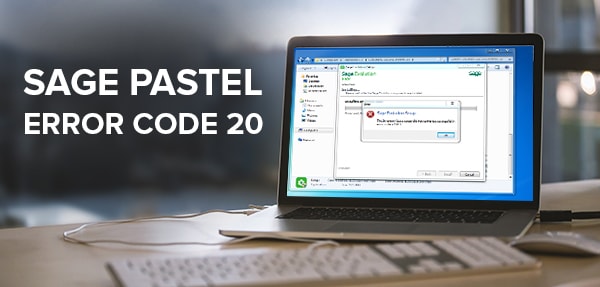 Are you having problem while trying to get into Sage Pastel program? Do you know why you are unable to use the Sage 50 Pastel program? The Sage Pastel error code 20 prevents the users from getting into the Sage Pastel program.
Causes for Sage Pastel Error Code 20
This error code primarily occurs when the pervasive engine fails to run or gets expired. In addition to this, this particular error might also come up due to connectivity issues between the client and the server.
Wondering how to get rid of the problem and get going with your everyday business errands? Don't worry! In this article, below we have given detailed solutions to fix the Sage Pastel Error code 20.
Step to fix Sage Pastel error code 20
Note: In order to get the most of the solutions we have provided below, we would suggest you to follow all the steps mentioned below in the given order. 
Solution 1: Manually Start Pervasive
Go to Start Menu.
Click on All Programs.
Select Pervasive and then go to Pervasive.SQL.
From there select Engines and click on Start Workgroup Engine.
Now double-click on the task bar to ensure whether the Pervasive Engine Icon has appeared. Also see if it or has change to green from red cross sign.
In case the problem still persists, we suggest you to do the following.
Solution 2: Check if you have the Correct Licenses
On the task bar, double click on the Pervasive Engine Icon. The Pervasive Engine screen will appear.
Note down the details of the engine i.e. Database Service Manager for Workgroup Engine 9.60.
Now go to the Start Menu.
Select All Programs and click on Pervasive.
Then select Pervasive.SQL.
After that click on Other Utilities and select License Administrator. A License Administrator dialog will appear having the list of Applied Licenses.
Ensure that there is a Permanent License Type that matches with your Pervasive workgroup. Also, make sure that you are using the correct version of client/server engine. as well as the correct version you are using.
Solution 3: Check Map Drive Connection
Go to My Computer. Your mapped drives should appear right after your local drives (local hard disks and optical disks).
In case they are there then double-click on the mapped drive. Ensure thar the connection is fine as well as running.
However, if there is no mapped drive, we would suggest you to recreate the map network drive.
Are you still unable to fix the problem? Are you still getting Sage Pastel error code 20? It is suggested to avail professional assistance to get rid of this error code so that you could focus more on your business. We at accountingadvice.co provide comprehensive technical support to resolve the Sage error 20 with utmost proficiency.
Why accountingadvice.co 
We at accountingadvice.co provide comprehensive sage technical support services to diagnose and troubleshoot all Sage problems and errors. We understand the fact that how even a minor technical glitch can put a halt on our business activities that's why our fleet of technicians is available 24/7 to provide wide-ranging technical assistance at the comfort of your home and even office. The most amazing aspect about accountingadvice.co is that, our technical experts are just a call away. To get our professional help to fix Sage error, call at our toll-free number (844)-871-6289 now!
So what are you waiting for! Just dial our toll-free number to avail our technical help and resolve the Sage Pastel error code 20 and get going with your business activities. With us you can just sit back and relax.
Report Your Issue
(Didn't find what you were looking for! Report your issue and get customized help from our Sage experts.)