How to Fix Sage Pastel Error Code 20?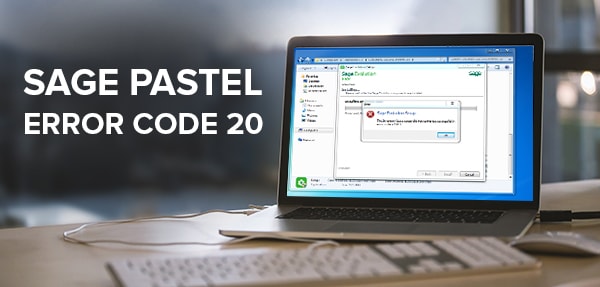 While working with Sage are you also stuck due to Sage pastel Error code 20? Most of the Sage users complain about this Sage error. This error happens when starting the Sage pastel software. It means that the Database is either not authorized or it is not running.
The below article helps you to understand the causes and possible solutions to rectify the Sage error code 20.
Sage Pastel Error Code 20 Comes in the Below Situations:
Either pervasive engine or Service not running

If pervasive is not licensed then also this error can happen

The components of the pervasive is not installed properly

.
How to Turn off the UAC in Windows 7:
Click windows key>>> go to Control panel
Now in control panel search UAC
Click option Change User account control settings
You can see the User account control setting window
See if the slide is at the Never notify option.
Turn off UAC in Windows 8 and 10:
Click the Windows button

Type and search the UAC

Select Change User Account Control Settings

You can see the UAC settings'

Check if the slider is at Never notify.
Also Read: How to Fix Sage 50 Error 0x80040707
Step to Fix Sage Pastel Error Code 20
Note: In order to get the most of the solutions we have provided below, we would suggest you to follow all the steps mentioned below in the given order.
Total Time: 35 minutes
Solution 1: Manually Start Pervasive

💠 Go to the Start Menu.
💠 Click on All Programs.
💠 Select Pervasive and then go to Pervasive.SQL.
💠 From there select Engines and click on Start Workgroup Engine.
Now double-click on the task bar to ensure whether the Pervasive Engine Icon has appeared. Also see if it has changed to green from red cross sign.
💠 In case the problem still persists, we suggest you to do the following.

Solution 2: Check if you have the Correct Licenses

💠 On the task bar, double click on the Pervasive Engine Icon. The Pervasive Engine screen will appear.
💠 Note down the details of the engine i.e. Database Service Manager for Workgroup Engine 9.60.
💠 Now go to the Start Menu.
💠 Select All Programs and click on Pervasive.
💠 Then select Pervasive.SQL.
💠 After that click on Other Utilities and select License Administrator. A License Administrator dialog will appear having the list of Applied Licenses.
💠 Ensure that there is a Permanent License Type that matches with your Pervasive workgroup. Also, make sure that you are using the correct version of client/server engine. as well as the correct version you are using.

Solution 3: Check Map Drive Connection

💠 Go to My Computer. Your mapped drives should appear right after your local drives (local hard disks and optical disks).
💠 In case they are there then double-click on the mapped drive. Ensure that the connection is fine as well as running.
💠 However, if there is no mapped drive, we would suggest you recreate the map network drive.
Final Words!
For any help or guidance feel free to dial Sage 50 help number and get in touch with the Sage team. You can also email at [email protected] or alternatively visit the www.accountingadvice.co and fill the contact form to get a response from Sage executives. You can also do a live chat and call tollfree 1800 964 3096 with the Sage experts 24*7 to get a quick response.
---
🔔Frequently Asked Questions
Q1. Sage Pastel Error Code 20?

Ans: It might happen that this error is coming due to some other reason, you are advised to follow every method until this issue is resolved. If still no output is coming contact the experts.

Q2. I am having windows 8.1. How to search for UAC?

Ans: Windows 8.1 steps are the same as Windows 8, just follow the steps given below and you can easily get the UAC to configure.

Q3. I have tried all the ways, the problem still not resolved?

Ans: Might be you missed any step, try again with the mentioned step one by one carefully, and even after that, you are getting any issues to get back to the experts immediately.

Q4. What are the ways to contact the Sage experts team?

Ans: You can call at , email at [email protected]. Contact Form is available on www.accountingadvice.co and if you don't want to call or email, you can use the live chat option to get an immediate response.
Related Posts: