How to Use Sage 50 EFT Direct?
Are you tired of the hassle of manually processing payments and transactions? Say goodbye to paper checks and hello to Sage 50 EFT Direct! This electronic funds transfer (EFT) service enables businesses to conveniently send and receive payments directly from their Sage 50 accounting software. In this blog post, we'll guide you through the easy steps on how to use Sage 50 EFT Direct
EFT Direct is a simple yet powerful Sage 50 service that allows you to quickly transfer your accounting data to banks and other financial institutions for direct deposits and withdrawals. It allows you to easily use electronic funds transfer (EFT) to pay your vendors, receive payments from customers, and pay your employees by direct deposit.
To improve the performance, EFT Direct is now available as a built-in feature in Sage 50 2017 edition, instead of a separate add-on install. However, EFT Direct now generates your data files only. You have to manually upload the generated files to the bank.
Benefits of using EFT Direct:
Enhanced accuracy during fund transfers
Lower risk of fraud
Minimal transaction processing time and cost
Less errors while making payments
How to set up and use Sage 50 EFT Direct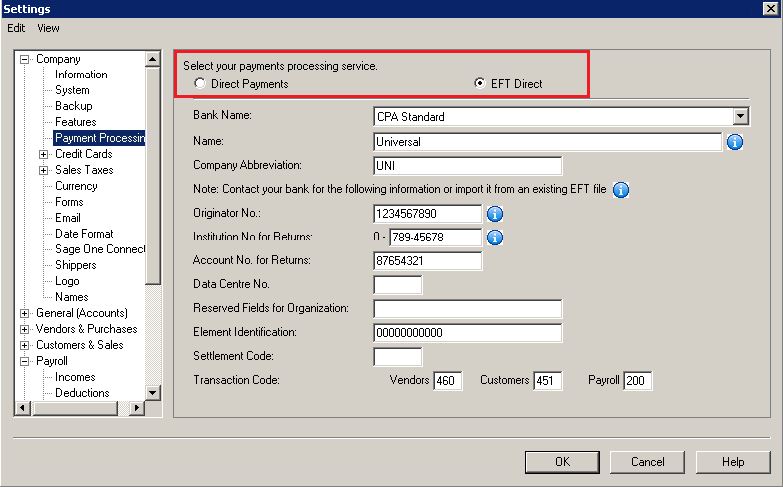 You can easily set up and use Sage 50 EFT Direct by applying the steps mentioned below.
In Windows, go to Start, tap on Programs and select Sage 50 EFT Direct.
If you are using Sage 50 EFT Direct for the first time, the New Company window will open up automatically. Go to 'Enter Details about Your Company' and fill out all the information required. These include:

Identification number: Enter your bank's 10 digit EFT transaction number.
Working Directory: Enter the location of your EFT data files.
Sage 50 Directory: Enter the location of your Sage 50 data files.
Sage 50 File Name: Select the file containing your Sage 50 data.
Payroll, A/P, A/R Generation File: Enter the name of the file that you want Sage 50 EFT Direct to use to contain data that should be send to your bank.

Now go to the next section to add your bank information.
Click on the EFT button and fill all the information on the screen. This includes:

Institution No. for Returns: Enter the institution number given by your bank.
Account No. for Returns: Enter the account number where you want the funds to be returned in case they cannot be transferred due to closure of account or mistyped information.
Data Center Number: Enter the data center number given by your bank. Some banks do not require this detail.
Reserved Fields for Organization: Enter the number your bank gave you.
Element Identification: This field is used only by the CPA standard.
Settlement Code: Enter the settlement code. Some banks do not require this information.
Transaction Code (Accounts Payable and Receivable): Either enter a standard CPA transaction code or accept the code displayed on screen.

Once you have entered all the information, click Close to return to the New Company screen.
Now click Add to save your entries.
After you have added your bank information, Sage 50 EFT Direct will automatically import your customer, employee, and vendor information.
Go to the employee (customer or vendor) tab and add all the necessary information.
Select Employee Maintenance.
Now select an employee and click the Modify button.
Fill in the bank details and accounts where you want to deposit paychecks.
Now check the box and set the employee's Direct Deposit status to Active.
Check the Active box to add amount in this line in the file you would send to the bank.
Click Save to save your entries.
After you have finished entering the details, go to the next section "Using sage 50 EFT Direct" and create a file to send to your bank.

In the file generation menu, select EFT Direct Payroll Generation.
Fill in the information about pay periods and dates.
Select either "Use employee check dates" or "Use default funds available date' to determine when funds should be deposited into your employees' accounts.
Click Continue to start extracting the payroll information from Sage 50.
Now open Payroll Selection screen in Sage 50 EFT Direct and fill in all the required information. You can choose a list of employees in the file by double clicking on the Select field or check the Select All box to include them all.
Click the Generation button to create the direct-deposit file and print the report.
Finally, click Yes to create the payroll file.
This will help you get started with Sage 50 EFT Direct. If you need more help in setting up or using Sage 50 EFT Direct, call us 1800 964 3096 Our expert technicians are available round the clock to help you with all Sage 50 products and features.
Related article: Sage 50 EFT Direct Deposit Integration Setup?
Final Words!
Accountingadvice is one of the top Sage support providing companies that offer trustworthy and timely resolution for all your Sage 50 accounting software related issues. Our expert technicians are adept in dealing with all Sage 50 errors and problems and can help you identify and resolve your issues in no time.
Accounting Professionals & Specialized Experts
Want quick help from accounting software experts? Get in touch with our team members who can install, configure and configure your software for you. Proficient in fixing technical issues, they can help you quickly get back to work whenever you encounter an error in Sage software. Our team is available 24/7 365 days to assist you. To get in touch.
💠Frequently Asked Questions💠
What is Sage EFT Direct?
Sage EFT Direct is a fast, easy and affordable way to access EFT, the pioneering mind-body therapy.
How does it work?
Simply download and install the app from the App Store or Google Play store, register for an account (free if you have an email address), and start using it. You can also use it online.
Once you have registered and logged in, select the 'Sage EFT' tab on the left hand side of the screen. This will show you all of the available sessions. To begin a session, simply click on one of the sessions and then select 'Start Session'. To finish a session, click on 'End Session'.
What are some of the benefits of using Sage EFT Direct?
Some of the main benefits of using Sage EFT Direct include:
🔹 It is fast, easy and affordable to use – there are no membership fees or minimums required to use Sage EFT Direct.
🔹 The software is simple to use – there is no need for any prior experience with EFT or psychology.
🔹 There are many different sessions available – whether you want to learn more about using EFT for anxiety or depression, or explore new ways to help yourself relax or sleep better, there is a session specifically designed for you.
🔹 The recordings
Related Posts