How to Update Sage 200 License Keys
Are you struggling with updating your Sage 200 license keys? Are you tired of navigating through complicated instructions and dealing with technical difficulties? Well, look no further! In this post, we will take you step-by-step through the process of updating your Sage 200 license keys so that you can get back to focusing on what really matters: growing your business. With our simple and easy-to-follow guide
While working on your Sage 200 Accounting software, there may come a time when you need to make certain changes within the settings of the software. This includes the need to reinstall the database, updating the registry, reinstalling the program files and update Sage 200 license keys. The last one is the most common task that users have to perform when working on their Sage 200 software. The need to update the license key arises because the usage of the system expands.
So, if you are one of those who are looking for ways to update the license key of Sage 200, here is a simple way to do just that. We have outlined a step by step process that can help you easily update the license key of your software.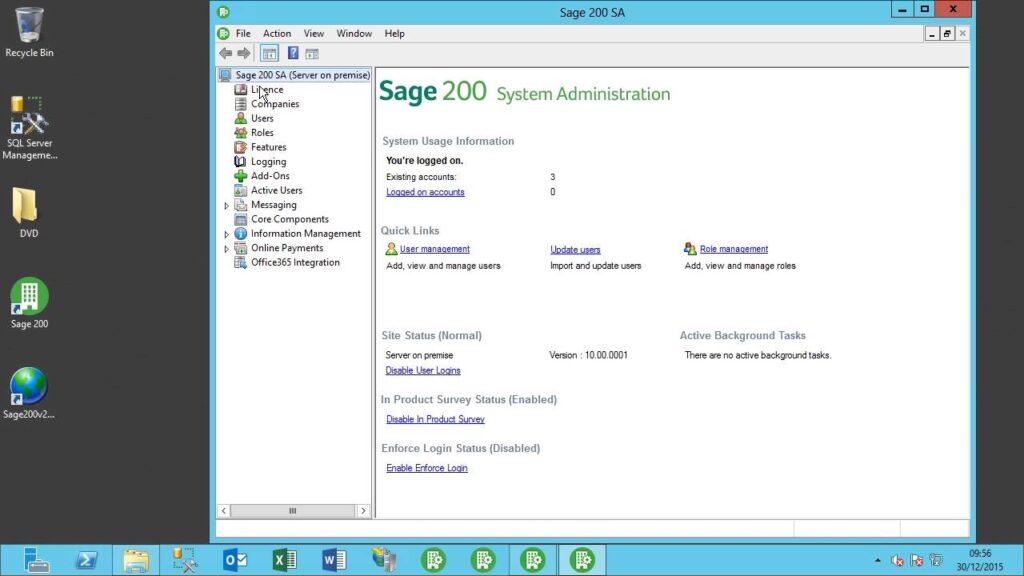 Steps for Update Sage 200 License Keys
The first step while updating the license key of your Sage 200 software is to know where the key and its different elements actually exist. It will help you ascertain that the license key has been updated after the completion of the process. For locating the license key:
In your Sage 200 Accounting software, go to the Administration screen.
Click on Systems and then click on License Key Details.
The screen will show you the license key and its different elements.
However, it will not allow you to make changes to the license key. The license key for your Sage 200 software is actually held at two places: in the Windows registry and inside the system parameter table.
But, you should never try to modify the registry or the system parameter table unless you are a computer expert. Manually changing the registry or system parameter table can cause irreparable damage to system files and folders that can lead to complete system breakdown.
Methods to Update License Key in Sage 200
Re-run the installation program of Sage 200
Use license key update utility
Re-run the Installation Program of Sage 200
Run Setup.exe and select "Change existing install of CRM".
Select "License Key" checkbox from the list of components that appear on screen.
Enter the new license key and overwrite the existing license.
Click Next to proceed further.
Complete the wizard steps to update the installation program correctly.
Note: Download the Latest Version of Sage Software & save up to $50.
Use License Key Update Utility
Alternatively, you can also use the License Key Update utility to update the Sage 200 license key. This will allow you to add Sage 200 features that weren't the part of original license and/or increase the number of licensed users. For this.
Go to your install location and open the License Update folder:
C:\Program Files(x86)\Sage\CRM\[install name]\License Update
Run licensekeyupdate.exe.
Select the Install Name for which you want to change the license key.
Enter the new license key in the box.
Click Next and complete the wizard steps to make the changes and complete the process.
Also Read-: Sage 50 200 Error
Final Word!
These are the safest methods to update your Sage 200 license key. Should you need more help, remember, we are just a call away. Dial our toll free number 1800 964 3096 to get in touch with our Sage expert technicians who can update the license key on your Sage 200 software in no time to keep your business up and running. Our technicians are available 24X7, 365 days a year to help you instantly override all issues and errors that might affect the performance of your Sage Accounting software.
Accounting Professionals & Specialized Experts
Want quick help from accounting software experts? Get in touch with our team members who can install, configure and configure your software for you. Proficient in fixing technical issues, they can help you quickly get back to work whenever you encounter an error in Sage software. Our team is available 24/7 365 days to assist you. To get in touch.
💠Frequently Asked Questions💠
How to Update License Keys in Sage 200
🔹 Log in to sage.com and click on "Sage 200" in the main menu.
🔹 Click on "Licensing" in the left-hand pane.
🔹 In the "License Keys" table, locate and click on the product key for which you require an update. This will open up a window displaying all of the product keys for Sage 200.
🔹 To update your license key, simply enter the new key into the text field located below and press the "Update License Key" button.
How to Activate and Use the Software
When you purchase Sage 200, you will also receive a license key that allows you to activate and use the software. The license key is a unique code that is used to identify your installation of Sage 200 and verify that it is a genuine copy of the software.
There are different types of license keys available depending on the number of users and the specific functionalities you require. Some of the key features of Sage 200 include:
🔹 Financial Management: Sage 200 provides a range of tools to help you manage your finances, including invoicing, accounting, cash flow management, and more.
🔹 Customer Management: With Sage 200, you can manage your customers' data, including contact details, orders, and transactions. This allows you to provide better customer service and tailor your offerings to meet their needs.
🔹 Supply Chain Management: Sage 200 allows you to manage your inventory, suppliers, and orders. You can track stock levels, automate ordering, and manage your supply chain more efficiently.
🔹 Reporting and Analytics: Sage 200 provides a range of reporting and analytics tools that help you gain insights into your business operations. You can track key performance indicators (KPIs), generate reports, and analyze trends over time.
Related Posts