Sage Runtime Error R6034 When Installing Sage 50 Accounts
Sage 50 is regarded as one of the most popular and effective accounting software in the market for all kinds of business owners as well as accounting professionals. While using the software, you may across certain technical errors such as Sage Error R6034, which is also known as a Runtime Error.
In this post, we are going to talk about what this error is and how can it be resolved.
What is Sage Runtime Error R6034?
The Sage Error R6034, or Runtime Error R6034, falls under the purview of Microsoft Visual C++ Runtime Library Error. This means that you come across the error if there an application fails to load correctly, the C Runtime library. You are more likely to come across this error as you try to install Sage 50 Accounts. This indicates that either there is a problem with the Sage 50 installation files or perhaps the Microsoft Visual C++.
An important thing to keep in mind here is that you can come across this error even if you have a 32-bit system. However, the error may look different than above. Also, in a 32-bit system, the following error is normally followed by another error once you press OK.

Cause of Runtime Error R6034
One of the most probable cases behind this error is that the C Library has been loaded without a manifest because of which the Sage 50 installation files are not being supported by the library and causing the Runtime Error R6034.
Also Read: How to Fix Sage Runtime Error 1607
Anytime you try to load the C Library without a manifest, you will always come across this error because it is considered incorrect to load it like that. The industry norm is to load DLL files with a manifest. If you have built your application on a good system with Microsoft Visual Studio, chances are that the compiler or the manifest is already included in your application. However, if it isn't, you would have to add it yourself while building the application.
Luckily, the Runtime Error R6034 while installing Sage 50 Accounts only results due to an incorrect file name on the file that has the manifest or a corrupt file.
Resolve Sage Runtime Error "R6034"
To fix Runtime Error R6034 while installing Sage 50 accounts, you can try one of the following methods:
Option 1: Rename Files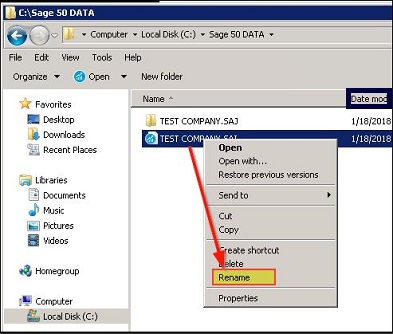 Start your computer and ensure that you are logged in as an Administrator
Go to My Computer/This PC
Open the following directories:
C:\Windows
C:\Windows\System64 (if you are on a 64-bit computer)
C:\Windows\System32 (if you are on a 32-bit computer)
Right-click on each of the following files and select Rename to rename these files and add "old" to each of them
dll
dll
dll
You can now install Sage 50 accounts and rename the files that you changed earlier to their original names.
Option 2: Install SBDDesktop.exe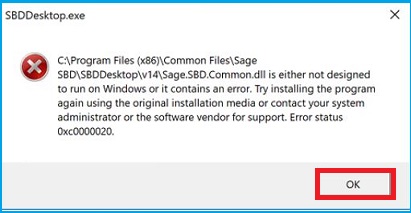 At times, you get a runtime error but there is no code mentioned in the error. If that's what you encounter, then follow these steps:
Start your PC and go to My Computer/This Computer
Now, open the C:\ drive and browse to C:\Program Files\Common Files\SageSBD\SBDDesktop.exe
Right-click on it to rename the file to "SBDDesktop.exe.manifest"
Next, go to Updates and install the SBDDesktop Installer Utility
Finally, install the SBDDesktop and restart your system
Related article: Sage 50 Runtime Error 9
Final Words!
The above-mentioned steps are highly recommended and vouched for by Sage experts. However, if you still face the same error after trying both, it is best that you get in touch with our technical support team so they can resolve it for you. To contact our round-the-clock team or highly skilled Sage professionals, you can give us a call or write an email us at [email protected] with your concern.
Accounting Professionals & Specialized Experts
Want quick help from accounting software experts? Get in touch with our team members who can install, configure and configure your software for you. Proficient in fixing technical issues, they can help you quickly get back to work whenever you encounter an error in Sage software. Our team is available 24/7 365 days to assist you. To get in touch.
Frequently Asked Questions(FAQs)
Can I also get a Runtime Error if I have low Disk Space on My Computer?
Yes, it is quite possible to experience a runtime error if your computer is running low on free space. To resolve this,
🔹 You must back up your files and free up space on your hard drive
🔹 Also, clear the cache on the computer and reboot it
🔹 Additionally, you can also try to run a Disk Cleanup by going the explorer window, right-clicking on the main directory which is normally the C:\ drive, hit Properties, and select Disk Cleanup.
Are there any specific symptoms of R6038?
Unfortunately, these are no specific symptoms to Runtime Error R6038 and they can popup without any warning. You can see them at any time while using Microsoft Access. In fact, if you don't fix the issue when it happens the first time, you may see these errors on your screen, and many others, showing up on your screen repeatedly.
Related Posts