Fix Issue While Editing One Vendor in Sage 50 2018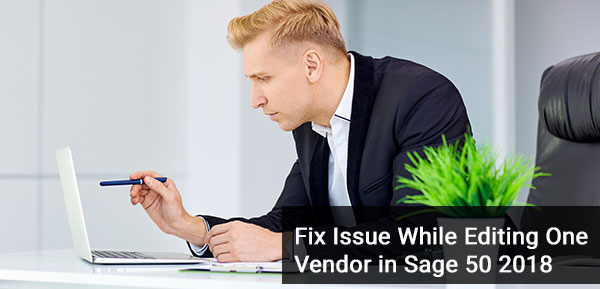 Many organizations and start-ups are steadily switching over to Sage software due to its various beneficial features and tools. All work related to business becomes smoother and easier with software like Sage 50.  Even a layman can understand the software easily.
Irrespective of the fact that how excellent the software is, there might be circumstances where a Sage user might have certain doubts and queries related to the software. One such common question that comes up while a user is using the Sage software is how to edit vendors. Let us discuss more about it.
More About Editing One Vendor in Sage 50 2018
This query normally arises when the Sage user is changing the name of any vendor but is unable to do it accurately. Normally, in this case, if 'Maintain Employees or sales representative' or 'Maintain Vendors' is clicked, it shows the error message- "A managed exception has been caught". The vendor IDs may not be seen in reports.
Causes of Error in Editing One Vendor in Sage 50 2018
Corrupted records
Crypto Wall virus may create issues
DDF files are corrupted.
Resolution
It is important to understand the steps in detail before following the resolution steps so that there is no damage to the important data. Sage experts can guide in a better way.
Situation 1: The corrupted DDFs files in the company directory.
Choose File and then open company.
Analyze the directory. It should be located adjacent to the name of the company.
In Windows Explorer, the user needs to go to that place.
All the DDF files needs to be chosen.
One needs to right click it and then click on Delete.
DAT, ATTCHMNT.DAT, ALARM.DAT, etc: these files need to be deleted. Ask a sage expert more about it.
The user needs to start Sage and open your company.
Choose Yes when it is prompted to remake the removed files.
One needs to re-open Sage.  Check if the maintenance window can be opened or not.
Situation 2: The .NET Framework needs to be uninstalled.
.NET 4.5 in Windows Features has to be uninstalled.
Reboot the system.
The user can install it.
Windows needs to be installed to download the installation files
The system has to be rebooted.
Sage needs to be opened and then open a maintenance window.
Other situations might also be there like in case of sample company  or non-sample companies. Get in touch with Accounting Advice trained experts to know more about the advanced steps in a simpler way.
What is Accounting Advice?
The Accounting Advice is a dedicated group of technical Sage drilled experts who are available 24*7 for your assistance related to any problem of Sage. They are capable of giving in detail tips about the software and the user can call them at any time that is suitable to them. The Sage tech support toll free number to talk to them directly is 1844-871-6289.
Report Your Issue
(Didn't find what you were looking for! Report your issue and get customized help from our Sage experts.)