Sage 50 File System Error Number 11
Sage 50 is a useful software that includes a wide spectrum of tools and functions for businesses, to provide them with an enriching experience. It offers useful functions to allow businesses and accounting professionals to streamline their operations better and boost revenue. No wonder why it is hugely popular all over the world these days.
However, many users of Sage have written to us that they have received Sage 50 File System Error Number 11 frequently of late. As a result, the Sage system fails or crashes abruptly while running. Have you been troubled by this issue? Are you looking for quick and easy solutions to fix it? Well, we understand it's quite annoying to come across such error messages while you are in the middle of something important. This is why, in this blog, we have come up with some quick and easy solutions to this issue associated with the Sage accounting software. You should go through this blog till the end, perform the steps shown and get rid of this error at the earliest.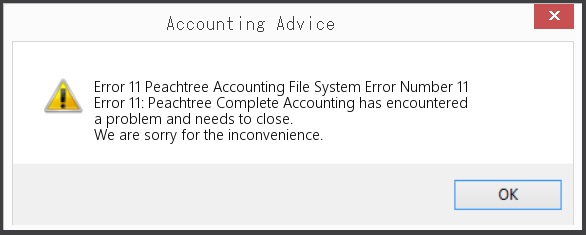 What Causes the Sage 50 File System Error Number 11?
Some important reasons that may cause this error are as follows-
Incompatible programs running at the same time
An issue with the memory
Due to a corrupt graphics driver
Infection by a virus or malware
Read More-: Sage 50 Error File System Error 3006
How to Fix the Sage 50 File System Error Number 11?
Here, we will discuss multiple ways to fix the Sage 50 File System Error Number 11-
Method 1- Reinstall your Graphics Driver
Log in to your system as an admin
Go to Device Manager
Locate the graphics driver
Now, right click on the video card driver
Click on Uninstall
Restart your computer
Method 2- Close the Conflicting Programs
Press Ctrl-Alt-Del simultaneously
The Task Manager window will open up
The list of programs currently running will be displayed on your screen
Go to the Processes section
Now, stop the programs one by one. You can do this by highlighting each and every program and clicking on the End Process tab
Please observe if you are getting the error message whenever you stop a process
Once you can figure out which program is causing the error message, you may reinstall that particular application.
Method 3- Install the Latest Windows Updates
Click on the Windows key
Go to the Settings section
Now, browse to the Update & Security page
Look for the latest Windows updates
A screen will be displayed if any such updates are available
Click to install the latest updates
Once done, restart the computer
Also Read-: Sage 50 File System Error 3110
Method 4- Re-install the Runtime Libraries
At times, you may get this error message because of the fact that an update, such as the MS Visual C++ package may not have been installed completely or properly. In this case, you can uninstall the current package and install it afresh.
Please follow the steps below-
Log in to your system as an admin
Click on Programs and Features
Locate the Microsoft Visual C++ Redistributable Package and select it
Click on Uninstall
Once done, restart your computer
Download the up-to-date redistributable package from Microsoft and install it
We hope the troubleshooting steps mentioned above would help you resolve the Sage 50 File System Error 3111 with ease. If you are having difficulty while executing the steps shown above or, are still unable to resolve the issue, we recommend speaking with some experienced Sage professionals 1800 964 3096.
Accounting Professionals & Specialized Experts
Want quick help from accounting software experts? Get in touch with our team members who can install, configure and configure your software for you. Proficient in fixing technical issues, they can help you quickly get back to work whenever you encounter an error in Sage software. Our team is available 24/7 365 days to assist you. To get in touch.
💠Frequently Asked Questions💠
Please follow the procedure below
🔹 Go to Start
🔹 In the search box, type "command"
🔹 Press CTRL + Shift and hit Enter
🔹 A permission dialog box will be displayed
🔹 Click Yes
🔹 A black box will come up, with a blinking cursor
🔹 In the search box, type "regedit"
🔹 Press Enter
🔹 Now, go to the Registry Editor
🔹 Choose the 'Error 3006' related key you want to back up
🔹 Go to the File menu and select Export
🔹 Go to the 'Save In' list
🔹 Specify the folder to save the backup key
🔹 In the File Name box, type a name for your backup file
🔹 Click on Save
🔹 The file will be saved along with a .reg extension
🔹 You now have taken a backup of the registry entry
I am getting the Sage 50 File System Error 3111 on my system. What are the reasons behind this issue?
Some important causes of the error are
🔹 Incomplete installation of Sage Accounting software
🔹 The server is turned off for some reason
🔹 A firewall or other similar software installed in your system is interfering with the Sage program
🔹 The abrupt closure of the pervasive session
🔹 Loss or accidental removal of Sage 50-related files or folders
🔹 Loss of connectivity between the server and your workstation
🔹 A VPN or wireless connection is used for connectivity
🔹 The PSQL product key is not in an active state
What Causes the Sage File System Error 3 or 95 in File : [Filename .DAT]?
Here are some important causes ofthis error
🔹 The userpref.dat file is damaged
🔹 The process on the w3dbsmgr.exe file is ending while Sage 50 is running
🔹 Sudden stopping of the Actian Database
🔹 Issues with network connectivity
🔹 Incorrect setting of sharing and security permissions
🔹 The system goes to sleep mode while the Sage application is running
Related Posts: