Sage 50 2018 Drop Down Lists Slow to Display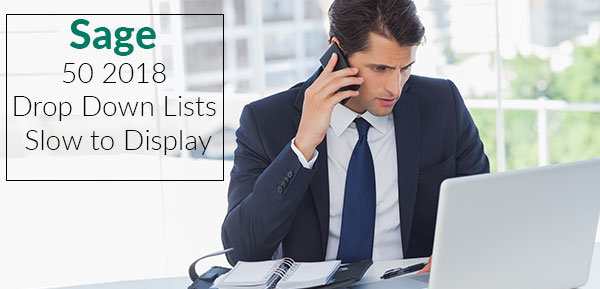 Sage 50 is well appreciated all over as one of the most efficient accounting software for businesses and professionals dealing with accounting. Another important feather on its cap is that it is extremely easy to operate. You do not need to be from an accounting background to be able to use it. No wonder this accounting software is used extensively all around the globe. However, one thing we should understand is that no software can be 100% free of errors and Sage 50 also has its fair share of such issues. Many users have written to us that they have faced the Sage 50 2018 Drop Down Lists Slow to Display error message and are looking for easy solutions to fix the same.
We understand it can be extremely disturbing to come across such errors while being in the middle of something important. This is the reason why we will tell you some easy methods to resolve this issue in this blog.
Before proceeding to troubleshoot, let's start with the basics. Let's get to know what the Sage 50 2018 Drop Down Lists Slow to Display error is and how to resolve this issue.
The dashboard can be customized for quick access to essential data. It has automatic backup, therefore your data and numbers are safe. It can be scaled up according to the growth of your business and it is compatible with other Sage products. It has high level security and automatic accounting checks. It can be installed on the local PC. However, one should realize that no software is error-free completely and occasionally there might be a few problems. Let us discuss one such common issue. Understanding can help in resolving swiftly. If the issue is still difficult to understand, you can call Accounting Advice on the toll free number .
What is the Sage 50 2018 Drop Down Lists Displaying Slowly Issue?
When the Sage 50 2018 software was launched initially, some users complained to have experienced this issue. They said that drop down lists with items and customer names were opening slowly. Mostly, this issue was limited to lists with large lists.
What exactly happens during this issue?
Drop down lists displaying very slowly in 2018.0
Maintenance records' drop down lists displaying slowly in R2018.0
Drop down lists get locked up in Sage 50—U.S. Edition
Non- responding Jobs List
Non-responding sales orders
Non-responding sales invoice
Once job costing is updated, it stops responding.
All the managed lists like vendors or employees or customers or jobs that have a good number of items will get affected due to this issue. Whenever these lists are accessed like in some maintenance records or reports, the issue of slow display of drop down lists crops up.
How to Resolve the Issue of Sage 50 2018 Drop Down Lists Slow to Display?
Sage came up with solutions to this issue in the Sage update 2018.0.1. If this update is installed on the server and on all the workstations that are experiencing this problem, the problem can be resolved.
Here, we will discuss multiple options to download and install updates in Sage 2018 –
Option 1: Check for updates
Click on

Help

Click the option named

Check for any Updates

 You will get a message 

"An update to your Sage 50 solution has been downloaded. Do you want to install the update now?"

Click

 Install Now

After the installation is complete, a message will pop up saying,

"Installation Successful"

.

Check mark the box labelled 

Open Sage 50

.

Click on

Finish

.

Next, you will have to upgrade your company to this latest version. 

When you try to open your existing company, the Upgrade Company Wizard will pop up on your screen.

Follow the instructions of this Wizard to upgrade your company
Option 2: Update the software manually
Check if you have downloaded the Sage 2018 update
Click on 

Windows Start

Go to

My

 

Computer

or

Computer

Browse to the location C:\Users\Public\Public Documents\Sage Software\Simply Accounting\Download.

Search for the update file SA_2018*****UP*.exe.
Please note :
If the file does not exist, you need to download it manually as given below –
Download the current update.

Click the full product /product update link you need to download.

Click on the 

Download

 tab.

After the download gets completed, run the file

The Sage 50 2018 update will be installed

Double-click on this exe file to run it.

Follow the instructions of this Wizard to install the Sage 50 2018 product update.
Installation on Multiple computers installations
Click on 

Windows Start

Go to

My

 

Computer

or

Computer

Browse to the location C:\Users\Public\Public Documents\Sage Software\Simply Accounting\Download.

Search for the update file SA_2018*****UP*.exe.

Now save this exe file to a shared drive on the server. Alternatively, you can also e-mail the file or take it on a flash drive to install on other systems.

Finally, run the update from the network/flash drive.
We hope the discussion above would help you a great deal to know what the Sage 50 2018 Drop Down Lists Slow to Display error is and how o resolve it. If you are still unable to resolve this issue on your own, we recommend that you should consult with an experienced Sage professional.
Why Accounting Advice?
Every now and then, we might face problems that are typically software related and something which only experts can understand. However, there is nothing to worry as help is available 24*7 for any sort of guidance that you might need. The Accounting Advice team is there to help you step by step and they will tell you what to do exactly. They will not only solve your issues but also help you to understand the software in a better way. They are a highly-trained and experienced team of professionals. You can take tips too from them to use a certain function properly in which you might have a doubt. To get in touch with them, give a call on this number It is toll free 1800 964 3096.
Frequently Asked Questions (FAQs)
What are the Functions I can accomplish with Sage 50 2018?
We will list some of the most important functions you can accomplish with Sage 50 2018 –
Submitting online VAT returns to HMRC.

Managing product information.

Managing cash flow, income, payments & expenses

Creating invoices and professional quotes.

Quick and simple connection with bank account 

Facilitates hassle-free reconciliation.

Integration with Office 365 software.

Managing stock details
My Sage 50 2018 software keeps crashing after I have updated to Windows 10. To resolve this issue, I am advised to open Sage 50 2018 in compatibility mode. How can I do this?
Here are the steps to open the Sage 50 2018 software in compatibility mode and solve this issue –
Right click on the Sage 50 2018 icon on your desktop

Select

Properties

Select the

compatibility

tab

Click the box labelled

compatibility mode

Click on the drop-down list and choose Windows 10

Click

OK

Start Sage 50 2018 on the admin mode

Check if the scales of High DPI get high priority

Make sure to apply the above modification to the server and all the workstations with Windows 10
Please note the following points –
If the

Sage 50 2018 icon is on the Quick Launch Tool Bar, right click on it and unpin it from the taskbar

After the above-mentioned steps are performed, you may re-pin the icon.
I want to upgrade my Sage 50 2018 to Sage 2022. Are there any particular system requirements related to integration and compatibility?
Yes. You must meet certain additional system requirements for integration and compatibility. These are listed below –
Microsoft 365 Business Premium /Enterprise Edition – for seamless integration with MS 365

32-bit versions of all the MS Office packages- Word, Outlook and Excel ( versions 2007 and higher ) are needed for smooth integration

Adobe Acrobat Reader

Printers should be compatible with Windows 8.1 /Windows 10
How to Deactivate The Touch Keyboard Service in Sage 50 2018?
Please follow the steps given below –
Press the Windows

Start

tab

In the search box, type tabwriteservices.msc

Click

OK

to proceed

The Services list window will appear on your screen.

Now double-click on the

Touch Keyboard

Next, double-click on

Handwriting Panel Service

Alter  the status of the

Startup

category to

Deactivated

Click the

Apply

tab to save the modification done

Press the

Stop

tab

Click

OK

to proceed

Exit from the

Services

window
Related Posts: