Are You Receiving an Obsolescence Popup in Sage 50?
Sage is, without doubt, one of the leading accounting software, used by millions of accounting professionals and businesses around the world. Over the years, Sage has been making continuous efforts to address the distinct accounting needs of different segments of its users. It has introduced new versions from time to time, in a bid to empower the users with improved features.
Some of the users have informed us that they have received an obsolescence popup while opening Sage 50. An obsolescence pop up may appear like the one shown below.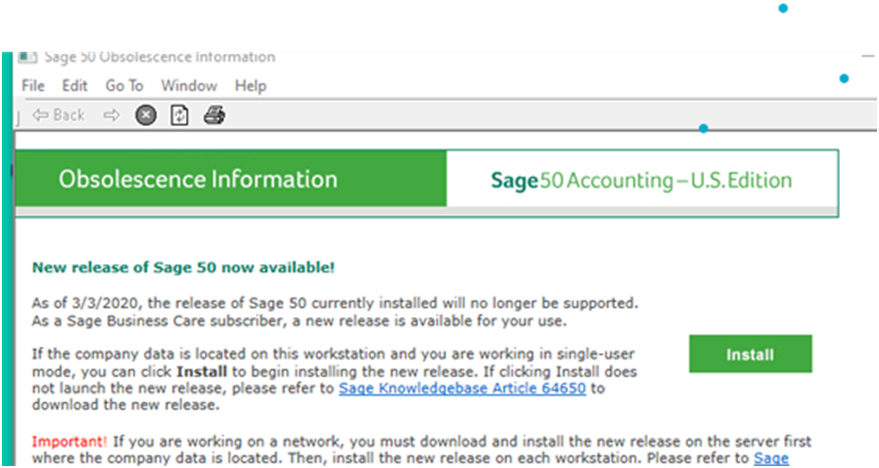 Have you also received one of these pop ups? Even if you have received one, you do not need to get worried at all. Such a pop up is nothing but an advanced notice from Sage about an add-on product. The pop up says that the product may cease to function if you do not upgrade to a new Sage release/version before a specified date. The purpose of such pop up messages is just to inform you about options, employing which, you may continue to receive uninterrupted services from Sage.
For example, the pop up shown above says that the current Sage release installed on the system of the user, if he does not upgrade to the Sage 50 2022 on or before 3rd March, 2022. It also says that the following add-on products will cease to function, if you do not upgrade by 3rd March, 2022.
Tax Updates
Direct Deposit
Program Updates
Sync with Managed Payroll
Tax Form Updates
Recently, Sage has introduced the all new Sage 50 2022 Edition. If you are yet to use this new release, you are definitely missing out on a whole new experience indeed. We would highly recommend you to upgrade to this new addition to the Sage family soon and surprise yourself pleasantly, with its exciting features!
If you have received an obsolescence popup recently, related to Sage 50 2022 version, you should consult with your IT professionals to check if the systems you are using meet the minimum requirements needed to download and install the Sage 50 2022 release.
Not sure about the system requirements? Here is a list of these requirements…
What are the System Requirements For Upgrading to the Sage 50 2022 Release?
Before upgrading to Sage 50 2022, you need to ensure that the following minimum system requirements are satisfied-
Internet Explorer 11.0
1 GB disk space
5 GB storage for Sage Drive company files
2.0 GHz processor
4 GB RAM, for both single and multiple users
Windows 8.1 or Windows 10 (version 1809 and higher) ,with the latest Microsoft updates
Preferred download speed of 25 mbps and upload speed of 10 mbps
Microsoft.NET framework 4.7.2 , with DirectX Dependency for .NET .
16 bit SVGA Video with a minimum resolution of 1280 x 800 .
Final Words!
We hope the discussion above would help you deal with obsolescence popup in Sage 50. You just need to spend a few minutes of your busy schedule and go through the blog till the end. Also, you need to make sure if you are equipped with the system requirements, to enjoy the improved features of the new Sage release. If you are still struggling to deal with these pop ups or you want to know more about them, we would recommend you to speak 1800 964 3096 to some of the authorized Sage experts.
---
🔷

Frequently Asked Questions

🔷
Q1. What are the New and Improved Features Incorporated in Sage 50 2022:
Ans: 🔷 Improved log in experience through your Sage email ID
🔷 Brand New Window for Open Enterprise Auto Entry Integration
🔷 Seller/Invoice bills memorized
🔷 New payroll function to ensure better leave deduction and encasement
🔷 You can access your company files offline
🔷 Banking services made easier
Q2. Apart From the System Requirements, What are the Other Points I Need to Consider Before Installing the Sage 50 2022 Release?
Ans: Please keep in mind the following points before installing Sage 50 2022. This is to ensure that no complication arises before or during the installation.
🔷 Restart the system and close all the applications running at the background, before starting the installation
🔷 Turn the antivirus off. You can turn it on after the installation is completed
🔷 Doubly verify if all the workstations  fulfill the minimum system requirements to install the Sage 50 2022 edition.
🔷 Turn the firewall on and activate all the notifications
🔷 Make sure that the UAC settings are set to minimum. You may contact an IT expert to modify your UAC settings.
Related Posts