Sage HRMS integration to Sage 100 Payroll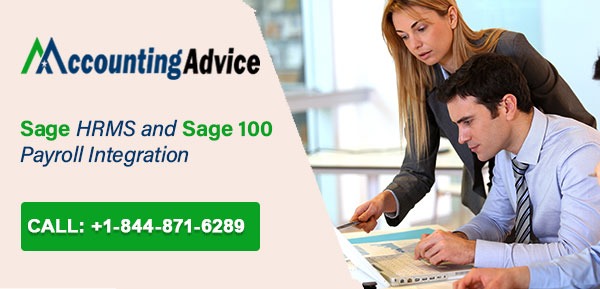 Sage HRMS integration to Sage 100 Payroll allows for the seamless transfer of employee data and information between the two software applications. This integration helps to ensure accurate and timely payroll processing, as well as reducing the risk of errors and discrepancies that can occur when data is entered manually.
Sage HRMS is there to give potency to HR (Human Resource) department of every organization. The main objective of HRMS is to improve efficiency of HR department. It is designed with the collaboration of Sage professionals and Human Resource professionals. Sage HRMS is specifically designed to streamline and integrate HR friendly tools and features to improve company's Investment and Returns.
Read More-: Migrating Payroll Data An Employer's Guide To Switching Providers
How to Integrate Sage 100 Payroll and Sage HRMS?
The Sage 100 Standard ERP is specifically designed software to deliver data and make proper communication between Sage 100 ERP Payroll and Sage HRMS. It has now become an integral part of Sage HRMS. This integration offers top level of performance in your software, top level of sharing of information, compact integration; you can easily setup your integration and refurnish duplicate setup.
Sage HRMS can be benefited as:
Management of company's Benefit . . . savings plans, health plans, contributions of 401(k), and many more.
Management of Attendance . . . time-off paid and unpaid plans, absents and leave, and many more.
Compliance of/by Government . . . FMLA, EEO, VETS, HIPAA, COBRA and many more.
Jobs by company and organization.
Employee compensation, information, promotions, performance, skills, transfer and education and more.
The link allows HR users to:
You can easily setup Sage 100 Payroll and maintain employees' setting in Human Resource.
You can easily manage records of employees in HR and then information can be transferred to HR.
You can automatically inactivate, create, update deduction of employee' payroll and earnings that are linked with employees of HR and other premium & election of employees.
Transfer of transactions of employee from payroll to other attendance plans.
Populate a new Human Resource and employee data automatically from the existing Sage 100 Payroll.
Also Read-: Payroll Data Migration in Sage 50
Final Words!
The Sage HRMS integration with Sage 100 Payroll also supports the automatic calculation of payroll taxes, including federal, state, and local taxes. This helps to ensure compliance with tax regulations and reduces the risk of errors that can result in costly penalties. In addition, the integration allows for the automatic transfer of payroll data from Sage 100 Payroll to general ledger accounting systems, helping to ensure accurate financial reporting. Overall, the integration of Sage HRMS with Sage 100 Payroll provides a powerful and streamlined solution for managing employee data and processing payroll. It helps to reduce the risk of errors, save time, and ensure compliance with regulatory requirements. If you looking for support just dial 1800 964 3096
Accounting Professionals & Specialized Experts
Want quick help from accounting software experts? Get in touch with our team members who can install, configure and configure your software for you. Proficient in fixing technical issues, they can help you quickly get back to work whenever you encounter an error in Sage software. Our team is available 24/7 365 days to assist you. To get in touch.
💠Frequently Asked Questions💠
How does the Integration between Sage HRMS and Sage 100 Payroll work?
The integration between Sage HRMS and Sage 100 Payroll allows businesses to seamlessly transfer employee data and payroll information between the two systems. This eliminates the need for manual data entry and reduces the risk of errors.
What are the benefits of integrating Sage HRMS and Sage 100 Payroll?
Some of the benefits of integrating Sage HRMS and Sage 100 Payroll include:
🔹 Reducing the risk of errors and ensuring accurate payroll processing
🔹 Eliminating the need for manual data entry, saving time and reducing administrative costs
🔹 Streamlining HR and payroll processes and improving overall efficiency
🔹 Simplifying compliance with HR and payroll regulations
What Data is Transferred between Sage HRMS and Sage 100 Payroll?
The integration allows for the transfer of employee data, payroll data, and other related information such as tax filings, benefits, and more.
What is Sage 100 Payroll?
Sage 100 Payroll is a payroll management system designed to help businesses process payroll and manage payroll-related tasks such as tax filings, direct deposit, and more.
Related Posts