How to Fix Sage 50 Error Code 1046?
In most scenarios, users come across the Sage 50 Error Code 1046 mainly due to concerns with SQL. Youmay come across this error code while trying to make payments or logging in to the HMRC with their Sage 50 account. You are required to log in to HMRC to work through Sage 50 and to authorize payments through the accounting program> These errors can show up in various form such as:
We could not accept your request/The request has been accepted.Error Type: Fatal; Error Code: 1046
Authentic Failure. The supplied user credentials failed confirmation for the requested service
HMRC doesn't recognise the details you're using to make your submission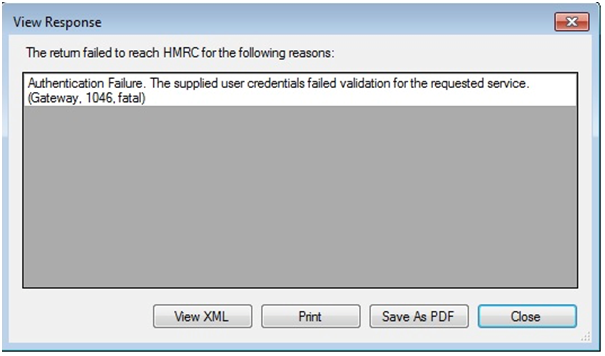 Cause For Sage 50 Error Code 1046?
It is quite obvious that every error that you come across while trying to use the Sage 50 software is due to certain issues with other programs or issues in the background. Thus, it is important that we try to find out the underlying reasons that cause the Sage 50 error 1046. It is only when we have narrowed down the problem correctly that we can find and apply the appropriate resolution. Here are some of the possible reasons behind the Sage 50 Error Code 1046:
Incorrect user ID and password entered in the e-Submission settings
You are already logged into your HMRC account and it's active in another tab or another device
You don't remember the user ID and password for two different tax software
Software not altered or modified, however HMRC already modified tax reference
Busy Gateway while submitting due to which your details couldn't be validated
SQL not authentic to access
Login credentials of Sage Corporation tax online don't match the HMRC records.
Steps to Fix Sage 50 Error Code 1046
To begin resolving the Sage 50 Error Code 1046, you have to start by ensuring that the following details match that of the HMRC:
💠 Login user ID and password
💠 PAYE Reference Number
💠 Account Office Reference
💠 Business Name and Address
Now, there are three possible troubleshooting steps that we need to follow in order to fix the issue. Let's take a look at each of them one by one:
Total Time: 35 minutes
Option 1: Validate HMRC:
💠 To do this, follow these steps:
💠 Ensure that your email ID is verified with HMRC before logging in
💠 Select Administration in Sage Corporation Tax
💠 Choose Practice Details
💠 Confirm if the details provided by you are correct
You will not be allowed to log in to HMRC if your customer isn't a part of the list in Sage Corporation Tax. A customer can only appear on this list if you are their certified agent
Also Read: How to Fix Sage 50 Error 1304
Option 2: Ensure that the District and Tax Reference Number is Correct:
To make sure that the district and tax reference number are accurate, follow these procedures:
💠 Open Sage Control Center
💠 Under File menu on the top, choose Data set properties
💠 Click on View Practice Client on Practice details
💠 Confirm the details are correct by going to tax details; correct them if there is a mismatch
💠 Verify the date and year of the taxes
💠 In this step, you also have to ensure that there are no blank spaces kept after the reference number and any letters used in the tax district and reference numbers are mentioned in UPPERCASE.
Related article: How to Fix Sage 50 File System Error 3110
Option 3: Change e-Submission Settings:
The third and the final process that you can undertake to resolve the Sage 50 Error Code 1046 is to change the e-Submission settings. To do this, you have to:
💠 Go to e-Submissions > e-Submissions Setting Option
💠 Erase the old credentials and enter a valid tax district and reference number; ensure there are no black spaces after the numbers and letters are in UPPERCASE
💠 Delete old data and enter valid user ID and password
💠 Press the Contact Details tab; if you are not registered on HMRC, make sure that the Submit box is unchecked
💠 Press Save > Close
Finally, log in to online.hmrc.gov.uk and verify the tax district and reference number in the e-Submission settings
Final Words!
Hopefully, after trying the three troubleshooting steps mentioned above, you will be able to rectify the Sage 50 Error Code 1046 on your computer system. However, if, due to some reasons, you are still unable to fix the error, it is best that you get in touch 1800 964 3096 with Sage support staff right away.
Our team of highly skilled and proficient technical support members are available round the clock to resolve your queries and concerns with their expert guidance. Connect with them via a phone call or write to them to get all your questions answers and problems solved.
---
💠Frequently Asked Questions💠
Q1. How can I register with HMRC?
Ans: 💠 To register with HMRC yourself, you have to visit the HMRC website and complete the online registration by following the instructions and providing the required details.
💠 After you have registered, you will be presented with a 12-digit Government Gateway ID and an Activation PIN which will sent to you by post in 7-10 days.
💠 Once you get the Activation PIN. Login to your HMRC account by using the Government Gateway ID and a password and enter the Activation PIN and you are all set
Q2. Is there a way to view/delete submission information on e-Submissions?
Ans: Yes, there is. To do so, you have to:
💠 Select e-Submissions and go to e-Submissions Log
💠 Choose the submission you wish to view information for and click on Details
💠 Alternatively, if you wish to delete a submission, click Delete instead of Details after selecting the submission
💠 If you want a printout of the submission information, hit on Print, verify the printer information, and select Print
Q3. How can I enter e-Submission settings?
Ans: To enter e-Submission settings, follow the below-mentioned steps:
Select e-Submission and go to e-Submission Settings
Enter these details:
💠 Company name
💠 Tax District Number/Reference number
💠 User ID and Password
💠 Check for new messages when opening the IR secure mailbox
💠 Qualify for "On or Before" rule relaxation
💠 Clear P46 (car) flag on submission
💠 Show FPS checklist
Next, to enter your e-Submission contact details, go to Contacts tab and enter these details:
💠 Contact details
💠 Agent details
💠 Return to payroll desktop and save your details by clicking on Save and then Close
Related Posts: