How to Fix Sage Timeslips Error Code 122?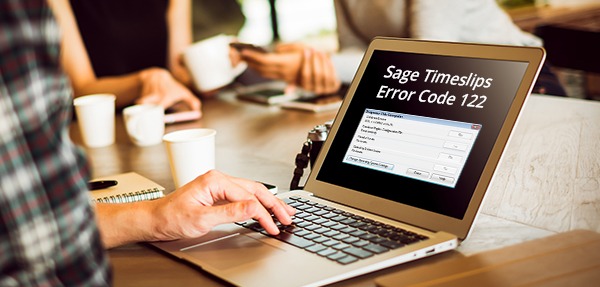 Your Sage Timeslips data is important for the successful functioning of your business. However, errors in your Timeslips database can leave you confused and frustrated as you will not be able to access or retrieve your data. One such error is Sage Timeslips Error Code 122. This is a common Timeslips error and crops up when your database has an error in the index file.
Steps for Fix Sage Timeslips Error 122
There are two ways to fix this issue:
💠 Restoring your computer to an earlier point
💠 Validating your data using Date Verification process
Let's take a look at both these steps one by one.
Total Time: 30 minutes
Restoring your Computer to an Earlier Point:
The most convenient way to fix Sage Timeslips error 122 is by restoring your computer to an earlier restore point. However, you can perform this only if you have recently backed up your data files because restoring your computer to an earlier point will erase all the data that you have stored on your computer after that backup was made.
Also Read: How to Fix Sage Timeslips Error 9473
Follow the steps to Perform System Restore:
💠 Log on to your computer as an Administrator.
💠 Click the Start button and select All Programs.
💠 Go to Accessories and click on System Tools.
💠 Now select System Restore.
💠 Select "Restore my computer to an earlier time" in the new window and click Next.
💠 Select the most recent system restore point from the "On this list, click a restore point" list and click Next.
💠 Again click Next on the confirmation window.
💠 Now restart the computer to apply changes.
💠 This would resolve all issues that were causing error in the index file and solve Sage Timeslips Error 122.
Validating your Data Using Date Verification Process:
If you don't want to restore your computer or have not recently backed up your data, then you can try the following:
💠 Create a new data backup (because if these steps didn't work, you would have to restore your database).
💠 Exit Timeslips and open it again.
💠 Click File and run data verification – reindex.
💠 Check the box to "Rebuild Data Indices".
💠 After it finishes, test it to see if you get the database or index error again.
This should have solved your problem. However, if the error still persists, get in touch with an expert Sage technician by calling 1800 964 3096 accountingadvice.co at and get your Sage Timeslips error 122 fixed and your data up and running.
Final Words!
Accountingadvice offers best-in-class sage tech support service to help you fix all your tech related issues in a jiffy. Our expert technicians have years of experience in resolving even the most complicated computer related issues in the minimum wait time possible. We can help you detect, analyze, and repair all issues and error messages that might be hampering the performance of your computer.
With special tools and techniques, we can easily and automatically detect errors, analyze their effects, and repair them to save you the hassle of manually doing it on your own. Get in touch with our expert technicians by calling our toll free number, do Sage 50 live chat help 24×7 or you mail us at [email protected] and get comprehensive support for all Sage Timeslips related issues and errors.
Related Posts: