How to Print 1099 and 1096 Forms in Sage 100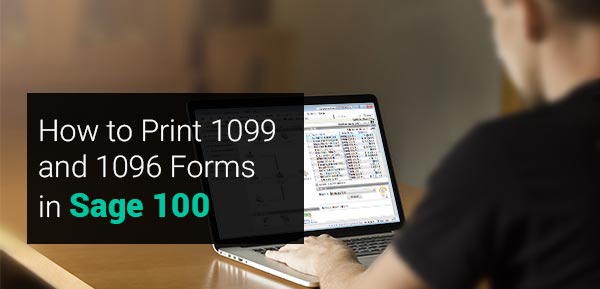 It's a great tool for tracking expenses and income. However, one of the most overlooked functions in Sage 100 is printing 1099 and 1096 forms. It can be a bit confusing—especially if you're new to the software—so keep on reading to find out exactly how to print out these important tax forms. We'll walk through some of the basics and then cover everything you need to know about setting up the form templates and how to print 1099 and 1096 Forms in Sage 100.
Sage 100 is an important addition to the family of Sage software and is used by millions to drive productivity and increase efficiency. It provides useful functions related to payments and reporting, among others. It also includes amazing features to assist businesses in filing annual taxes. With this accounting software, you can do e-filing of the 1099 and 1096 Forms with effortless ease. In this blog, we will discuss how to print these 1099 and 1096 Forms through Sage 100.
What are 1099 and 1096 Forms?
The 1099 and 1096 forms are used to report income from self-employment, rentals, and other sources. They are also used to report income from gambling winnings, interest, and dividends. The forms are available for download at the IRS website.
Read More-: How to Print 1096/1099 Forms in Sage 50
What is the Procedure to Print 1099 and 1096 forms in Sage 100?
Go to the Accounts Payable section
Click on Reports
Click to open Form 1099 reporting
Go to the 1099 reporting visual section
Click on the form to use tab
Click New
Specify the form type you would like to use (Dividend, Interest or Miscellaneous)
Also, specify the 1099 calendar year and the merchant category
Type in the minimum amount payable to the vendors, along with the year to date payments. Please note that this amount should be equal to or more than the amount entered
Check and confirm all the information related to the company
After you accept the terms & conditions, a 1099 window would appear
Click next to proceed
In the checklist wizard, click on the print check list tab in order to print all the steps of the 1099 form
Tap on Finish
Follow the same steps to complete the form in the next window as well
Once all the details are confirmed, the processing of the 1099/1096 forms will commence.
Now you need to decide the look of the form.
Select the print format
Select suitable forms
Click on the forms viewer to acknowledge and verify your form
Click on next to display the form
Also Read: How to Import Export Sage 100 Intelligence Reports
Final Word!
We hope the sequential steps mentioned above have cleared all of your doubts related to printing 1099/ 1096 forms in Sage 100. If you still have some queries or, if you experience any difficulties in carrying out the above-mentioned steps, we would recommend you to speak to some of the authorized Sage experts.
Accounting Professionals & Specialized Experts
Want quick help from accounting software experts? Get in touch with our team members who can install, configure and configure your software for you. Proficient in fixing technical issues, they can help you quickly get back to work whenever you encounter an error in Sage software. Our team is available 24/7 365 days to assist you. To get in touch.
---
💠FAQs💠
Related Posts: