How to Fix Sage 50 Error Connecting to Database?
In today's competing time, Sage is praised as one of the best payment solutions available. But all good things are not easy to use, and so is Sage 50. Technology has been driving our lives with comfort and made it very easy as well. Nevertheless, if there is a hurdle like an error or a malfunction, it can be quite a massacre, mainly if the entire work is dependent on the tool. Today we will discuss the product named Sage 50– Canadian edition. The error code we will discuss is "Sage 50 error connecting to database". This is received while you are trying to open a company file or a sample company. There are many reasons that this error occurs, and one should have a good insight into the operating system to resolve it.
Reasons for the Sage 50 Error connecting to database:
The folder that Sage 50 connects to has an attribute of Read-Only.
The file or folder you are attempting to connect to is missing.
The connection manager is being blocked by the Firewall.
The Log Service of the Windows Event has been disabled.
There is an issue with the .NET framework.
The Connection Manager has not begun on the server or has not been installed.
The server has a shared location which has a permission issue.
The UNC address is being used.
The Anti-Virus has detected the Connection Manager as a threat and must have redirected it to the quarantine instead of the folder.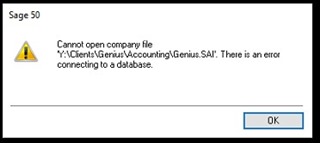 Resolution: Sage 50 cannot connect to database:
Total Time: 35 minutes
Solution 1: If the data files are stored on your server computer, do the following:
First, test with the sample company:
💠 For Windows XP go to C:\Documents and Settings\All Users\Documents\Simply Accounting\201X\Samdata\
💠 And for Windows 7, Windows Vista and Windows 8 go to C:\Users\Public\Public Documents\Simply Accounting\201X\Samdata\
In case, the sample company opens fine then we recommend you to do the following steps:
💠 Ensure that the firewall on your server where the data is hosted is configured appropriately (Note: It is important to note that the ports that are responsible for the communicant with the Connection Manager are added).
💠 Find out whether your company data is saved on a server and what drive. Chances are you might have programs installed on the C: drive and data is stored on D drive. Check permissions of the shared folder where the data is located.
💠 On the root of C:\, make a new share folder.
💠 Now move the data in the new folder.
💠 Ensure that you give full permissions to all the users.
💠 Now try to open data from recently made new folder.
💠 Use data file with server's IP address rather than the computer name.
Check if the sample company opens or not:
💠 Check the firewall or antivirus for blocked Sage 50 processes, in case there is any then give them the full access.
💠 For Windows XP users, in case antivirus/firewall has been adequately configured, and the sample company is still not working then the problem might be with the Microsoft .NET Framework.
💠 And if you are using Sage 50 on Windows Vista, Windows 7 or Windows 8-based compute and there is some problem in local sample company then they might be .NET components on your operating system might have been corrupted/damaged.
Solution 2: If the data files are stored in C:\PROGRAM FILES\ (or C:\PROGRAM FILES (x86)\) and the sample company file opens:
Follow the given below steps:
💠 Change the location of the .SAJ folder and .SAI file. Move them outside the C:\Program Files\ (or C:\Program Files (x86)).
💠 Once done, right-click on the SAJ
💠 Then select Properties.
💠 Ensure that both Hidden as well as Read-only checkboxes are unchecked.
💠 If they are, go to Security
💠 Ensure that all Groups or Usernames mentioned have Full Control access rights.
💠 Select OK.
💠 Then open the SAJ folder.
💠 Find out and then remove the file pid.
💠 Ensure that you can now easily open the data file.
Tip: Upgrade to the latest version of the Sage software and save up to $50.
Solution 3: Check ODBC Issue:
💠 Go to Programs and Featuresor Add Remove Programs on the control panel and make sure that ODBC is installed (If it is no installed, then install the ODBC by going to C:\Sage\Sage 50 Accounting \BIN\MySQLODBC).
💠 Now run the mysql-connector-odbc-commercial-.exe
Solution 4: If your computer is new, bring it back to its default factory settings:
💠 We recommend you to use the computer's manufacturer restore disk and restore Windows Vista, Windows 7 or Windows 8 back to its default factory settings.
💠 Also, you can go through the manufacturer information.
Solution 5: If the computer is not brand new, restore point:
💠 We recommend you to use Windows Vista, Windows 7 or Windows 8 restore points to restore your computer to its previous settings when your Sage 50 application was working.
💠 To locate restore points, go to Windows Start, select Control Panel and then go to System or Recovery.
💠 Find the restore point where the .NET components were updated and for that follow the wizard.
Solution 6: Call/Chat with Accountingadvice.co:
But before you try out all the above options, do make sure that you are a master in understanding your operating system. All these solutions require advanced knowledge about your system and the whereabouts of the programs. If you modify your Windows Registry in an incorrect manner, then the Operating system can be affected big time. It can affect the other programs and make them stop functioning smoothly. It would be better to call 1800 964 3096 for a Sage professional if the system functionality is out of your league. That's no more an error, right?
---
Frequently Asked Questions
Q. How many computers can I install Sage 50 on?
Ans. For that, A license must be purchased for each computer on which a Sage 50 product is installed. Sage Accountants Network (SAN) members can buy from 2 to 40 user installations.
Q. Can I install Sage Instant Accounts on two of my computers?
Ans. Each Sage Drive user is allowed to install the software on one other device to facilitate sharing the Sage Accounts data through Sage Drive. You have to install the software on another computer, in the same or a different location, using back up and restore to move the data between the two of your computers.
Q. How do I reset my Sage 50 Account?
Ans. First of all, Go to Settings, then Data Management. Next, select Reset my Data. Now enter the email address you use to sign in to your Sage service, then choose "Delete Data."
Related Posts