Sage 50 Error 0057 Rel 2013.2 -How to Fix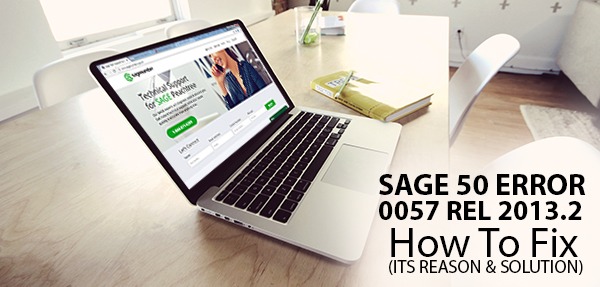 We have received communication from a number of users that they have faced the error 0057 Rel 2013 while launching the company file or printing reports in Sage 50. If you are one of them, you are just at the right place. We know, it can be quite annoying to experience such errors while being in the middle of something really important. Your worries are over now! We are here to assist you. We will tell you multiple and easy methods to resolve this issue. Go through this blog, implement the steps mentioned herein and get rid of this error once and for all.
Reasons for Sage 50 Error 0057 REL 2013.2?
Blue Screen of Death Error:
This kind of error is primarily caused due to unsuspected software error in the device driver. In order to fix the problem, we recommend you to use a Windows system repair software, which will fix all the corrupted, missing and malfunctioning Windows software files professionally. It will also further increase the overall performance of your PC.
DLL Error:
DLL is one of the most important components of a program or an application. And if a specific DLL file gets corrupted, it can severely hamper the functioning of those program or application. In order to solve this problem, it is recommended to download, install and run a DLL suite.
Also Read: How to Fix "Sage-SA-QIFLib.dll Error"
Solution to Fix Sage 50 Error 0057 REL 2013.2:
Simple Methods by which you can Resolve the Error 0057 Rel 2013 in Sage 50-
Total Time: 35 minutes
Method 1- Try Running the Connection Manager Service
⏩ Navigate to the Windows Control Panel
⏩ Select the Administrative Tools
⏩ Click on Services
⏩ Click on Sage 50 Database Connection Manager
⏩ Check if the Startup Type column is set to Disabled, Automatic (Delayed Start) or Automatic.
In case it is set to Disabled-
⏩ You have to click on Sage 50 Database Connection Manager
⏩ Select Properties
⏩ Click on the General tab
⏩ Change the Startup type to Automatic (Delayed Start) or Automatic
⏩ Click Apply
⏩ Click Start to open the service
⏩ Now try opening the database.
In case, if it is on Automatic (Delayed Start) or Automatic, but the Service Status is set to Starting-
⏩ Make sure to close Sage 50
⏩ Press Ctrl + Shift + ESC to open the Task Manager
⏩ Click Processes
⏩ Next, click the tab named "Show processes from all users"
⏩ End all Sage 50 processes including the Sage 50 Database Connection Manager
⏩ Navigate to the Services window
⏩ Right-click on the Sage 50 Database Connection Manager
⏩ Select Start
⏩ Set the Service Status to Started or Running
⏩ Finally, try opening the Sage 50 file again.
Method 2- Try Running a System File Check [on Windows 8, 8.1 and 10]
⏩ Click on Windows + X on your keyboard
⏩ Select Command Prompt (Administrator) from the Menu
⏩ Check if the Windows PowerShell (Admin) is listed
⏩ Click Yes on the UAC prompt
⏩ Type: SFC /scannow
⏩ Press the Enter key
⏩ The System File Checker would start and would verify the system files integrity.
Also Read: Sage 50 HR Error Connecting MySQL
Final Words!
We are a one-stop-shop to avail wide-ranging sage 50 services to resolve any kind of Sage problem or error. Our team of experts have years of expertise in resolving different Sage issues with ease. No matter whether the Sage error is minor or major, our technicians provide unprecedented assistance to diagnose and resolve your problem proficiently. The best part about our services is that we offer step-by-step solutions to troubleshoot your Sage error.
With us you needn't worry about any kind of technical glitch, you can just sit back and focus on the core of your business. What sets us apart from other services available to fix Sage issues is that we are available 24/7/365 without any geographical barrier. We are fast, honest and dedicated. And we are just a call away. You can avail our services by just dialing our toll-free number 1800 964 3096, Live chat 24×7 or you can mail us at [email protected] .
---
🔔
Frequently Asked Questions

🔔
Q1. What is the Error 0057 Rel 2013.2 in Sage 50?
Ans: The Sage Error 0057 Rel 2013.2 occurs in a system when a user tries to launch a company file, to access other files or to print reports. Because of this error the program gets closed abruptly. The user receives the error message as given below:
Error: "Sage 50 Accounting 2013 [0057-rel\2013.2] is not working"
Q2. What are the Possible Reasons for Occurrence of the Error 0057 Rel 2013 in Sage 50?
Ans: Many functional and technical issues contribute to the occurrence of the error 0057 Rel 2013 in Sage 50. Some of these are mentioned below-
⏩ .NET framework installed in the system may have got an issue
⏩ SideBySide error
⏩ Ntdll error
⏩ Corrupt or damaged WMI
⏩ If any DLL file has got corrupted
⏩ Blue screen of death error
⏩ Issue with your device driver
⏩ Printer issue
Related Posts: