Fixed Sage 50 2018 Running Slow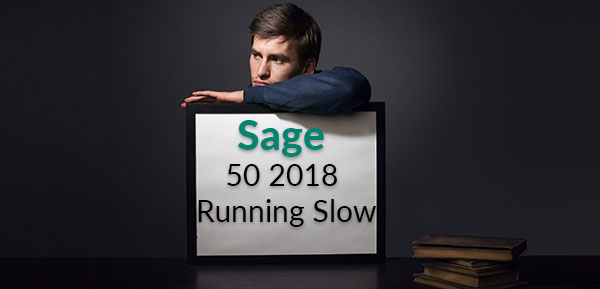 Sage 50 is one of the oldest and most reliable accounting software ever developed for the small and medium industries. It is developed by Sage Group and they have integrated this software with various third-party applications. Sage has recently launched its new version i.e. Sage 50 2018. Though it is exceptional software, butthere are occasions where you might face some technical issues. This technical issues often lead to"Sage 50 2018 running slow".
Causes of Error "Sage 50 2018 Running Slow":
This error in Sage 50 occurs due to Sage technical error and a number of reasons are responsible for this error. Some of them are:
Sage Networking Problem
Software Issues
Firewalls
Database files too large
Antivirus issues
Hardware compatibility
Resolutions of Sage 50 2018 Running Slow:
Here are a few methods by which you can easily resolve this technical issue of Sage 50 software.
Networking problem:
It can be checked and resolved by following the given steps:
First check for the wear and tear of the network wire; if found faulty, replace it.
Then ensure that the workstation and the server is on the same domain.
Next, make sure that the server is able to ping the workstation by name and receive the response from the correct workstation.
After that, disable the unused interface if the network has dual network interface.
Software Issues:
If you face any software related issue, you need to ensure that you have the latest or the upgraded version installed on your network card as Sage 50 2018 has various enhancements that might not work if you do not have latest versions of the software integrated with Sage 50.
Firewalls and Anti-virus:
Firewalls and anti-virus  are very important for restricting the unwanted access of your data but when you use the Sage 50 software. You will have to exclude the local area network from the firewall and Sage data files from the auto protect check, from anti-virus for the proper and fast performance of the Sage 50 2018 version, otherwise the errors will be prompted on your system.
Hardware Compatibility:
For running the Sage 50 2018 version, your system should be compatible so that the performance can be fast and efficient without interruptions of error messages.
Firstly check that your systems hard drive should have a minimum of 2 GB space or more than size of company's database.
Then to optimize the free disk space Run Windows' Disk Cleanup.
Next you need to set the computer's virtual memory so that it matches the RAM on the machine.
More the RAM, the better will be the performance of the system.
Database files too large:
For reducing the size of the data files, you will have to remove or delete some data from the system to improve the performance. The files that are no longer in use must be deleted like Delete the Supplier Accounts, Product Records, Customer Accounts,  Nominal Accounts and most importantly delete the stock history by simply going to the tools and clicking on the clear stock button.
If the Sage 50 2018 Runs slow or the Sage payroll is opening slow, then follow the given steps:
First you need to check for the system specifications that are recommended, if the system specifications are not as required then upgrade your system.
Then, Check for the Sharing permissions and the security related issues you should have mandatory permissions and access to all the services of Sage 50 2018 payroll.
Next, check for the size of the database, may be your data is too large.
Now, check for the proxy server.
Solution I: Restart your Computer System
Shut down your Windows Operating System.
Reboot your system.
Try to run your Sage 50 software.
Solution II:Check for Windows Updates
Check for any updates in your system.
If any updates are pending, then update it.
Go to control panel > Windows Updates menu (for any Windows Operating System related updates).
Solution III:Check for Sage 50 Updates
Check for Sage 50 2018 updates.
Sage has recently released and upgrade for Sage 50 2018 (Sage 50 2018.0.1).
Install it in your system.
Solution III: Windows Firewall
Windows operating system comes with in-built firewall.
Temporarily disable the firewall.
Now try to run the Sage 50 2018 software.
Solution IV: Log in to system as an Administrator
Open Sage 50 2018.
Click on "Run as Administrator" each time you work on Sage 50.
Or, Go to properties > Advance and click on "Set this as default".
Solution V: Delete all the Temp Files from your system
Open "Run" window in your system.
 In the search field, type "%temp%" and press "OK".
Select all the files and folders from the "Temp Folder".
Select "Delete" option.
Go to option "Do this for all current items".
A dialog box will appear on your window "Folder in use", click on "Skip" option.
The solutions mentioned above are recommended by sage experts. In case, you need some assistance from Sage customer support, you can get in touch with Accounting Advice. They have hired Sage certified professionals who have resolve such issues. They will provide you with their expert opinions for your issues.
What is Accounting Advice?
The Accounting Advice is a third party consultancy who provides sage support to thousands of users round the world. They have hired Sage experts who will assist you in resolving your issues. You can instantly get in touch with them by calling on their customer support toll-free number 1844-871-6289. You also have an alternate method to connect with them, i.e. you can write an email to their Online Email Support or visit their website and request for Online Sage Chat support. The sage expert will get in touch with you and help in resolving your problems.
Report Your Issue
(Didn't find what you were looking for! Report your issue and get customized help from our Sage experts.)