Email Setup and Settings on Sage 50
With its amazing tools and features, Sage 50 has been helping businesses immensely to perform their accounting functions with the desired efficiency. Sage 50 Email is one such feature. With the help of this, you can link your email Ids with Sage and perform important tasks through your outlook or webmail ids. You can send and receive reports, send invoices to clients and many more.
In this blog, we will tell you how to setup an email in Sage 50 and provide other associated information.
Keep these Points in Mind
First things first! You need to keep the below-mentioned information for ready reference, before setting up the Sage 50 Email. –
A valid password and username on the email server
Port number (by default, it is 587 and 465). 
Address of the Incoming mail server 
Address of the Outgoing mail server
If you are not sure about these details, you may contact your Internet Service provider (ISP).
How to Setup a Sage 50 Email through Microsoft Office Outlook?
Here, we will mention two simple methods to setup email in Sage. Please follow the below-mentioned steps-
Total Time: 35 minutes
1st Method: By using the default email application
🚩 Navigate to the Maintain section at the top 
🚩 Now go down to the  Email Setup
🚩 Click on default email application
🚩 Now you can use the MAPI compliant email application and email from reports
2nd Method: By using Webmail
🚩 Click on the Maintain menu 
🚩 Now go to the email set up section
🚩 Modify the email setting from default to  use a webmail account 
🚩 Click on the Add Account Information link
🚩 Choose the webmail service type 
🚩 Enter your preferred email address (Outlook, Gmail, Yahoo or others)
🚩 If you have selected any of these, type in the address for the email account you want to use. 
🚩 Click OK  to proceed
🚩 If you have selected Others, you will be prompted to enter the details of the SMTP port and SMTP server attached to your email service. You will need to specify if you need a secure (TLS/SSL) connection as well. If you are not quite sure, consult your email service provider. 
🚩 After your email account is defined, you can make desired changes by clicking on the edit hyperlink
Procedure to Setup documents for email in Sage 50 Cloud Accounts
In Sage 50cloud Accounts, you can easily send layouts and reports via email through webmail or Microsoft Outlook. You can make use of the Email Defaults option and apply email settings to a number of documents. Please follow the step-by-step procedure below-
Step 1: Set your email provider
Microsoft Outlook
Before you start setting up email in MS Outlook, make sure you are using a version compatible with that of your Sage. Next, you should take a 'layout only' backup
Now, follow the steps below-
🚩 Open Sage 50cloud Accounts
🚩 Click on Settings
🚩 Now click the Email Defaults tab
🚩 Go to the Email Program drop-down box
🚩 Click Microsoft Office Outlook.
Webmail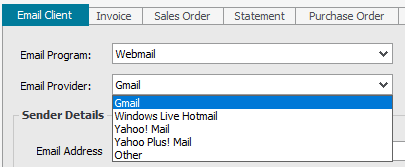 🚩 Take a 'layout only' backup
🚩 Go to the menu bar and click Settings
🚩 Click on Email Defaults 
🚩 In the Email Program drop-down box, click Webmail.
🚩 Go to the Email Provider drop-down box and click your preferred email provider. If the same is not listed, click Other.
🚩 Go to the Sender Details section
🚩 Enter your display name and email address.
🚩 If you have chosen 'Other', provide the server details of your email service provider. 
🚩 In the Login Details section, click on the Use logged-on user details tab, if you will be logged in to your webmail always while emailing documents.  Alternatively, you can simply click on Use Username and password– to enter your user name and password.
We hope the sequential steps above would help you setup an email in Sage 50 with ease. If you are still facing any difficulties in carrying out the above-mentioned steps, you may speak to some of the authorized Sage experts.
---
Frequently Asked Questions (FAQs)
What are the  SMTP Server Address and Port Number of Outlook 365, Gmail and Yahoo Mail?
| | | |
| --- | --- | --- |
| ISP (Internet Service Provider) | SMTP Server | SMTP Port |
| MICROSOFT OUTLOOK 365 | outlook.office365.com or smtp.office365.com | 587 |
| GMAIL | smtp.gmail.com | 465 or 587 |
| YAHOO | smtp.mail.yahoo.com | 465 or 587 |
How to get Email Server settings for Microsoft Outlook?
Please follow the below-mentioned steps-
Navigate to Control Panel
Click on Mail
Click Email accounts
Select your email account
Click on Change
You will get the SMTP Address of the Outgoing mail server
Now click on More Settings
Go to the Advanced option
Next to the OUTGOING MAIL SERVER SMTP, you will get the port number you need
Related Posts:
Report Your Issue
(Didn't find what you were looking for! Report your issue and get customized help from our Sage experts.)