How to Fix Sage 50 Upgrade Error
Sage 50 is one of the most trusted accounting software which is also considered as the most demanding and trusted software. However, while using Sage 50 many users complain that they get Sage 50 Upgrade Error. Sage 50 Upgrading to the latest version is very important to go with the advanced features and for better productivity.
You can solve the Sage 50 Upgrade Error following the below-mentioned methods. Just go through with the complete article including causes and methods which surely helps you a lot.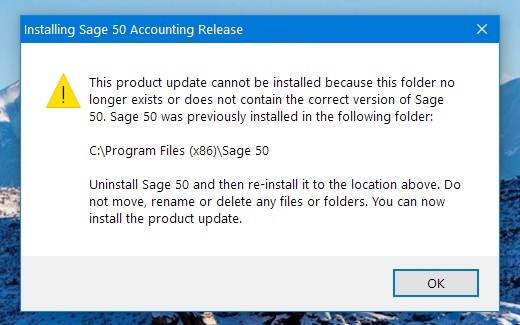 Cause Behind Sage 50 Upgrade Error
The upgrade error which the users face during upgrading their Sage 50 software is that the update has failed during installation. You will just have to get in touch with the sage 50 technical support. The descriptions of the errors are:
Sage 50 Error: "Sage 50 update could not be completed and needs to be run again."
Service Release (SR) 2015.1, 2015.2, 2015.3, 2016.1 2016.2 2017.2 will not install
Error: "File [file name] wasn't able to be copied."
Installing a Service Release update displays error
Update failed
Service release will not install and prompts to restart the computer
PTXA2015.3, PTXA2016.1.0, or PTXA2016.2.0 PTXA2017.2.0 keeps looping asking to reboot
Restarting the computer and running the update again results in the same message, effectively putting the install in a loop, SR loop
Unable to open program after failed install of update
Service release won't install
Service release wants to restart
Update keeps asking to install
Service release update failed to install

Causes of Sage 50 Upgrade Error
The causes for these errors are the following:
Files are not properly updated during the upgrade from a prior version
The cause for this error is having multiple instances of peachw.exe running in processes
The hard drive sector is damaged
The executable file needs to be Run as administrator
Server data path and the local data path are different
Old version of STATUS.DAT
Peachw.exe is still running as a process even though the program is closed
Operating system cannot recognize the program where it is installed
Antivirus is preventing installation of service release
Peachupd.exe is running as a process
UAC ( User Account Control)
Windows system has been set to Non-English
Methods to Fix Sage 50 Upgrade Error
Resolving Method for Windows XP:
Press Windows/ Start button and click the control panel option
Inside Control Panel window select Regional and Language option
Click Advanced Tab
Select English option from the available dropdown
Finally to implement the change click ok
At last, reboot the PC
Steps for Windows 7 and Vista
Press the Start button
Click Control Panel option
Select Clock, Language, and Region option
Click the Administrative tab now
Now, click on Change system locale now
Select the English language
Click ok to apply the changes and finally reboot the computer.
One of the Simplest Ways is Given Below:
Restart the Pervasive on your computer
Now, you need to check if they are resolved or not
If the Sage 50 is working fine on the network but not on your workstation and creating the error then you should restart the Pervasive service on the workstation you are working.
Final Words!
Now, your error has been eliminated and you can run your Sage 50 accounting software successfully. But, still the problem persists; you just have to call the Sage support number , Our expert Sage technical expert can help you fix the error message so that you can work efficiently on your Sage accounting software.
---
🔔FAQ About Sage 50 Upgrade Error
Q1. How to Contact the Sage Team While Facing any Issues?
For any help you can contact the Sage experts dialing , you can also email at support@accountingadvice.co. Alternatively, you can visit www.accountingadvice.co and fill the contact form to get back a call from Sage advisors.
Q2. What is the Sage 50 Upgrade Error?
Sage 50 Upgrade error is one of the most common error which happens when Sage 50 can't be upgraded and it shows the error message.
Q3. After making Any Changes Why do I Need to Restart the Computer?
System restarts make sure that the changes you have made implements properly. Restarting the computer is also needed as some files can't be replaced when they are in use.
Q4. I have Tried all the Ways But Unable to Resolve the Error?
Although these are the common resolutions which help a lot to everyone. It might be possible that in your case the causes may be different, in this case, you can contact the Sage team and they can help you.
Summary
Article Name: How to Fix Sage 50 Upgrade Error
Description: Sage 50 upgrade error failed during installation leaving you confused and frustrated? Here's all you can do to fix the error manually. For expert help, call .
Publisher Name: Accountingadvice.co
Publisher Logo
:

Report Your Issue
(Didn't find what you were looking for! Report your issue and get customized help from our Sage experts.)