Whats New in Sage Simply Accounting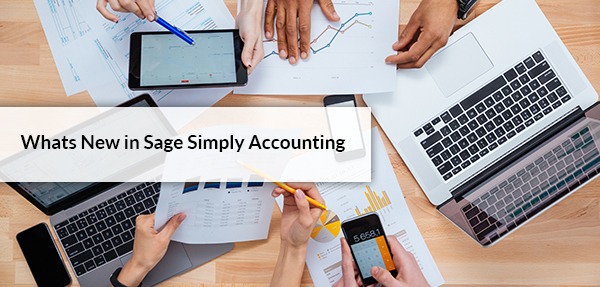 Sage Simply Accounting (now known as Sage 50) is a feature-packed business accounting software that helps businesses manage their financials and streamline their routine tasks. The software is an ideal choice for small businesses that require entry-level accounting. It is quick to setup and easy to use and doesn't require any prior accounting experience.
Sage 50 Simply Accounting helps busy accountants perform routine tasks with ease. With the help of this software, you can quickly track your inventory, prepare checks, send invoices, and manage both customers and vendors. Through this software, you can easily keep your business finances in compliance with audit trails and automatically calculate payroll taxes for robust year-end analysis.
Features and benefits of Sage Simply Accounting
Let's take a look at some of the features of Sage Simply Accounting software.
Customized dashboard
An intuitive dashboard allows you to highlight key areas of performance and quickly view key trends of revenue and budget for business success.
Quick invoicing
You can easily manage customers, create quotes, track sales orders and send invoices for efficient functioning of the business.
Organized inventory
The software allows you to optimize your inventory management and control costs and quantities even on the go.
Well managed banking
Sage Simply Accounting allows you to easily transfer funds, make deposits, and reconcile bank accounts so that you always stay sorted.
Direct payments
Sage Simply Accounting software ensures that you never miss a deadline. It keeps a track of all your bills, payments and purchases so that you can manage your expenses. The software also helps you to conveniently make and receive payments through Sage 50 Direct Deposit.
Daily business manager
The software also allows you to manage your due dates, keeps a track of recurring entries, saves time during batch processing, and makes bookkeeping a breeze.
Cloud storage
Cloud connected solutions ensures that your data always stay safe and readily accessible with the touch of a button. Cloud connectivity empowers you to collaborate with your team and initiate an online activity from any part of the world.
Different versions of Sage Simply Accounting
Sage Simply Accounting software is available in four different versions. These are:
Sage Simply Accounting Pro
The software offers robust and flexible accounting platform with all basic accounting tools to help you easily manage cash flow, sales transactions, vendors, suppliers and inventory. This is the most simple and easy to use software and can be easily used by even a novice.
Sage Simply Accounting Pro
The Pro version of the software provides professional accounting tools to help you manage your day to day business finances with ease and comfort. The software allows you to easily process your transactions by giving you the ability to switch between two different currencies.
Sage Simply Accounting Premium
This is an advanced version of the software and offers custom accounting and analysis tools to help you make quick and informed business decisions. The software offers all the functionalities that any professional accounting software needs and allows you to consolidate data across multiple locations and organizations.
Sage Simply Accounting – Accountant's Edition
This version is specifically meant for accountants and bookkeeping specialists who want to leverage on the power of Sage to build their businesses and better manage their practices. Through this software, accounting professionals can increase their productivity, serve their clients better and stay ahead of the competition.
Want to know more? Need help to get started? Call Accountingadvice.co on our toll free number / and get connected with our technicians who can help you install the right Sage Simply Accounting software to match your business needs. We can also help you upgrade to the latest version of the software for best results. For expert help regarding all Sage related issues, call / now!
Why Accountingadvice.co?
We are one of the leading Sage 50 remote tech support providers and can provide you professional help for your Sage Accounting software. Our team has years of experience in resolving all Sage related issues and can help you fix any issues that might be hindering the performance of your software. Our expert technicians assure first call resolution for most tech problems. So whether you want to understand the features and benefits of Sage Simply Accounting software or need help while installing or using the software, we can give you expert help and support at the comfort of your home or office. Call us on our toll free Sage 50 support number +1800 964 3096 and get instant resolution for even the most complicated tech issues and stay ahead of your accounting needs.
Related Posts: