How to Remove Sage 50 Completely from your Computer?
The process of removing Sage 50 from your computer involves uninstalling the software, deleting any program folders, removing any related registry keys, and deleting any remaining files. All traces of Sage 50 should be removed from your computer. Be sure to restart your computer after completing these steps to ensure that all related files and processes have been terminated.
Are you facing issues because that you have to remove Sage 50 completely?
Then here you get the solution steps to uninstall Sage 50 from your computer. Many reasons are there in which users have to uninstall their Sage 50 software.
Reasons to Uninstall Sage 50:
If there is any error code
The files are missing or damaged
Update got corrupted
Data loss
Feature of Sage 50 is not working.
Read More-: Sage 50 Removing Installation Backups Stuck Error
So, you have to remove the Sage 50 completely and then again install it in your system.
Steps to Remove Sage 50 Completely From your Computer: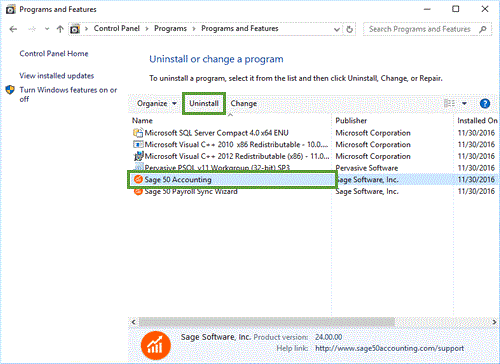 Total Time: 30 minutes
Remove ODBC and DSN Data Sources
🔹 Log-in to your system as administrator and then run the command.
🔹 Click on Windows + R then type ODBCAD32 and then select
🔹 Now, double-click on C:\WINDOWS\SYSWOW64\ODBCAD32.EXE. By clicking on this will help you remove 32-bit and 64-bit ODBC windows version.
🔹 Remove Sage 50 inline entries DSN tabs and system DSN
🔹 Click on next if all the entries have been removed due to uninstall.
Uninstall your Sage Software Using Windows:
🔹 Go to the start button and open Control Panel.
🔹 Now, open Programs and Features and then find Sage Accounts that you want to remove then select Uninstall.
🔹 For Windows XP – Select Add or Remove Programs and then find Sage Accounts that you wish to remove. Then, click Ok.
🔹 If you find the error still in your computer, remove all Sage Versions and then click
🔹 Now, select Programs and Features and then right click on the Sage account version and then click on uninstall.
🔹 For Windows XP – Select Add or Remove Programs and then find Sage Accounts that needs to be removed from the computer. Then, click Ok.
Related article: How to Fix Sage 50 Error: "You do not have sufficient access to uninstall Sage 50 Accounting. Please contact your system administrator"
Delete Shared Folders:-
You may be obstructed while working on the Sage 50 if you delete shared folder. In that case, re-install Sage 50 once you delete shared folder. Make sure that re-installing of any other Sage software is also valid. For Ex: A folder is used by Sage 50 HR to store data. If you are Sage 50 HR user, make sure you are handy with the data backup before you delete any folder.
Final Words!
Above, you get to know how to remove Sage 50 completely from your computer. You have to follow the process to get it done in the proper way so that you won't face any issues. But still, if there are any questions or queries that you are suffering from then get in touch with the Sage 50 helpdesk team. All the support modes are available on our website according to your convenience. You can get in touch with us via any of the mode and our team will answer to your answer you in time as less as possible. We are available via tollfree number 1800 964 3096
---
💠

Frequently Asked Questions

💠
How to Log in as an Administrator to Remove Sage 50 Completely?
In this, you have to check while login to your system that you have multiple users to log in then choose admin. But if there is only one user then it is itself an admin. Login and continue your work of removing Sage 50.
Do I Require Reinstalling the Sage 50 on my Computer after Uninstalling it?
Yes, you have to reinstall it in your system so that you can continue working on it. the re installation resolves many of the problems that you are facing. Still, you are facing a problem then connect with the Sage helpdesk expert team.
🔹 Open the Control Panel
🔹 Click on the Programs and again click on the Programs
🔹 Here you get the list of programs that are installed in your system
🔹 Search for the .NET software
🔹 Then right-click on it and select Uninstall option
🔹 In the uninstallation Wizard, click on the Next button
🔹 Then click on the Yes button
🔹 If you have multiple versions of .NET then do these steps for all versions one by one.
Related Posts: