How to Set up and Pay Employees using Sage 50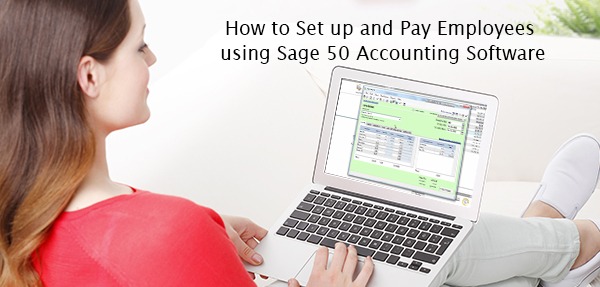 Sage 50 is the best business software for all your accounting needs. It gives you the power to efficiently run your business and manage your accounts, invoice, cash flow, inventory and taxes like a pro. It also streamlines the payroll process to help you save time and reduce the risk of tax penalties at year end.
Payroll feature in Sage 50 accounting software:
Quickly prepare payroll cheques and issue payments
Calculate with holdings on payroll advances
Deduct and manage taxes effortlessly
Pay employees and vendors simultaneously
Post pay cheques to next year
How to Setup and Run Payroll in Sage 50

Setting up and using payroll module in Sage 50 is quite easy and can be done on your own. Alternatively, you can also call AccountingAdvice at to avail expert tech support for Sage 50 payroll module.
Total Time: 35 minutes
Step 1: Setting up the Payroll
Follow the below mentioned steps to manually set up payroll on Sage 50:
💠 Select Setup and click on settings.
💠 Click Payroll and then click on Linked Accounts.
💠 Now add an account in each subsection – Income, Deductions, Taxes, etc., and press OK.
💠 Select Setup and go to Settings.
💠 Click on Payroll and then on Incomes.
💠 Now verify that income is properly setup for taxes.
💠 Select Deductions and ensure that all deductions used are properly set up.
💠 Click on Taxes and enter the percentage rate for all additional taxes.
💠 Press Ok to complete the setup process.
Step 2: Creating Payroll Remittance
💠 Select Vendors and create the Receiver General record.
💠 Click on Setup, Settings, and then Payroll Remittance.
💠 Now click on the magnifying icon in the Remittance Vendor column to link EI, CPP and Tax to the Receiver General.
💠 Select Receiver General and enter the Remittance Frequency and End of Next Remitting Period.
💠 Click OK to save the data.
Step 3: Creating an Employee
💠 Go to the Employees icon and select the Employees link.
💠 Select Add Employee and enter information for each employee.
💠 Select Save and Close to complete the process.
💠 Repeat these steps for every additional employee.
Step 4: Creating a Paycheque
💠 Go to the Paycheque icon and click on the Paycheque link.
💠 Click on Create Paycheque and select the employee.
💠 Enter Cheque Date and Period End Date.
💠 Fill in the paycheque information and click on the Print button to print the paycheque.
💠 Repeat the steps for the next employee.

Final Words!
Still need help setting up payroll on your Sage 5o software? Get expert Sage technical support by calling accountingadvice.co at . Our expert technicians are proficient in dealing with all kinds of Sage and payroll related issues and can help you install, update and fix issues with your Sage 50 accounting software. Call now or do Sage Live chat support and experience the best Sage software support to know how simple Sage 50 payroll processing can be.
Related Posts:
Report Your Issue
(Didn't find what you were looking for! Report your issue and get customized help from our Sage experts.)