How to Upgrade to Sage 50 Accounts Professional 2017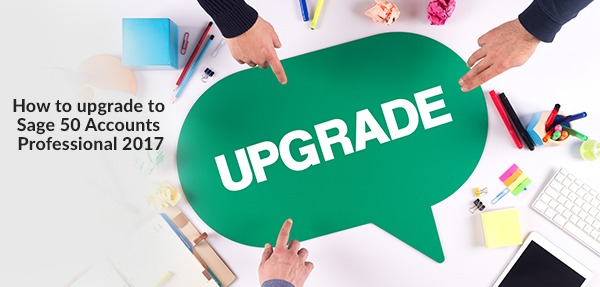 Over the years, Sage has been making continuous efforts to address the distinct accounting needs of small and medium businesses. In order to empower users with improved features, Sage introduced the Sage 50 Accounts Professional 2017 a couple of years ago.
If you are still using an older version of Sage 50 Accounts to run your accounting and book keeping activities, you are definitely missing out! You are not being able to avail certain awesome tools and features offered by the Sage 50 Accounts Professional 2017 software. We would highly recommend you to upgrade to this version soon and surprise yourself pleasantly, with its exciting features! This software is designed to provide your business with a new momentum. It offers better integration with other third-party applications, ensures more flexibility to manage your inventory, taxes, invoices, cash flow and so much more.
If you are not aware of how to upgrade to Sage 50 Accounts Professional 2017, go through this blog. Here, we will discuss the new features incorporated in this software. We will also discuss certain easy methods to upgrade to Sage 50 Accounts Professional 2017.
Let's proceed then..
New & improved Features in Sage 50 Accounts Professional 2017
Support for web-based email services such as Yahoo, Hotmail, Gmail etc.
Click to pay Invoicing
Quick insight into your cash flow
Error-free account reconciliations
Support for customer ACH payments
Streamlined dialogue boxes
Seamless integration to the cloud
Impressive, isn't it? So, if you want to upgrade your Sage Accounts Professional software to the latest version,
Points to note Before Upgrading to Sage 50 Accounts Professional 2017
Take a backup
You must always create a backup of your company data before upgrading to a higher version of Sage 50. This is to avoid accidental loss or damage to the data files. To do so, follow the steps below-
Open your Sage 50 application
Go to the menu bar
Click File
Click on Back up
A prompt will ask if you want to check your data.
Click Yes and click OK
Click Close twice
Now provide a file name for your backup
Click Browse
Browse to the location where you wish to keep your back up
Click OK
Click on the tab named Advanced options
Choose the type of files you want to back up. You can also Select 'all file types' , if you want to back up all the files
Click OK
Click OK again to finish.
Note down the location of your existing software version
To ensure the new version of your Sage software installs correctly, note down the location of your existing software for ready reference during the installation process. The location information will be available at-
For Sage 50 Accounts 2010 (v16) or 2011 (v17)
Go to Help

Click About
Click on System Information

Go to Directories and note the program directory
For Sage 50 Accounts 2012 (v18 and higher)
Go to Help
Now go to the Program Details section and note the program directory
Steps to Upgrade Old Sage to Sage 50 Accounts Professional 2017
Total Time: 30 minutes
Steps to upgrade your existing software
💠 Log on to your system as an admin
💠 Insert the Sage 50 Accounts 2017 DVD 
💠 Click on Install software
💠 In case you have downloaded Sage 50 Accounts from the website, double-click on the downloaded file
💠 Click on Run
💠 Checkmark the box to accept the terms and conditions and click Next
💠 Check if the directory path is the same as the installation path noted down earlier. If not, click on the new folder and browse to the correct folder location 
💠 Click next.
💠 Click Upgrade 
💠 On being prompted, click on 'Yes, begin installation.
💠 Once the upgrading is complete, click on Launch Sage 50 Accounts.
Install Updates
Always check if any new updates are available. For this,
💠 Go to the menu bar and click Help
💠 Now click Check For Updates
Simply follow these steps and you can easily upgrade your existing Sage software to Sage 50 Accounts Professional 2017. In case you need more help or face issues while upgrading your software, we are just a call away. Dial to get in touch with our certified technicians who can help you easily upgrade your Sage software and fix issues that you might be facing.
Conclusion:
Accountingadvice offers comprehensive tech support for Sage 50 accounting software. We provide instant access to certified technicians who can resolve all your Sage 50 related issues at an extremely affordable price. With lowest wait time and highest resolution rate, we are best in business.
Our expert technicians can help you install, setup, update, or upgrade your accounting software for a seamless working experience. No issue is too big or too small for us. Our competent and experienced team of technicians assures first call resolution in the shortest wait time possible. Connect with Accountingadvice.co by calling our toll free number 1800 964 3096 and experience the best tech support service for Sage 50 products.
---
Frequently Asked Questions (FAQs)
What are the System Requirements For Upgrading to Sage 50 Accounts Professional 2017?
Before upgrading to Sage 50 Accounts Professional 2017, you need to satisfy the minimum system requirements given below-
💠 1 GB RAM for single-user and 2 GB for multi-user
💠 Windows, 7, Vista, 8 or 10 with the latest updates
💠 2.4 Ghz processor 
💠 1 GB free disk space for installation
💠 Microsoft .NET 4.5.2 (  .NET 4.6 for integration with Sage Payments Solutions)
💠 Internet Explorer 9, 10 or 11 ( 11 and higher for Sage Payroll
💠 16-bit SVGA video with resolution 1024 x 768
💠 MS Word, Excel & Outlook 2007 or higher 
💠 Adobe Reader Acrobat 11.0 
💠 Adobe Flash Player 11 or higher 
What is the procedure to Upgrade from Sage 2017 to 2022?
Please follow the below-mentioned steps- 
 
💠 Launch Sage 50 2017 from your server.
💠 Click on Services 
💠 Now press Check for updates 
💠 Then click on Check Now.
💠 Choose the version of Sage 2022 to download
💠 Select the download option.
💠 Once the download gets completed, click the Install tab. 
💠 A user agreement will appear on your screen. Click Agree to proceed.
💠 Now select the auto-configure option to start the installation. 
💠 Check the serial number 
💠 Open the program in order to activate it.
💠 Grant access so that the software can automatically detect data and files and can transfer/store the information related to the new version.
💠 Close Sage 50 
💠 Restart your computer 
💠 The new version will appear on your dashboard.
What are the specific multi-user Requirements For Upgrading to Sage 50 Accounts Professional 2017?
Please note that only Sage 50 Premium Accounting and higher versions support the multi-user environment. For this, you need to satisfy the following system requirements-
💠 1 GB of disk space for installation of components on the server
💠 Windows Vista, Windows 7, Windows Server 2008 /Windows Server 2012 client-server networks, Windows 8 / Windows 10 peer-to-peer networks. The Sage 2017 multi-user environment is optimized for these operating systems
💠 A maximum of 5 licensed named users – for Sage 50 Premium Accounting 
💠 A maximum of 40 named users for Sage 50 Quantum Accounting.
Related Posts: