How to Upgrade to Sage 50 Accounts Professional 2017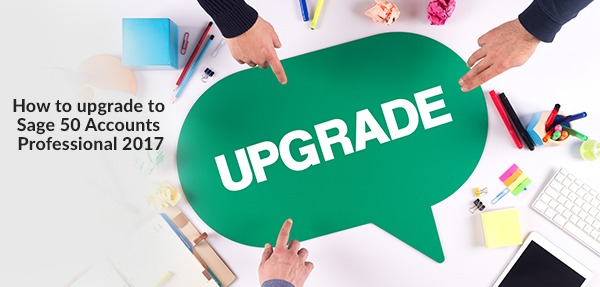 Are you still running your business finances on the old version of Sage 50? Did you know that this can make your business lag behind others?
Upgrading your Sage 50 Accounts Professional software to its latest version gives your business a new momentum. Not only does it offer better integration with your hardware and software applications, it also brings in more flexibility to manage your accounts, productivity, invoices, inventory, cash flow, taxes, and so much more.
So, if you have been looking for reasons to upgrade to Sage 50 Accounts Professional 2017, then here's a list of benefits that this latest software offers:
Features of Sage 50 Accounts Professional 2017:
Improved error correction
Easier data analyzes
Quick insight of your cash flow
Streamlined dialogue boxes
Seamless integration to the cloud
Error-free account reconciliations
Faster invoice payments
Impressive, isn't it? So, if you want to upgrade your Sage Accounts Professional software to the latest version,
keep the Following Points in Mind Before Upgrading to Sage 2017:
Before upgrading your software, backup all your data. To create a back up for your data,
Go to the menu bar and click File
Then click Back up
To check your data, click Yes and then click OK
Click Close and then click Close again
Now enter a file name for your backup and then click Browse
Browse the location where you want to save it and click OK
Click on Advanced options
Now select the type of files you want to back up or 'Select all file types' to back up all files
Finally, click OK and then click OK again.
To ensure that the new software installs correctly, find out the location of your existing software.

For Sage 50 Accounts 2012 (v18) and above

Click Help and then click About
Under Program Details, make a note of the program directory.

For Sage 50 Accounts 2010 (v16) or 2011 (v17)

Click Help and then click About
Click System Information
Click Directories and make a note of the program directory.
How to Upgrade your Existing Sage 50 to Sage 50 Accounts Professional 2017:
Total Time: 30 minutes
Steps to upgrade your existing software
💠 Log on to your computer as Administrator.
💠 Insert Sage 50 Accounts DVD and click Install software.
💠 Alternatively, if you have downloaded your Sage 50 Accounts copy, then double-click on the downloaded file and click Run.
💠 Select the check box to accept all terms and conditions.
💠 Click Next
💠 Check if the directory path matches the installation path you have noted earlier. If it doesn't, click on the new folder and then browse to the correct folder location and click next.
💠 Click Upgrade and then click 'Yes, begin installation'.
💠 Finally click on Launch Sage 50 Accounts.
Install updates:
Always check if any new updates are available. For this,
💠 Go to the menu bar and click Help
💠 Now click Check For Updates
Simply follow these steps and you can easily upgrade your existing Sage software to Sage 50 Accounts Professional 2017. In case you need more help or face issues while upgrading your software, we are just a call away. Dial to get in touch with our certified technicians who can help you easily upgrade your Sage software and fix issues that you might be facing.
Conclusion:
Accountingadvice offers comprehensive tech support for Sage 50 accounting software. We provide instant access to certified technicians who can resolve all your Sage 50 related issues at an extremely affordable price. With lowest wait time and highest resolution rate, we are best in business.
Our expert technicians can help you install, set up, update, or upgrade your accounting software for a seamless working experience. No issue is too big or too small for us. Our competent and experienced team of technicians assures first call resolution in the shortest wait time possible. Connect with Accountingadvice.co by calling our toll free number and experience the best tech support service for Sage 50 products.
Related Posts:
Report Your Issue
(Didn't find what you were looking for! Report your issue and get customized help from our Sage experts.)