Adding Another Company to Sage 50 Quantum Accounting – Keeping it Private to Restricted Users

The Sage 50 accounting software is powered by a number of useful features to help businesses accomplish their accounting activities with ease. Therefore, no prizes are there for guessing why it is highly popular across the world among businesses and professionals.
In this blog, we will address a common query received from several Sage users. They wanted to know how to add another company in Sage 50 Quantum Accounting and how to keep it private from restricted users. If you are also having such queries, we would advise you to go through this blog till the very end.
Please follow the steps below-
Log in to the existing company
Go to the File section
Click New
Click on Company.
If prompted, enter your password
Click OK
Click on Create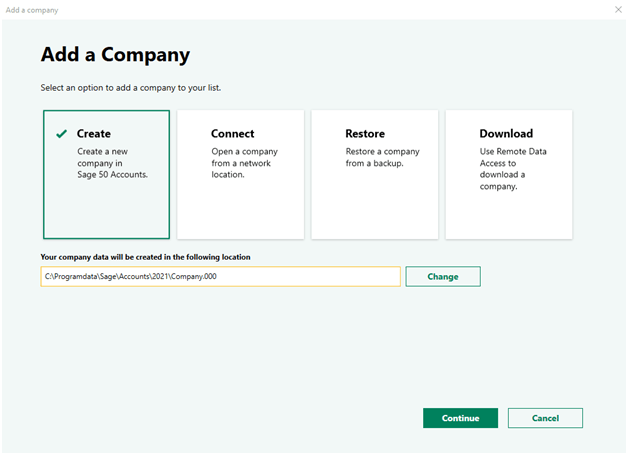 If you want to change the location where your company data will be kept, click Change
Browse to your preferred location and click Ok
If satisfied, click Continue
The Add a company window will be displayed on your screen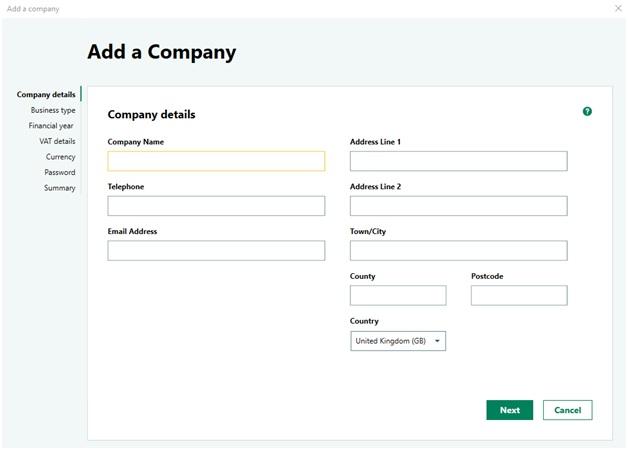 Provide the required details in the fields
Once finished, click on the tab named Create
Provide your login details again
Click Ok
How to add to an existing Company Present on another Computer?
If your company data is kept on another computer, you need to ensure the data folder is shared so that you can access the data. Also, the other computer must have the same Sage version installed on it.
Now, follow the steps below-
Go to the File section
Click New
Click on Open.
Click on the Open Company Data tab
If prompted, click on Yes
Select Add Company.
Now select an existing company saved on your network
Click on Browse
Locate the data or type the data path
Click OK > Next
Finally, click on Connect or Convert.
How to Manage User access to the New Company?
If a user has access to the other companies, he will be listed in the User Security window. If he is yet to be provided access to this new company, his name will be marked with an asterisk ( *). Also, in the column named Roles for this Company, his status will be mentioned as 'no access'. It will also have a blue link named Add User to this Company.
If you want to provide the user with the access to this new company, follow the steps below-
Click on the blue link named Add User to this Company
The User Roles window will appear on your screen
Give the user a password.
Select an existing role(s) for the user and click Save.
If you want to set up a new role for this user, go to the Role Setup window and click New Role
We hope the above discussion would help you add another company and manage its access. If you are still having any issues related to it or in case you are having any more queries, we would advise you to get in touch with the experts 1800 964 3096.
Accounting Professionals & Specialized Experts
Want quick help from accounting software experts? Get in touch with our team members who can install, configure and configure your software for you. Proficient in fixing technical issues, they can help you quickly get back to work whenever you encounter an error in Sage software. Our team is available 24/7 365 days to assist you. To get in touch.
FAQs
A company file is a collection of records that defines the entity that owns and runs a business. The main parts of this file are as follows:
🔹 Officers
🔹 Locations
🔹 Shareholders
🔹 Transactions
You can open a company file in two different ways –in the Company module or the Liabilities & Equity module. The company module is the default option and is used to create a new project. You can open it through the c if you need to view the company information differently.
Although many technical reasons may contribute to this error, the primary reasons are listed below-
🔹 Incorrect data path configuration 
🔹 The company has not been opened in the new software version.
🔹 The present company was overwritten by mistake with another company.
🔹 The company can be accessed only with Remote Desktop 
🔹 The company is stored in a different location other than the data path.
🔹 Data is lost after upgrading the Windows operating system on the computer
🔹 The workstation was installed locally without the mapped drive
Incorrect permissions
🔹 Due to the change from a single-user environment to a multi-user one
🔹 Browsing for companies in the Automatic Backup Configuration 
🔹 Installation on a new workstation with a new data path
Please follow the steps below-
🔹 Take a proper backup of your company data
🔹 To do this, log in to the relevant company 
🔹 Now go to File
🔹 Click the Backup option
🔹 Store it on an external device.
🔹 Now, connect the device to the computer where you want to transfer your data to
🔹 Click on Next.
🔹 Navigate to the location where the backup file is stored.
🔹 Click Open
🔹 Give your file a suitable name
🔹 Click Save 
🔹 Click Next 
🔹 Click Finish to end the procedure
Related Posts