How to Connect CIBC Bank Feeds in Sage 50

The larger your company is, the less time will be available to you. This is where Sage 50 has become such an important and trusted friend for modern businesses. Now you can view your accounting and banking operations, all in one place.
Yes. Sage 50 facilitates easy integration with CIBC Smart Banking. You may now get a consolidated view of your finances in one single dashboard. You can now keep an easy tab on cash flow, stay fully ready for tax time, accept payments & send smart invoices from anywhere, connect payroll, timesheets, automate workflows and many more.
In this blog, we will look at
what CIBC Smart Banking is and how to connect CIBC bank feed through Sage 50.
Here we go!
What is CIBC Smart Banking?
The CIBC Smart Banking is a powerful online banking platform. It combines the business banking tools from CIBC with the data imported from your preferred accounting and payroll software. This provides a consolidated view of your finances and helps you make informed decisions quickly enough.
What are the Advantages of Integrating Sage 50 Cloud Accounts with CIBC?
There are manifold advantages of integrating Sage 50 Cloud Accounts with CIBC. A few of them are mentioned below.
Get a Much Needed Relief from Data Entry
CIBC Smart Banking facilitates the real-time and secure exchange of transaction data with Sage 50 Cloud Accounts. This means you do not need to go through the 'grinds' of manual data entry and reconciliation.
Saves Time for You
You simply need to sign in once and then you can move effortlessly between Sage 50 and CIBC Smart Banking. It helps you stay on top of your finances. You can use the CIBC Bank feeds to download the details related to your bank transactions and post them in Sage 50 cloud Accounts. This saves the time you would otherwise need to spend while entering transactions. It also simplifies the bank reconciliation process and ensures your accounts stay accurate and updated.
Stay on Top of your Finances
Now you can view your receivables and payables just with a click and make necessary payments from the CIBC Smart Banking. All your transactions will get reflected in Sage 50cloud Accounts in real-time.
How to Setup CIBC Bank Feeds in Sage 50 Cloud Accounts?
Before proceeding to setup CIBC Bank feeds, we would recommend you install the latest version of Sage 50Cloud Accounts. The below-mentioned procedure will guide you to setup bank feeds in Sage 50cloud Accounts v26 or below.
Log into Sage 50cloud Accounts. You will need to sign in as a manager or as a user with complete access to the CIBC Bank feeds.
Click on Bank accounts
Now click on the relevant bank record
Click on the Bank feeds tab
The following image will come up on your screen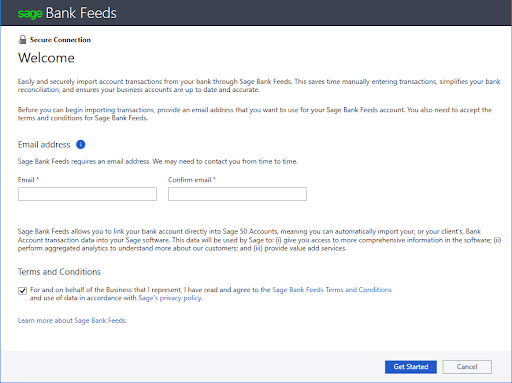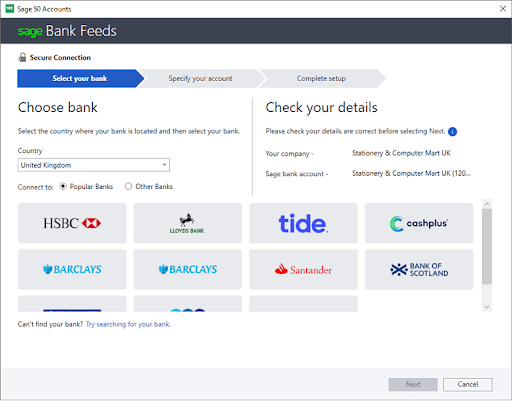 Enter your email address in the Welcome window
mark the Terms and Conditions check box
Click on the tab named Get Started.
Follow the instructions displayed on your screen to finish the security check.
Go to the choose bank window and select your bank from the list of banks
Click Next
Following the on-screen instructions, authorize your bank to divulge information to Sage
Once the authorization process is complete, click Process
Finally, click Finish.
In the section above, we have discussed a step-by-step procedure to connect the CIBC bank feed in Sage 50. Hope this will help you to connect the bank feed on your own. If you are still having any issues in performing these steps or if you have any more queries, you may get in touch 1800 964 3096 with some authorized Sage experts.
Accounting Professionals & Specialized Experts
Want quick help from accounting software experts? Get in touch with our team members who can install, configure and configure your software for you. Proficient in fixing technical issues, they can help you quickly get back to work whenever you encounter an error in Sage software. Our team is available 24/7 365 days to assist you. To get in touch.
Related Posts: