Why Integrate POS System with Sage Software?
Sage 50 is accounting software designed by the company of same name, that is, SAGE, with the aim of aiding small and mid-size businesses in tackling their finances and accounts without any hassle. EPOS on the other hand is Electronic Point of Sale which is generally used to keep track of accurate time and place of a transaction completed. This the point where retailer calculates and intimates the customer regarding the amount of money owed by him and different modes of payment. Combining both Sage software and Sage EPOS software garners many benefits for the business owner or retailers.
POS stands for point of sale. It is a technology that enables businesses to manage their transactions more efficiently. POS integration can be used in a variety of different industries, such as retail, restaurant, and entertainment. When using POS integration, businesses can track the sales data, make changes to their marketing campaigns, and keep track of inventory levels.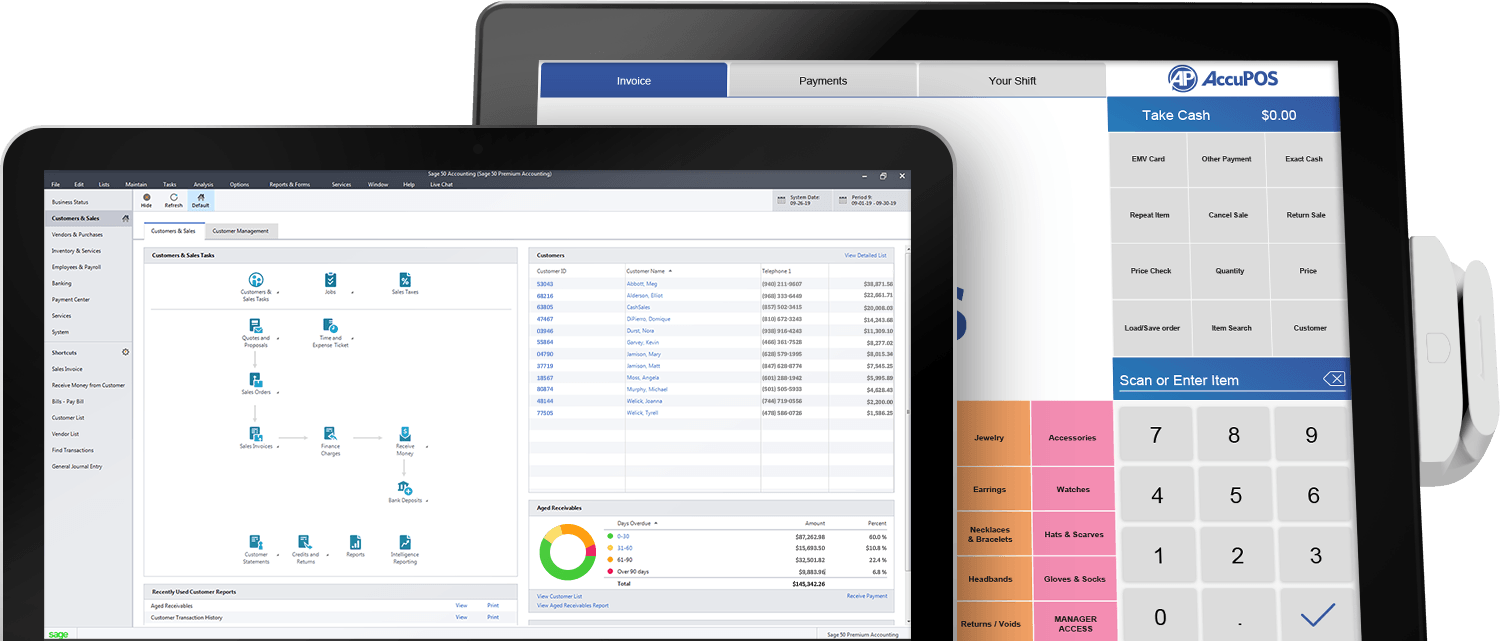 Why is it Important to use the POS System?
Using a point-of-sale system can help your business save time and money. This system allows you to track sales and inventory in real time. You can also customize the system to meet the needs of your business. For example, you can set up a system that tracks transactions by customers or items. This way, you'll be able to keep track of your sales and inventory levels without having to keep track of paper records.
Advantages of Integrate EPOS with Sage 50
Swifter and speedy completion of transactions
Easier to account for the stocks and inventories.
Higher rate of accuracy as the process is done mechanically and not manually.
Quick management of sales and calculation of total products.
Integration of pin and chip for credit transaction makes the process smoother.
An EPOS system generally has all the data stored in it which makes manual input unnecessary and thereby reducing the chances of any scope of errors that come with human input. As the prices of all products are already stocked in the system, the reliability and accuracy of the sale calculation is much higher.

Equipped with user friendly dashboard along with touch screen option makes for easy to navigate and handling even by novice or first time users. Another attractive feature is the ability to check finer details of the products like price, inventories left and quantity. With Sage software you can also view precise number of stock left and also reordering of the stock is way much easier.
Sage EPOS software can be easily incorporated with Sage Software. This helps in computerizing all transaction and reducing the need of manual input which not only helps in reduction of errors with minimal human interaction that result in easy handling of the accounts by bookkeeper or accountants. Moreover updating information such as sales and production numbers with just few clicks makes management of finances and inventories easy and swift.
Customizing according to your preference is one of the best features available as different users need different categories. Tabs can be customized easily to showcase what you need and have subcategories as per the requirement. You can furthermore set restrictions for other users and have certain functions allowed to certain category of person for example sales employee can be restricted to only use calculation function as they need to only carry on sales functions.
EPOS system itself allows for reporting functions, however, when connected with Sage Accounting software more number of reporting options become available that makes the reporting function easier for the accountants or finance managers.
Sage Accounting Software working in tandem with Sage EPOS system opens much different sales management and finance accounting options with minimal scope of mistakes as everything is performed on a system and manual input is quite restrictive.
Also Read: Sage 50 EFT Direct Deposit( Electronic Fund Transfer) Integration Setup
Conclusion:
Integration of Sage EPOS software and Sage software benefits the small business owners or retailers of all sectors. The EPOS software tracks the exact time when the transaction ends. You might face functional issue with the EPOS software that may hinder the work. You are recommended to choose www.accountingadvice.co and fetch best Sage accounting support. The in house professionals ware approachable via the Sage support telephone number . They are active round the clock and assure you complete support.
Related Posts:
Report Your Issue
(Didn't find what you were looking for! Report your issue and get customized help from our Sage experts.)