Sage 50 Cannot Connect to your Sage 50 Company Data Location
While working on Sage 50 software, at times, your software might lose connection leaving a message "Sage 50 cannot connect to your Sage 50 company data location." This error occurs due to various reasons that may also harm the company file.
Therefore, it's very essential to maintain a backup file of all the important company files. However, if your system upgraded recently to Windows 10, stop UAC, reboot, registry, and try again. You can also seek technical services from the Accountingadvice Sage experts since sometimes it's very difficult to fix manually.
What is the 'Sage 50 Cannot Connect to your Sage 50 Company Data Location' Error?
Users may encounter this issue while working on Sage 50 software and the software might suddenly lose connection with the company file. This error occurs due to various reasons we will discuss in our next section.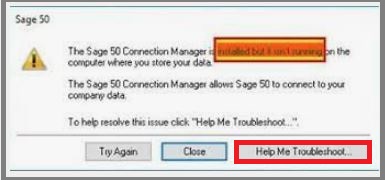 Read More : Fix Sage 50 Error Connecting to Database
Causes of Sage 50 Cannot Connect to your Sage 50 Company Data Location
Mapped network drive disconnected
Empty Mapped network drive
Drive not mapped accurately
Loss of connection to the host machine or server
Wrong security settings on the host machine or server
A Different version of software installed on the workstation than on host machine or server
(DNS) Domain Name Service resolution issues
Data path folder or folder deleted or moved
Resolution to Solve the Error Message "Sage 50 cannot Connect to your Company Data Location"
Here, we will provide multiple methods to fix this issue.
Total Time: 35 minutes
Solution I: Ensure that Compatibility Mode is not being used
🔹 Right-click on the Sage 50 software icon and choose Properties
🔹 Select the Compatibility tab
🔹 Un-check the field 'Run this software in compatibility mode'
🔹 Click Apply
🔹 Check that your Sage 50 functions without any error
Solution II: Disconnected Network Drive
🔹 Open Computer or My Computer
🔹 Try to open the referenced drive in the error message
🔹 If the drive is not found, re-map it utilizing the same drive letter.
🔹 If the username and password is asked, enter the suitable username and password and confirm the box Remember My Credentials and select OK
🔹 If the drive turns on but found empty, reboot the system
🔹 Continue to the next Solution, if the error still continues
Solution III: (DNS) Domain Name Service Resolution Issues
🔹 If the software opens instantly after mapping or installing the network drive, either your server or workstation or is rebooted, it is expected that you have an issue with the Domain Name Service in your network
🔹 As a short-term resolution, you can insert a host's file entry.
🔹 For a permanent and satisfactory solution, contact the Sage experts 1800 964 3096 to resolve Domain Name Service issues.
Solution IV: Data Path folder or Files Deleted or Moved
Note: These steps are only applicable if the encountered error is on a standalone installation or at the server
Note the path maintained in the error message
🔹 Shut down the Sage 50 software
🔹 Go to Computer
🔹 Browse to the path maintained in the error message
🔹 If any section of the path can't be created, or if the final folder is empty, reinstall the software
🔹 Locate the Sage 50 software data into the Sage 50 software data path
🔹 Open Sage 50 software and Confirm that the error no longer occurs
Also Read : Fix Sage Error Unable to Connect to Sage Data Service on Machine
Final Words
We hope the troubleshooting steps mentioned above would help you fix the 'Sage 50 Cannot Connect to your Sage 50 Company Data Location' issue. If you are finding it difficult to perform the steps above and are still not able to resolve this issue, we would recommend you to speak to some seasoned Sage professionals.
Accounting Professionals & Specialized Experts
Want quick help from accounting software experts? Get in touch with our team members who can install, configure and configure your software for you. Proficient in fixing technical issues, they can help you quickly get back to work whenever you encounter an error in Sage software. Our team is available 24/7 365 days to assist you. To get in touch.
Frequently Asked Questions(FAQs)
How to Export Company Records from Sage 50?
Please follow the steps below to export Company Records from Sage 50 –
🔹 Click on File 
🔹 Navigate to the Import/Export section
🔹 Click Export Records
🔹 Select 'Export records to a Sage 50 import file format'
🔹 Click Next 
🔹 Now select the record type you need to export. 
🔹 Assign a unique name to your file
🔹 Click Browse 
🔹 Specify a suitable location to export your company record.
🔹 Click Next to proceed
🔹 You may select the items to export one after another. you can also click Select All to select all of them in a batch 
🔹 Click Next 
🔹 Click OK 
🔹 Once the process gets completed, a prompt will ask you to click on Finish, if satisfied
How Can I add an existing Company kept on a different Computer?
If you have kept your company data on a different computer, please make sure that the data folder is shared already. Also, the same Sage version must have been installed on it.
Now, follow the steps below-
🔹 Go to the File section
🔹 Click New 
🔹 Click on Open.
🔹 Click on the Open Company Data tab
🔹 If prompted, click on Yes 
🔹 Select Add Company.
🔹 Now select an existing company saved on your network 
🔹 Click on Browse 
🔹 Locate the data path or type it
🔹 Click OK > Next 
🔹 Finally, click on Connect or Convert.
What is a Company File in Sage 50?
A company file in Sage 50 is a collection of records that defines the entity that owns and operates a business. A company file can be opened in two distinct ways: in the Company module or the Liabilities & Equity module. The company module is the default option when you are starting a new project. If you wish to view the company information in a different manner, you can open it by using the Liabilities and Equity module.
Related Posts