Sage Error Server Busy (Reasons and How to Fix it)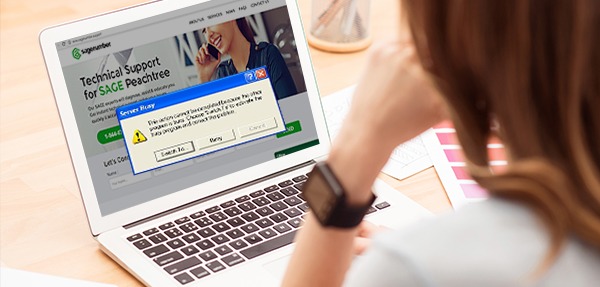 Sage is suitable for everyone to manage your business and hence it is one of the most demanding software everywhere. However, many users reported that while working they face the "Sage Error Server Busy "error which interrupts them to complete their work.
It is one of the most common Sage errors which appear anytime working with Sage. The below article helps you to understand the causes of "Sage Error Server Busy ", its reasons, and methods to resolve it.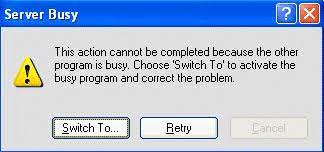 What is Sage Error Server Busy?
This error comes due to multiple reasons and when this error comes it shows you the below error message on the screen.
Server Busy – This action cannot be completed because the other program is busy. Choose " Switch to" activate the busy program and correct the problem"
When this error arises it shows the options like Cancel, Switches to, or Retry. This error message can happen due to many reasons such as virus software and permissions.
What leads to Sage Error Server Busy?
These errors mostly occurred due to Server occupancy issues. Some of the frequent reasons are mentioned below.
Any report is already open and you are trying to get a printout of the fresh report.
Previous report has used the output radio buttons and concurrently you have selected email.
Any printer errors or issues.
Windows updates are not installed
Antivirus is not configured to exclude the Sage files
Steps to Solve "Sage Error Server Busy" Error
Step 1 – Install Windows updates and after restarting login in as an administrator
↣ Before proceeding, check to update the Windows
↣ Once Windows is updated, close all the software
Click Start button >>> go to control panel >>> System and security >>> Windows update >>> locate the option "check online for updates from Microsoft update"
↣ After clicking " check online for updates from Microsoft update" download the available updates and install them.
↣ After installing the updates restart your Computer  >>>> Log in as Administrator
↣ Keep following the above steps until all the updates are installed
Step 2 – Setting up the antivirus
↣ You need to set up your antivirus so that it doesn't consider the Sage files.
Step 3 –Run Sage Micro pay as Administrator
↣ To run Micro pay steps might vary as per the operating system, you can follow the steps mentioned below depending on the operating system you have.
For Windows 10
↣ Go to the Sage Micro pay available on the Desktop and select the applicable tax year and perform the right-click >>> select properties
↣ Select Compatibility option and after that select "Run this program as Administrator" check box
↣ After that click Apply to save the changes and click OK
For Window 8
↣ Go to Desktop and select the appropriate tax year of Sage Micro pay, after doing the right click select properties option
↣ Select compatibility >>> check the box with option "Run this program as an administrator"
↣ Now, to save changes click apply and OK
For Windows 7
↣ Go to Windows Desktop >>> select the correct tax year of Sage Micro pay
↣ After selecting the tax year >>> perform the right-click and select Properties
↣ Go to Shortcut tab >>> Advanced
↣ Go to Advanced tab and select " Run as Administrator"  dialog box
↣ Once the above steps are done, click OK and Yes to save changes you have done
For Windows Vista
↣ Click to the relative tax year of Sage Micro pay and then select Properties option
↣ Go to the Shortcut tab and then click the Advanced option
↣ Go to Run as administrator and click the box
↣ At the end, click, ok and continue
While following any of the above steps if you are not logged in as Administrator you will be asked for the username and password of the administrator. At that time simply mention the administrator username and password and go ahead.
Final Words
Following the above steps for "Sage Error Server Busy" will overcome your problem. Still, if you have any issues you can dial Sage 50 technical support number 1800 964 3096 and get in touch with Sage experts. Sage Helpline is always available 365 days to help you out with the best, reliable, and quality services. Every team member is trained, educated, and has many years of experience and hence they ensure to give you the best results. You can also email at [email protected], or fill the contact form available on www.accountingadvice.co. Alternatively, you can also do the live chat with Sage technicians.
Related Posts: