List Of Sage 100 Payment Credit Card Decline Codes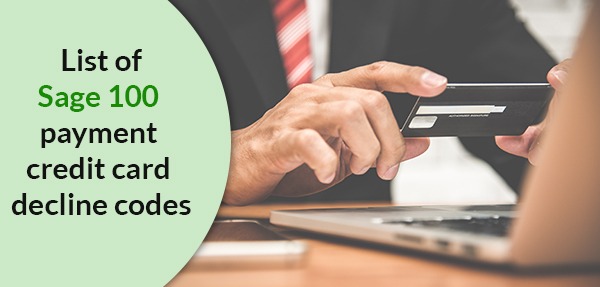 Sage 100 is an ERP solution developed by Sage Group for small and medium industries. It was previously known as Sage ERP MAS 90 and 200. A number of industries like manufacturing, distribution and other services providing organizations prefer Sage 100 ERP. You also have an option to accept payments through Sage 100 ERP. While making payments through credit cards, you can come across some errors which may restrict your transactions. You will see the error messages like:
Insufficient Funds
Credit card declined
Invalid card number
These errors are basically called as the credit cards decline codes which are followed by numeric codes.
Here is a list of common Sage 100 payment credit card decline codes
Decline Code 00: The meaning of this decline code is "Do not honor". It means your bank do not have enough funds or credits to make transactions.
Decline Code 000001 &000002: It is a common decline error message which occurs due to some issues (technical) with your credit card issuing bank.
Decline Code 000003: This decline error is often referred as the "term ID error" and signifies the invalid merchant ID.
Decline Code 000004: The meaning of this decline code is "Pick up card (no fraud)". This error message is issued from your bank.
Decline Code 000005: It is a generic bank error which means "Do not Honor". The card issuing bank has denied the authorization of the card. The major cause responsible for this error can be insufficient funds.
Decline Code 000006: This decline code is also known as "Error 0008". This error can be rectified manually reprocessing the transactions. If you encounter Decline Code 000006, then the following causes are responsible for it:

The account from which the transaction is taking place is only created for Retail Sales.
The credit card is considered to be "Discover".
The transaction is automatically processed as a recurring customer.

Decline Code 000007: The error message for this decline code is "hold call or pick up card (fraud account)." It is a special kind of decline from the bank.
Decline Code 000008: The error message for this decline error is "Honor with ID" and generally occurs for Master card. You need to contact your card issuing bank immediately and get your identity verified & reclaim the authorization number for the transaction to take place.
Decline Code 000014 and 000015: This Decline code represents the registration of wrong card number. So, you need to verify your credit card number and enter the right number of your card to rectify your error.
The Decline Code errors mentioned above can be resolved by contacting the issuing credit card bank for more information or you can go for manual transactions. If you need more information regarding Sage 100 Payment Credit Card Decline Code, then you can contact Accounting Advice. They will come up with best solution for your Sage issues.
What is Accounting Advice?
The Accounting Advice is one of the most recommended Sage 50 consultants who provide support globally to millions of users. They have hired Sage qualified experts with years of experience in handling Sage issues. If you want to get connected to them, then you will have to call on their toll-free customer support 1844 871 6289 . There are other ways to get in touch with them, i.e. you can write an email to their online Email Support stating your issues or you can go for their online Chat Support option.
Report Your Issue
(Didn't find what you were looking for! Report your issue and get customized help from our Sage experts.)