How to Purge Old Employees in Sage 50?
At times, you may notice the Sage 50 (Peachtree) is running slow as compared to before. It can happen if unnecessary data is stored on your company data record. That's why you should purge unwanted data from Sage 50 from time to time. Basically, Purging is the process of deleting inactive customers, vendors, workers, jobs, quotes, invoices, and other information from a business's database. Purging reduces the size of your data file and removes some of the clutter that may be present in your records, as well as improving the general speed of your system.
Related article: How to Set up and Pay Employees using in Sage 50
Purging is possible at any moment in Sage 50, including after you've used the Year-End wizard to finish the fiscal year and/or the payroll tax year. The Purge Wizard will walk you through the purge process, allowing you to choose which records to purge and how old they should be. So continue reading this post to get aware of the entire process for how to purge old employees in Sage 50.
Consider Important Pointers Before Start Delete Employee in Sage 50:
Before you begin purging with the Purge wizard, you must first create a backup. In fact, it is suggested that you create two backups: one for immediate reference and the other to be stored in a secure area in case of an emergency.
Important Note: The purge method isn't designed to fix or delete faulty data. You should restore a backup of your corporate data if you are having problems with it or feel it is corrupt.
Step by Step Procedure to Purge Old Employees in Sage 50:
From the Sage 50 menu bar, select Tasks >>> System >>> Purge Wizard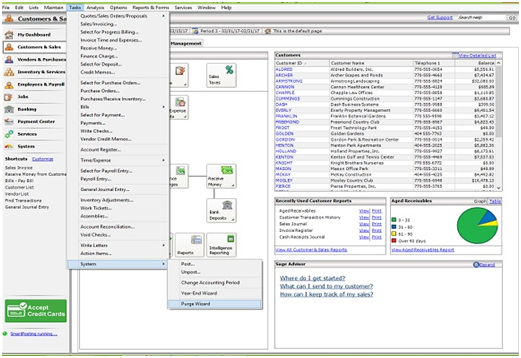 The purge Wizard Welcome Screen will displays, click Next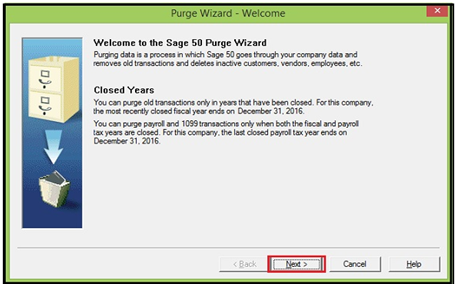 The wizard requires a backup before continuing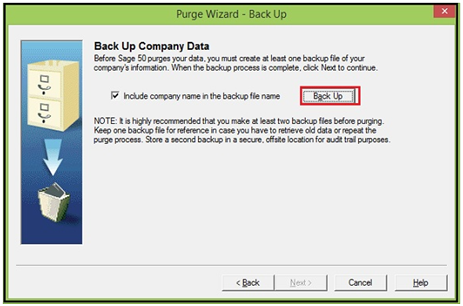 Once the backup completes then you'll back to Purge Wizard Welcome screen and then click Next
The Old Transactions window allow you to choose which unneeded transactions that you want to purge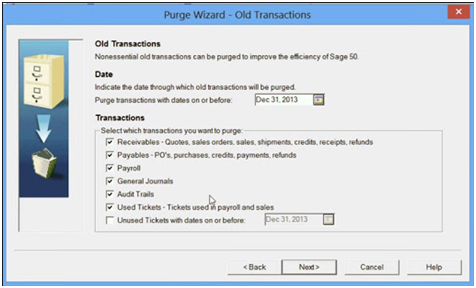 Enter the date on or before which such transactions can be purged
Now, choose the transactions that you want to purge in the Transactions group box:

To delete/remove quotes, invoices, and receipts, go to the Receivables section
To delete/remove transactions like purchase orders, purchases, and payments, go to Payables and click Delete
Payroll transactions can be deleted by selecting Payroll
Adjustments and assemblies transactions can be deleted by selecting Inventory
To remove journals and their entries, choose General Journals
To remove the company audit trail data, select Audit Trails (available only in Sage 50 Complete Accounting and higher)
To eliminate time and expense tickets used in payroll and sales, select Used Tickets (available only in Sage 50 Complete Accounting and higher)
Unused Tickets allows you to delete time and expense tickets that haven't been utilised yet (available only in Sage 50 Complete Accounting and higher). Then enter or select a date by which such tickets can be deleted on or before that day

Select Next to continue the purging process once you've done
You can select whether you employ account reconciliation and, if so, which accounts need to be reconciled before the purge in the Account Reconciliation window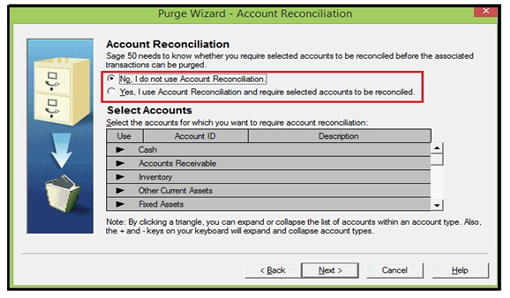 If you choose Yes, select the accounts that must be reconciled before purging in the grid at the bottom of the window
Double-click the arrow for each category of account that requires reconciliation, such as Cash or Inventory, to bring up a list of individual accounts. Accounts that have already been reconciled will be indicated by default
Check the box next to each account that has to be reconciled. Any transactions that use the account but aren't reconciled, regardless of date, will not be deleted if an account is selected here
Again, select Next to continue the purging process once you've done
Select the types of inactive maintenance records you want to remove in the Inactive Maintenance Records window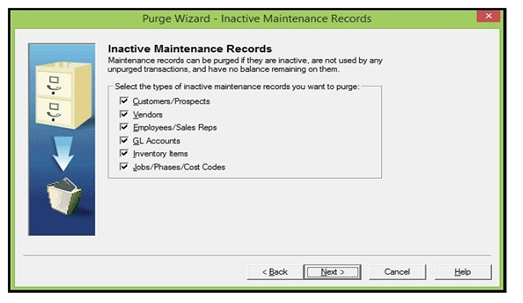 Inactive entries can only be deleted if they are not used by any transactions and have a zero balance
Check the boxes next to each sort of inactive maintenance record you'd like to get rid of: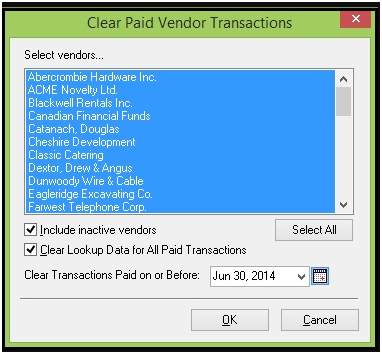 customer/Prospects

employees/ Sales Reps
Jobs/Phases/Cost Codes
Inventory Items/Attribute Sets (attribute sets are available only in Sage 50 Complete Accounting and higher)
General Ledger Accounts

Select Next to continue the purging process once you've done
A summary of options screen will appear once all of the choices have been made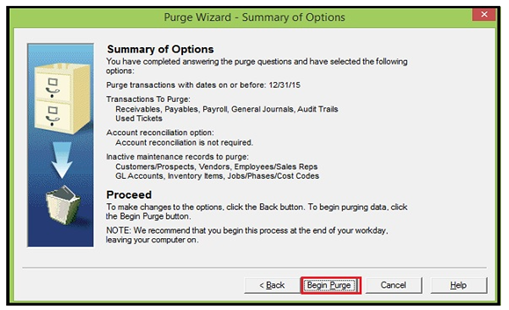 This will allow you to either start the purge or go back and make any necessary modifications before beginning the purge process.
Click on "Begin Purge" button to start the Purging Process
Now, you can see the purging process in progress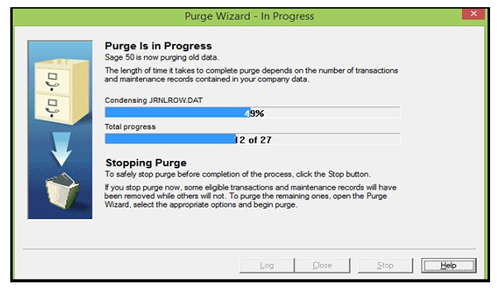 If you want to stop the purging process in between then you can click on the "Stop" button
Finally, you can see that the purging process is complete.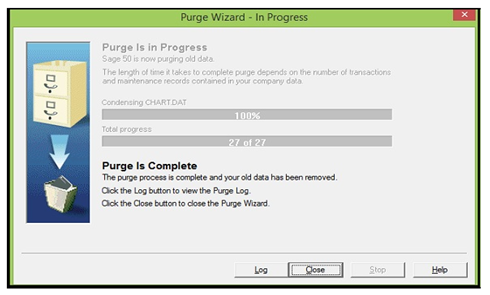 Important Note:
Note: The purge procedure allows you to pause it at any time and continue it when time allows. Some leftover transactions or maintenance data may not have been removed if the operation is interrupted. After the purge is finished, click the Log button to see what data was removed.

Note: If you stop the purge process, you'll need to run the Purge Wizard again later to delete any lingering unwanted transactions or data.
Conclusion:
The above steps will surely help you in purge old employees in Sage 50 software. In case you are still unable to do it or facing any other error regarding Sage 50 software. Then you can connect with our Sage certified team for the instant help. You can connect with us through Live chat , Email or you can call on Sage Support Phone number.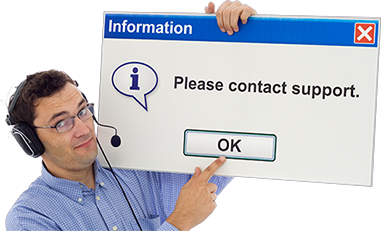 ---
🔔 Frequently Asked Questions
Q1. How do I amend my employee's data in Sage 50?
Ans: Go to the Employee list and double-click on the required employee. Here, you can make necessary amendments in the desired employee record. In the end, click Save followed by the Close tab.
Q2. Can I delete multiple employees at a time in Sage 50 payroll?
Ans: Yes, Payroll now lets you delete more than one or bulk number of employees at a time. Here's how:
➤ First, go to the Employee List and then select the employees that you want to delete
➤ Do a right-click on any highlighted Employee and then click the option "Delete Employee" followed by the "Yes" button.
Q3. Do we remove or fix corrupt data by applying purge process?
Ans: The purge process is not intended to remove or fix corrupt data. If you are experiencing problems with your data or suspect it is corrupt, you must restore a backup of your company data.
Related Posts